Winters can be pretty intense, particularly in the northern portions of India. Periodically, the temperature plunges below ten or five degrees. Blankets or quilts may not be enough to deal with such harsh temperatures. So, a Room Heater is the best option. These appliances can retain enough heat and warmth inside the room even during severely cold weather. While choosing which heater to buy, the following features should be kept in mind: heating technology, size of the heater, noise levels, heat settings, thermostat, and safety features. The top 10 room heaters under 5,000 latest are:
(1) Orient Electric Room Heater (Rs. 3,120)
Orient Electric Room Heater comes with five levels of safety protection to deter electric shocks. It has a high-quality ABS plastic layout with a metal mesh to avoid damages when children touch the heater during operation. The in-built grip formulates us to hold the heater from one room to another. The heater operates on a premium copper motor at twenty-three hundred RPM to disperse hot air to every nook of your room. It is suitable for a room size of one hundred and eighty square feet. It comes with a warranty of one year.
(2) Orpat OEH-1220 (Rs. 1,129)
Orpat OEH-1220 comes with a long-lasting heating component. It delivers two heat settings for your comfort that work at thousand Watts and two thousand Watts. Even when the heater is functioning at its total capacity, its body will not get warmed at all. The protection grill on the front safeguards you from any casualty.
(3) Usha QH 3002 Q (Rs. 1,630)
Usha QH 3002 Q is a radiant room heater that is budget-friendly. It is incorporated with numerous security features like the safety tip-over button that would switch off the heater if the heater falls or slopes down. It will endure for quite an extended time with the powder coating on the exterior surface. You can set the heating degree as per your comfort either at four hundred Watts and eight hundred Watts with the knob. There is a simple, to use handle fitted at the back of the room heater, enabling you to pick it up effortlessly and position it anywhere.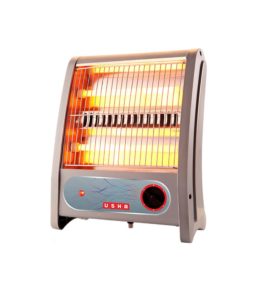 (4) Orpat ORH – 1040 (Rs. 849)
Orpat ORH – 1040 consumes less energy to function. It is a compact unit being a portable room heater that does not have a lot of techs to strengthen its weight and overall size. It comes with a nickel-chrome plated reflector for efficiently indicating the heat in the room. It is a hundred-watt room heater and appears with a warranty of two years.
(5) Orpat OEH- 1250 (Rs. 2,000)
Orpat OEH- 1250 is a compact room heater with one handle at the top. It is a fan-based room heater that arrives with two knobs and a pointer light at the ground. It is fitted with numerous safety features that come in handy to safeguard you and the heater from any destruction.
(6) Usha FH 3112 (Rs. 3,199)
Usha FH 3112 ensures all the safety measures and comprises a thermal cut-out along with the fall preservation button. The overall structure of the heater is formulated for positioning it on the floor to assure good ergonomics and productive heating. There is a unique 'fan-only' setting along with modifiable heating postures.
(7) Solimo Room Heater (Rs. 1,320)
Solimo 200-Watt Room Heater features convection heating technology with 2000 Watt energy is competent and produces sufficient heat for a small to medium room. There are knobs for temperature control and thermostat setting. The temperature can be modified from hot, warm, and calm, depending on the temperature. A fan will circulate the warm air throughout the room. It comes with a warranty of one year.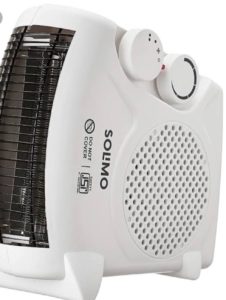 (8) Morphy Richards Aristo (Rs. 3,919)
Morphy Richards Aristo room heater has a power capacity of two thousand watts. It is a well-designed room heater that is not only functional but also looks nicer than others. The room heater comes with a warranty of two years.
(9) Havells Calido PTC (Rs. 4,099)
Havells Calido PTC room heater is an entirely white heater along with another one with gold. With those incredible looks, the room heater also functions quite healthy from small to medium-sized rooms. There is a big grill on the front for transmitting the heat all around the room.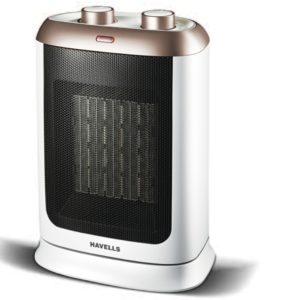 (10) Maharaja Whiteline Quato (Rs. 1,399)
Maharaja Whiteline Quato room heater has an adequate size that can be placed even on the table. The two quartz heating pipes of the product ensure that your heats rapidly in the cold weather. There are two heat settings, with one operating at four hundred Watts and the other at eight hundred Watts.