Today we all are living in an advanced world, where anything is possible with the help of technology. But have we ever wondered who invented them? These innovations were introduced or made by great programmers from all over the world. Among whom we only remember a few, the popular ones.
Coding is one of the most challenging jobs, but for the ones who have a vision for a better tomorrow, it is a job of innovation and creation. The article will introduce you to the world-class programmers of all time, who are an inspiration and have created history with their innovation. They have brought a reform in the software programming world.
1. Ken Thompson
He is a computer scientist and the creator of UNIX (a multi-user computer operating system that is used for workstations, internet servers, and mainframe computers) and co-inventor of the "C" language (a computer programming language and the most widely used languages.). Thompson has received the A.M. Turing award, which is the highest honor in computer science. He was the co-winner of this Award with Dennis Richie. With Joseph Condon, he developed a computer chess program, which won the World's computing Chess Championship. Thompson has worked for Multics and later on worked for Bell Labs for most of his career. He has been elected for the U.S. National Academy of Sciences and the U.S. National Academy of Engineering.
2. James Gosling
James Gosling is one of the famous software developers, also known as "Dr. Java" because he's the founding father of the Java programming language, created in 1991. He has also contributed to many other software systems, such as NeWS and Gosling Emacs. He was awarded The Economist Innovation Award, The Flame Award, USENIX Lifetime Achievement Award, the IEEE John von Neumann Medal, and has worked with many famous and known software companies. He has an inspirational journey and created the best program of all time.
3. Tim Berners-Lee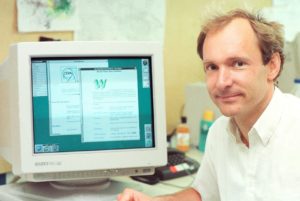 He is best known for the invention of WWW- World Wide Web in 1989. To benefit humanity later on, a World Wide Web foundation was made, and Tim is the foundation director. He is also a co-founder of Intrupt.com (a tech startup that develops and promotes open source solid platforms).
His other achievements are:
-He is president of Open Data Institute, also founded by him,
-A professor at the University of Oxford, UK.
-In 2007, he was awarded the order of merit,
-was also awarded Queen Elizabeth Prize for engineering, and
-was awarded ACM A.M turning prize for inventing the WWW.
You can also read his book "Weaving the Web" to know more about his innovation. Apart from the above-mentioned awards, he has won several international awards as well. He is the one who developed the first-ever web browser.
4. Guido van Rossum
You all must be very familiar with this name. When he was employed in Google from 2005 to 2012, he developed a very popular and known language, Python. He was declared as the BDFL (Benevolent Dictator For Life), which means in the Python community that he will be the one who will take necessary decisions forever, but he left the position in 2018. He has worked in Dropbox for six years and retired in 2019. Currently, he has joined Microsoft. Till today Python is the most popular programming language, he received the award for the Advancement of Free Software in 2001.
5. Dennis Ritchie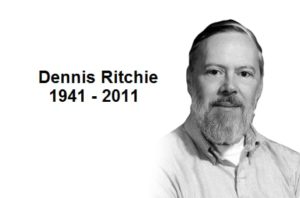 He was an American scientist. With his long-time partner Ken Thompson, he created the C programming language, UNIX operating system, and B programming language at Bell laboratories. Together they both won the Turing Award from the ACM, and they were also awarded the U.S. national medal of technology. Later on, they both rewrote UNIX in C. Bell Labs appointed him as head of the System Software Research Department, where he developed the Plan 9 and Inferno operating systems. He has laid the foundations for the technical infrastructure of our modern digital world.
6. Linus Torvalds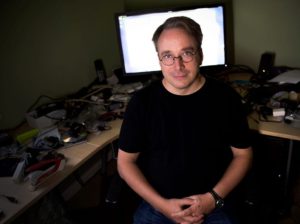 He is an American software engineer who has done historical innovations. His innovation includes- Linux kernel (a software like UNIX, which is a core interface between a computer's hardware and its processes and is used by many operating systems such as -Android). Other innovations are- Git (an open-source system that is used to track changes in any file and enables multiple developers to work together) and scuba diving software subsurface. He has won several awards for his contributions to consumer electronics technology and innovation that have changed the world.
7. Donald Knuth
He is a computer scientist, mathematician, and professor at Stanford University and is known as the "father" of the analysis of algorithms. He is the creator of the TeX computer typesetting system, the WEB/CWEB computer programming systems, and has designed the MIX/MMIX instruction set architectures.
Honors he received included- Turing award, Kyoto prize, Harvey Prize, the National Medal of Science, the John von Neumann Medal, and was awarded one of a kind academic title of Professor of The Art of Computer Programming and many more. Knuth has also written multiple volumes of The Art of Computer Programming.
8. Andres Hejlsberg
He is a Danish software engineer who is currently working in Microsoft as the lead architect of C# and core developer on TypeScript. He has contributed to designing many programming languages and development tools. Andres Hejlsberg is the architect of Delphi, Turbo Pascal, and is also known as the father of Microsoft's C# language. For his excellence performance in programming, he has got the Dr. Dobb's Excellence in Programming Award.
9. Bill Gates
Is there anyone who is unaware or doesn't know this name? He is the founder of Microsoft (the world's largest software business and a blend of "microcomputer" and "software"). He founded Microsoft with his fellow friend Paul Allen. With his innovation, he became the world's richest man and came to the Forbes list of the world's wealthiest people. Currently, he is the founder of many big companies, including- BEN, Cascade Investment, bgC3, and Terra Power. He not only contributes to technology but for social costs as well. He owns an organization and many other funds.
10. Richard Stallman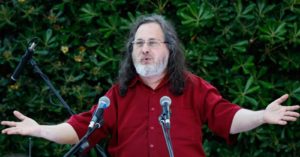 He is an advocate and founder of the Free Software Foundation. With James Gosling, he wrote the Emacs text editor in the C computer programming language. He launched the GNU (General public license) project and wrote the GNU. Not only this, he also developed the GNU Compiler Collection and GNU Emacs. He devoted most of his time campaigning against all those things which took away user's freedom and wrote many essays. He has empowered the users with free software movements and received many honors and awards which include-Exceptional merit award MacArthur Fellowship, Electronic Frontier Foundation's Pioneer Award, Yuri Rubinsky Memorial Award, Social Medicine award, and many more.