Be a great host for your house part, with this is key! Gather the trendiest songs and you have yourself a great party playlist. Before we get into the list of the best software, let us know a little about what is a jukebox software.
What is a jukebox software?
• Jukebox is a software that helps you create a virtual playlist of your favorite songs.
• It is specialized software for managing all the music, media, and movies on your devices.
• You can make your own playlists, customize your files and edit the music files.
• You can also rip and burn CD/DVD, print CD/DVD labels.
• Jukebox software also has a special feature of normalizing and reducing noise disturbance.
1. MediaMonkey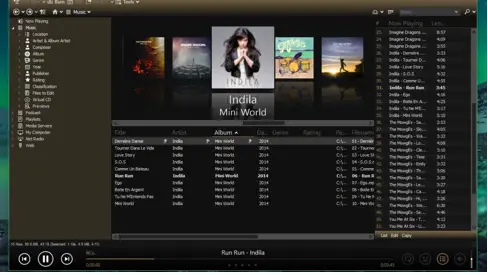 It is undeniably one of the best applications that can manage your media files. It is one of the most popular jukebox software for Windows. It can burn and rip.
• It automatically downloads album art and lyrics along with the song.
• It allows you to mix and manage more than 10,000 local songs.
• The Auto DJ and Party Mode to handle the musical party.
• The media converter allows encoding of a variety of music files.
• When you use the media downloader feature, you can look for new podcasts and music files.
2. TouchJams JukeBox
It is a touchscreen software. It is user-friendly and is made with touch input as it becomes easier with all options in front.
• It has Internet radio with built-in radio presets.
• It has one the most intuitive interface.
• It has robust media management.
• Automatic playlist creation feature.
• It has features like Recently added and Top-played.
• Effects like 10-band equalizer and cross-fader.
3. E-JukeBox
Get the feeling of a night club, in the comfort of your home with the E-JukeBox software. It is a software for Windows with many features and functionality.
• The interface is user-friendly for YouTube along with music and video collection.
• You can also import meta tags from the video and audio files automatically.
• It has the remote-control feature so that we can control the software over wireless networks, PCs, tablets, and phones.
• It also has a built-in web browser for surfing the Internet while you are playing media.
• It has a full screen for public use via the Kiosk Mode.
4. ZenPoint
With ZenPoint, you can listen to your favourite tunes, music videos and play karaoke. ZenPoint allows you to access online radios and also you can check out your favorite movies and enjoy all of your pictures in a cool slideshow.
• It can enable you to navigate through your favourite movies and arrange them in different categories.
• It has a Karaoke Centre.
• It has impressive features like Music Fade, Dual Monitors, Party Mode, Multi Languages, Smart Device Remote Control, CD Ripping, Coin Acceptor and more.
• The Radio Centre enables you to listen to all of your favourite radio stations.
5. JukeBlaster
While you make your song selections, you can play music in the background in JukeBlaster. With Coin-op function, you can build a jukebox that takes coins.
• The Karaoke Jukebox comes with an interval time in order to allow the singer to get to the microphone.
• The VideoBox is loved by music enthusiasts, as it can play videos, mp3 files, karaoke files, etc.
• The Pub Jukebox is designed for business and diehard music lovers.
• It has features like background music timers, Happy Hour, vertical and horizontal screen support, among others.
6. Ultimate Jukebox
Ultimate Jukebox is in the true sense the ultimate jukebox! It is flexible and customizable software that works for all kinds of users. It has a license model that is free to try. It was designed with HTPC (Home Theatre PC) in mind.
• It can run on the full screen with large fonts.
• It has a queue and multiple playlist levels.
• We can control the fonts, colours, and album cover display.
• It can also operate on Winamp.
7. Virtuosa
This is a digital jukebox software. Virtuosa has the ability to convert audio files with superior quality. It is a music and movie jukebox.
• It can visualize music in transparent windows.
• It can normalize track for smooth listening.
• It prints high-quality CD / DVD labels.
• It can mix audio tracks.
8. Ease Jukebox
Ease Jukebox is a multifunction multimedia software. It supports WAV, MP3, OGG and WMA file. It has ID3 editor in the file manager which can easily edit your files with ID3 tag.
• The file manager can manage the WAV, MP3, OGG or WMA files.
• The mp3 recorder will record voice from your PC.
• A small player that can load from and generate playlist file.
• There is a CD ripper, too.
9. Virtual music jukebox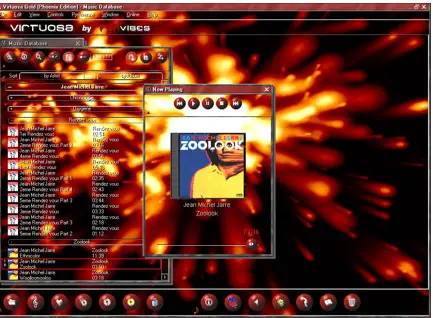 The Virtual music jukebox is looked at as an industry standard. Its professional interface is modern and looks internet-ready. It is more than just a media player.
• Touch-screen control
• Displays high-resolution album art along with full track-listing.
• It has a new visualization editor.
10. Jukey for Android
It is a user-friendly jukebox software for Android. The swipe and browse action give a real jukebox look. You can play music from device media database, local folders (including SD card), network folders, YouTube and Spotify Premium.
• The albums mode that mimics a CD jukebox.
• The 'singles' mode that mimics a 45rpm jukebox.
• The 'Party Mode' hides playback controls and only allows enqueuing songs.
• The parses tag built-in Android media meta data reader and FFMPEG.