Mobile spy software allows you to monitor your smartphone in real-time. This system keeps a log of all your activities on your tablet or smartphone. Install this software on the mobile phone of your employee or child to monitor them. Login from any browser using your username and password to view the results of your phone activities.
1. Cocospy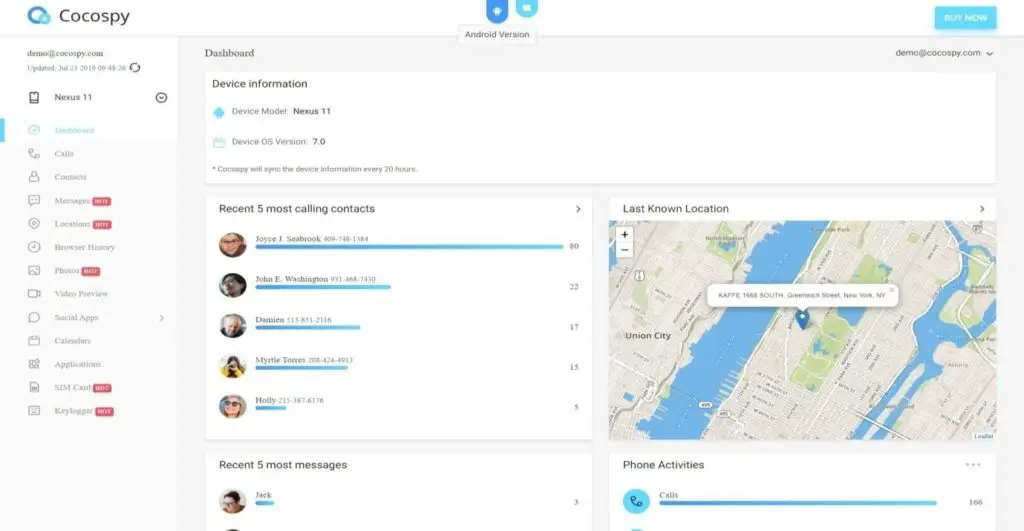 Cocospy is a parental control software that parents use for remote surveillance and tracking of their children. You can track locations, messages, and calls remotely using this software. Use this software in Android and Apple phones. Get to view a demo of this software. This software allows you to make remote surveillance without being detected. Take a look at the contacts of the people you monitor to mark suspicious contacts. Read conversation in WhatsApp and view exchanged media files. Check timestamp and visit the frequency of websites in browser history—monitor call logs to keep an eye on the person.
2. FlexiSPY

FlexiSPY is monitoring software that you can use in computers, tablets, and mobile phones. Get to know everything happening on the mobile phone from anywhere. This software has many monitoring features and has an easy installation process. You can use this software for parental control and employee monitoring. This device lets you know everything happening on your company device to monitor your employees as they might become a threat to you. Use this as parental control software to get peace of mind as you can monitor your child's activities as a parent.
3. GuestSpy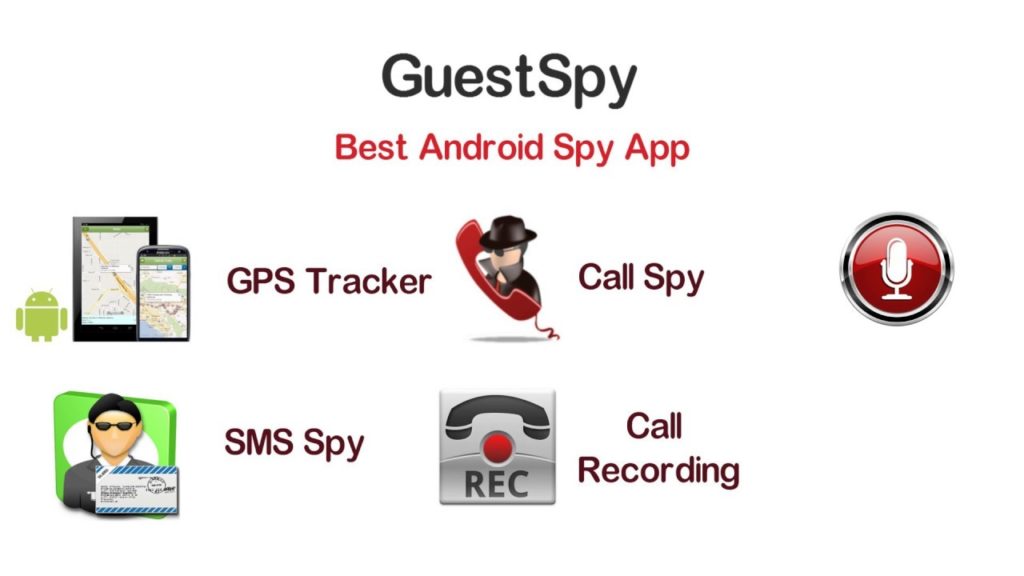 GuestSpy is a mobile application that you can use as a mobile spy software for free. Retrieve all types of information using this software. GPS tracker and SMS tracker is available in this software. A call recording feature is available in this software too. This software displays the URL visited and monitors devices using the control panel. Listen to calls and view media shared in any form. This application is safe to use, and you can install it on Android or Apple devices. Access the password of the target phone using the keylogger feature in this software. If the target user deletes a contact on his mobile, you can still view it in your device using this mobile spy software.
4. iKeyMonitor
iKeyMonitor phone spy software is a phone monitoring application that allows you to access all phone activities. View all messages that you send, receive, and delete. View all incoming and outgoing calls. You can even view the chats in Whatsapp and Snapchat. The icon of this application will not be displayed on the phone. This application updates information about the device every 5 minutes. The information collected is stored securely so that only you have access to it. Get multi-lingual support to use this application anytime.
5. Kiddie Parental Control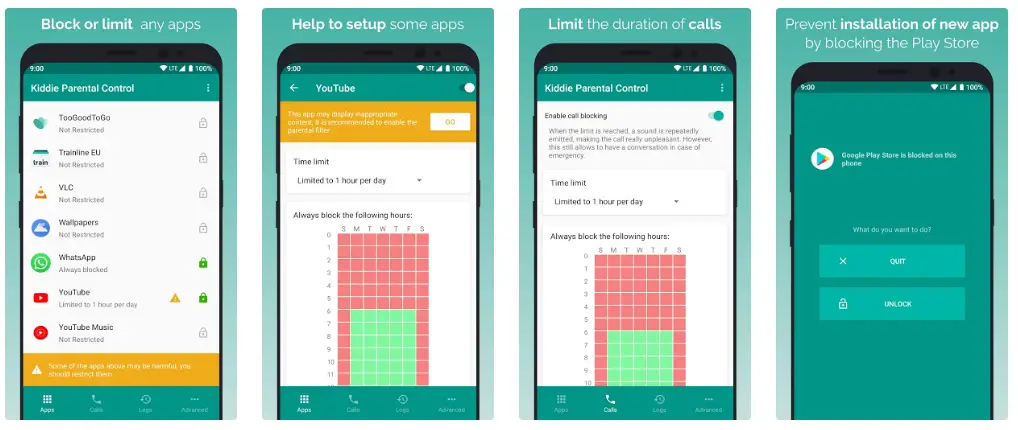 Kiddie Parental Control is an application that parents can use to spy on their child's phones. Parents can prevent their children from installing new applications by blocking the play store using this software. Users can even block the applications that you have installed by adding a time limit. Limit the duration of calls that the child makes. This software allows YouTube parental filter to be enabled so that children can only see selective videos. Block specific websites to prevent your child from watching it. Track the applications your child visits and his network activities.
6. Google Family Link

Google Family Link allows parents to set digital ground rules for their children. This application allows parents to guide children as they learn, play, and explore everything online. This application provides activity reports such that children and parents can analyze where they spend most of their time. Parents will get notifications of the applications that their child is about to download, and they can choose to accept or decline it. Manage in-app purchases in child mobile phone easily. Hide specific application from the child's device. Decide the screen time for your child by setting time limits.
7. SpyHuman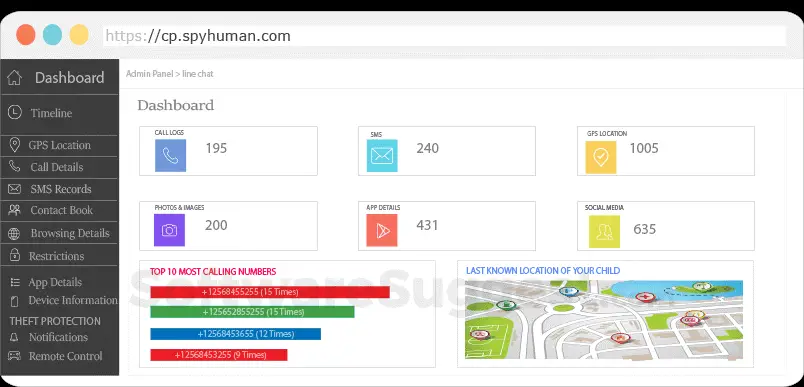 SpyHumanis mobile spy software that monitors your smartphone activities. Monitor call details and SMS details using this software. You can view the browsing history of the target phone using this software. Technical support is available for this software at all times. It is easy to install and use the demo version on this software to know how it works. Protect the children from online threats by monitoring them. SpyHuman gives you a notification when someone changes SIM in your mobile phone when it is lost. Upload and backup of data are secure using this application.
8. Spyera

Spyerais spy software for mobile phones and computers. Monitor Windows and Mac operating systems remotely using this software. You can monitor your kids using this software and monitor employees to protect your business. Spyera software is easy to install and has a user-friendly control panel. Open the camera in the mobile your spying using this software. View deleted text messages and spy on the usage of each application. Monitor emails and spying on media files. Track the device your spying using real-time GPS tracking features. Take screenshots remotely, and view files transfers in computers.
9. Spyic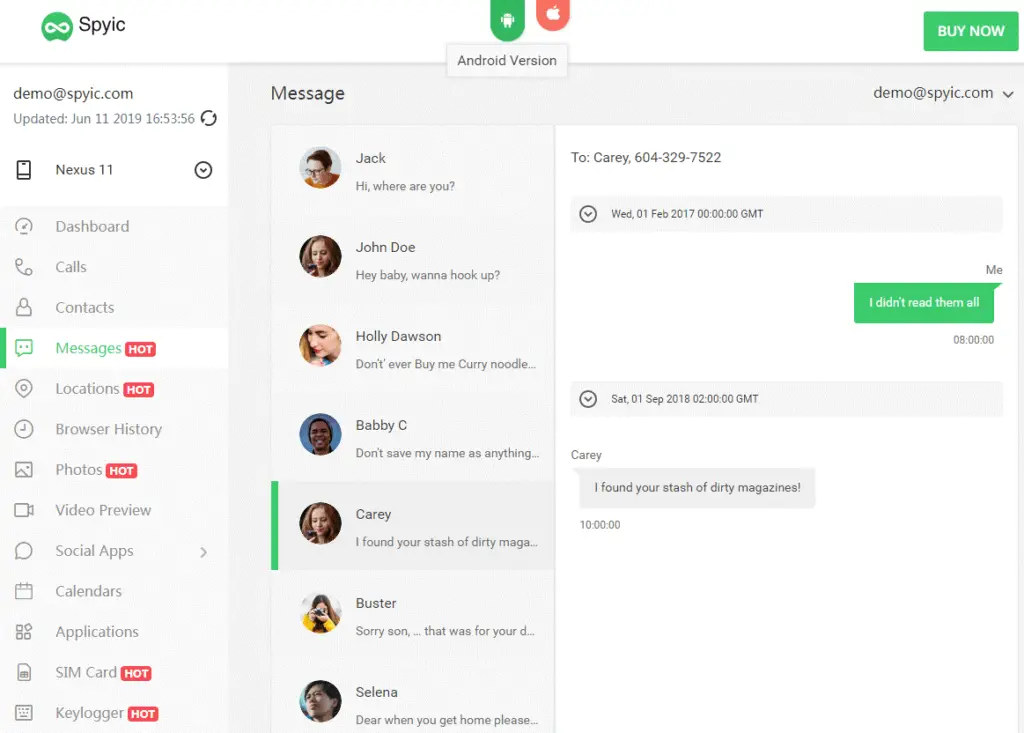 Spyic is mobile spy software that helps to keep an eye on your child. Track their locations and the calls they make using this software. Get real-time location updates of your child using the SIM card track feature in this software. You can even view the messages they send using social media monitoring features in these applications. Look through the contact list in your child's mobile phone and view all their call details like call duration. Review the websites they visited and the frequency of their visit. Users can spy Instagram and WhatsApp of anyone using this software.
10. XNSPY
Get real-time activities of anyone using XNSPY, which is a mobile spy application. Check the call logs of your children remotely using this application. View the contact list in a reader-friendly manner. Check the location history of the person your monitoring using this mobile monitor application. Track emails of your employees and view their bookmarked websites. Listen to the phone recordings and record phone calls using this application. Control a phone remotely and adjust feature settings to send remote commands to the target device. Get instant alerts when certain words are used in messages and emails to protect your child against real-world abuse.