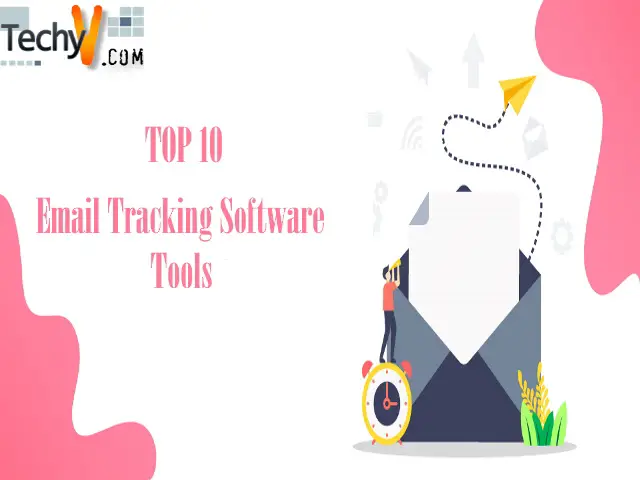 Email tracking is a process of handling the delivery of email messages to the receiver. To monitor the delivery of email messages, many applications use time-stamp technology to record the time when the email message was sent and opened. Email tracking software tools are available that enable users to know whether the recipient has received the message or not. Several email marketing software tools have built-in email tracking features. But, several applications are available that are specially developed for tracking purposes only. The following are the top ten email tracking software tools, along with their traits.
SalesLoft: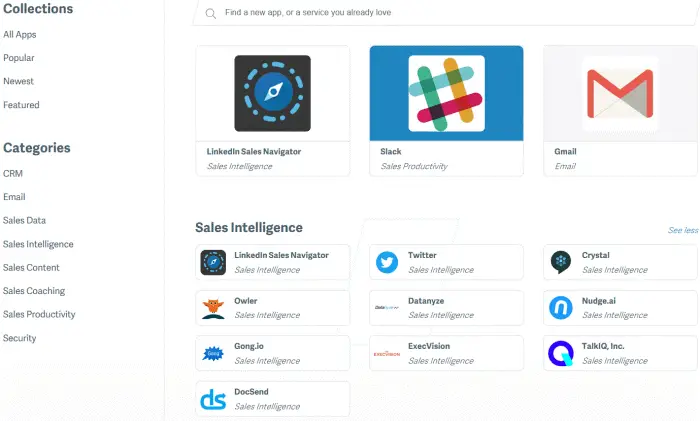 SalesLoft is one of the most-used email tracking software tools in many companies and businesses. This software tool can easily track email messages sent to a receiver. It uses a sync engine so that all emails sent using the SalesLoft application are synced in it. Also, it keeps a record of replies sent to email messages. However, when any user signs in into this application, a sync engine provides a token to SalesLoft and maintains a database for authentication. Apart from email tracking, this application acts as a marketing tool to boost sales and revenues. It comes with three packages, Group, Enterprise, and Professional.
Outreach: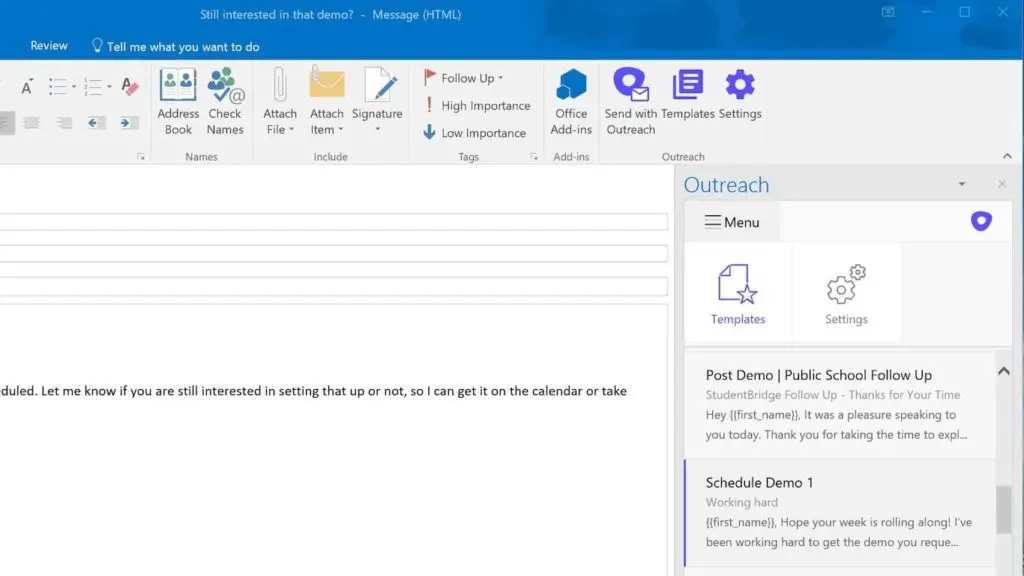 Outreach is a fully-featured and powerful application that can be used for email tracking purposes. This software tool provides all information about the email messages sent and received and enables users to make quick and effective decisions on sales. Outreach email tracking software offers multiple perks to users. It can be benefited in pinpointing prospects, streamlining your prospects, categorizing and prioritizing prospects, and many more. Additionally, it allows users to access different templates form Gmail inbox. The features of this application include email and activity tracking, online meeting scheduler, sales intelligence dashboard, email and content templates, sequences and task management, etc.
GMass: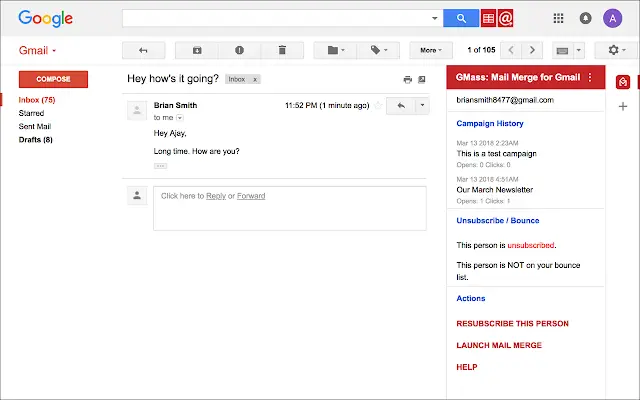 GMass is yet another All-in-One email tracking software tool specially developed for medium and large-sized businesses. This software is also utilized for marketing campaigns for increasing sales. This software tool for email tracking is used by many other popular software, like Uber, Google, Twitter, Facebook, and LinkedIn. The features of the GMass application include automatic and accurate tracking of several email campaign metrics, quickly sending sales and marketing campaigns to millions of people, automatic personalized mass emails to every person, easy scheduling of emails in advance, etc. The GMass application is a user-friendly tool and works efficiently with your Gmail inbox.
LeadBoxer:

LeadBoxer is one of the most powerful applications used for email tracking purposes. For every different email tracking software, setting up of email tracking differs. Many applications use the Chrome extension for setting up email tracking via Gmail. But, the LeadBoxer software does not use the Chrome extension. Rather, it sets up email tracking through Email Tracking Pixel. The Email Tracking Pixel is a transparent image that is enclosed with an email having 1*1 pixel. So, when the receiver opens an email, the image gets downloaded. And users can know the time and date when the email was opened by the receiver.
Gmelius:

Gmelius email tracking software tool is one of the leading applications used widely. This application allows users to enhance the business workflow by enabling them to track emails and triggered notifications. Users can know when exactly the message is received and open by the receiver. Also, it provides users with real-time data that matters. It provides complete information like whether the recipient has received a message, opened the message, what is the location, and did the recipient interacts with your message, etc. It also provides key metrics, identifies engaged leads, provides access to detailed reports, etc.
Cirrus Insight:

Cirrus Insight is yet another most popular email tracking software tool. Like the LeadBoxer software tool, the Cirrus Insight also uses a small image that is enclosed with every message sent to the receiver. When your sent message is opened by the receiver, the server of Cirrus Insight notifies you. It provides you with the information, like the location of the receiver based on its IP address and the type of device, like mobiles, tablets, web browsers, etc. Additionally, it also provides information about how many times an email was opened, when the email was opened, where the email was opened, etc.
Boomerang:

Boomerang is an All-in-One powerful email tracking software tool. This software can be integrated with Gmail and Outlook clients. It is compatible with Android as well as iOS devices. This application notifies users when the receiver opens, reads a massage, or clicks on the link in the message. It uses a powerful cross-platform tracking feature that alerts any notification on your mobile device. The features of email tracking involve knowing if your email got to read, determining which of your emails got the most clicks, and keeping your recipient's trust with an opt-out option, etc. When you turn on the email tracking feature, it adds an image to your email message.
Mixmax: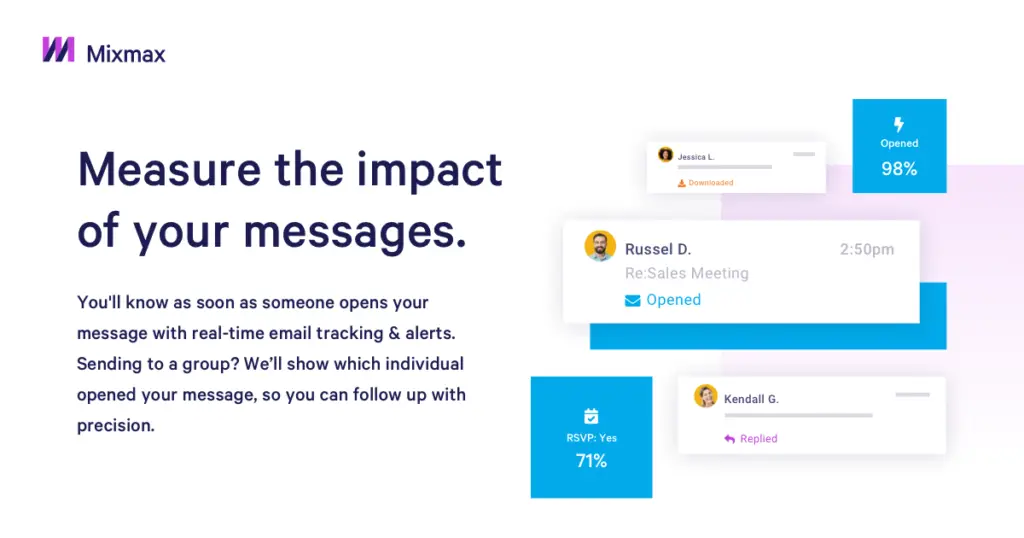 Mixmax is one of the fully-featured email tracking software tools. It provides a real-time Google email tracking feature to its users. When you send an email message to a particular person, the email tracking feature will tell you when the email is received and opened by the receiver. Also, it provides information on whether the recipient has viewed the attached links or not. It offers a free trial period of 14days. Mixmax comes with four different plans. The free plan is open-source. The Starter plan is available at $9 per month. The SMB plan requires a monthly subscription of $24. Lastly, the Growth package requires $49 per month.
Streak:
Another best and robust email tracking software tool is Streak. This application is easy to use and has a user-friendly interface. Users just need to turn on the tracking feature, and all email messages will be tracked automatically. This application provides you with a notification when the recipient receives and opens the message. There is a sidebar in this application that shows the history of your message views. This will help you to manage email tracking effectively. You can also get information about the city of the receiver through the mapping feature. There are four editions, Free, Solo, Pro, and Enterprise.
Snovio:

Snovio is a more reliable email tracker used by many business owners and companies. It has more than 10,000 new subscribers every month. It offers more advanced features of email tracking freely. It uses a Chrome extension for tracking messages via Emails. Also, you can stop email tracking as per your need. The email tracking feature in the Snovio tool will send you a notification when the receiver opens and reads your email message. Also, you can see a full history of email opens. Apart from email tracking, this tool offers email finder, email verifier, email drip campaigns, brand monitoring, and many other features.