The one thing this global pandemic has taught businesses is to embrace digital to stay relevant. It has accelerated the growth of digital transformation and automation software, thereby requiring businesses of all sizes to adapt, evolve, and thrive. Business process management is one of the key fields that has seen rapid growth in going the digital way. With the help of Business Process Management Software (BPMS) tools, companies can massively benefit by improving their processes to match the digital ecosystem and the changing work environment. Business Process Management (BPM) is a process automation tool that enables a systematic approach to map, analyzing, and improving organizational processes.
A BPM-based framework provides for full business process lifecycle management, technology-wide integration, and embeds productivity among individuals, processes, and technologies. In this article, we have curated our list of top 10 BPM software applications to help you evaluate, compare, and decide which tool will be the right fit for your business needs.
1. Alfresco
This is a light-weight that integrates Google Drive, Alfresco Integrate Services, etc. The process engine is fast, which is easy to integrate with other platforms. Analysis, modeling, business process compatibility generation, and software creation and support are some of the activities carried out by Alfresco. you get a graphic user interface feature with the Step Editor. For advanced analysts, intricate process modeling is an important step in the process, and this can be achieved by BMPN Editor. The compliance and control regulations are some of the features in Alfresco Content Services.
2. ARIS Express
What's best about this software is that it has ARIS community that offers free training. This free training has models for organizational structures, processes, application systems, data, etc. It is an open-source BPM software that is based on industry standards. They have a free version for educational institutes and vocational schools. It is extremely beneficial for not just these organizations but also for beginners and inexperienced users. It has a free modeling software that is a replacement for drawing tools.
3. Adobe LiveCycle
This software is for all those professional users, as it has features like business processes modeling, capturing data, streamlining team communications. This software protects sensitive information effectively, delivers personalized communication, processes information. It is compatible with Adobe Cloud, Adobe LiveCycle Enterprise Suite 4. As we are on Adobe LiveCycle Enterprise Suite 4, it provides us with some great services like increasing productivity for users who have a desktop, phone, or tablet, with letting them access different services. It has a platform for social engagement, a community connection portal, user-generated content organization.
4. Bizagi
It works with a single user, to create, optimize, and publish the workflow diagrams to increase efficiency. Bizagi modeler will help you govern your organization smoothly. The process models are centrally documented because of which the employees can learn the processes. Bizagi will provide you with a healthy collaboration environment over the cloud. It has some really powerful tools including the drag-and-drop feature. The process of discussing will initiate everyone's involvement.
5. BonitaSoft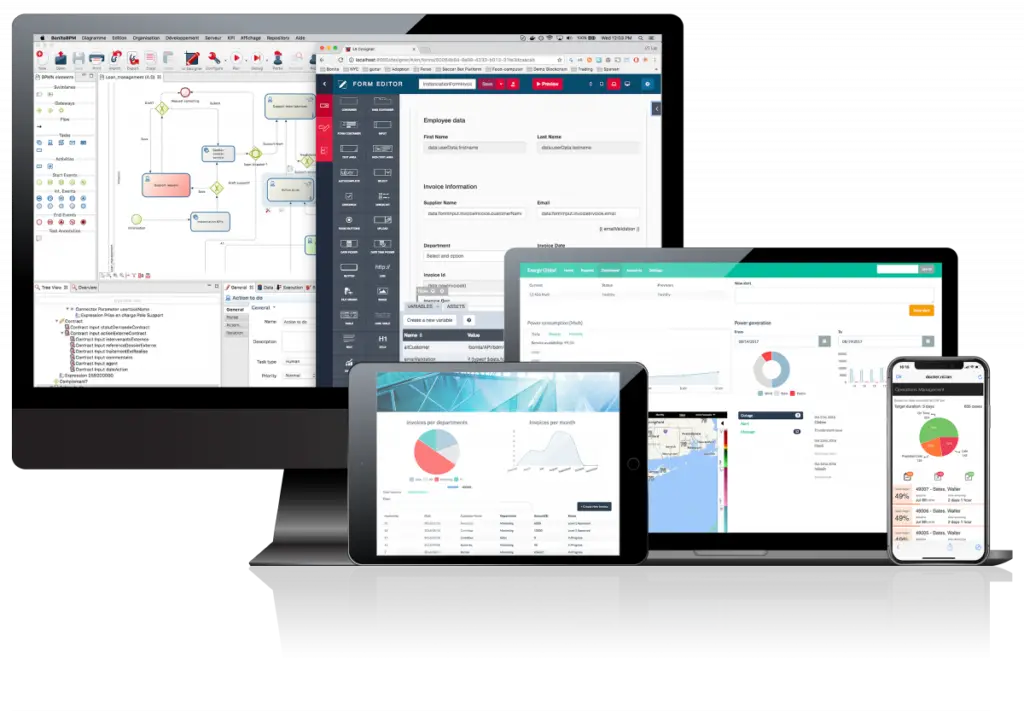 Also known as Bonita BPM, helps you build better co-ordination with other development teams. It will help you with rapid growth in business, with powerful production state and power testing. They have more than 12,000 members in their community of infrastructure. It was found in 2001. It has a BPM process engine that has a Java application. It also has Bonita Engine APIs under LGPL (lesser general public license). The java application executes processes created with Bonita Studio. It is an open-source platform.
6. Red Hat JBoss BPM suite
They offer training, certification, consulting services among others. You can implement microservices on the cloud, for the cloud. Business process planning, resource planning and event configuration are some of the many functionalities offered by this software. This suggests that it is an all-inclusive package. Features like Cloud-Native development and Drools are must-try in this software which captures and automates all business processes.
7. Camunda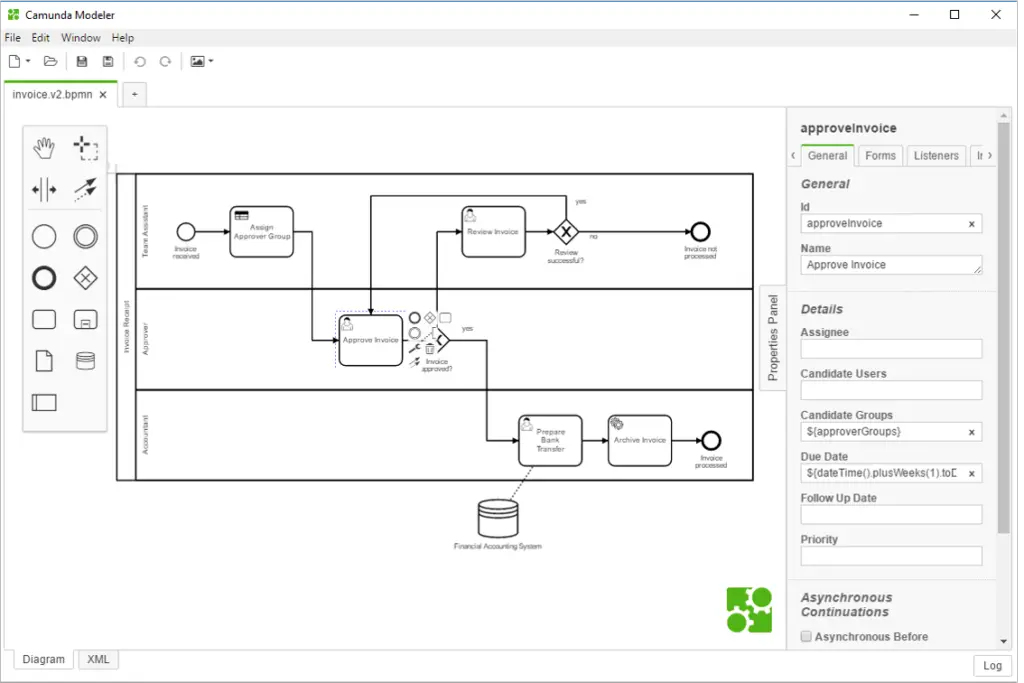 This software has great scalability and is light-weight that provides a powerful execution engine. Camunda Cockpit resolves work-related issues for users, developers, system architects, business users, etc. If you have diagrams involved in this process, this will seamlessly merge your workflow especially if you are a business analyst or a developer. Features like design a logic-driven decision table will also help with the workflow engines for professionals. The task-list feature allows users to gain visibility on their work while using the workflow engine. They have some popularly-known clients such as NASA, Universal Music, etc.
8. Modelio
It is a flexible software that provides services to many developers, analysts, professionals, for more than 20 years now. It works with coding languages like HTML, UML, BPL, and Script language. It is open-source software. You will get the freedom of configuring the models of your own choice. It works with modules like WSDL designer, Java, and Togaf architect. It is easy-to-use, beneficial for someone who is not used to using software, as it has some of the easiest coding languages to use.
9. Joget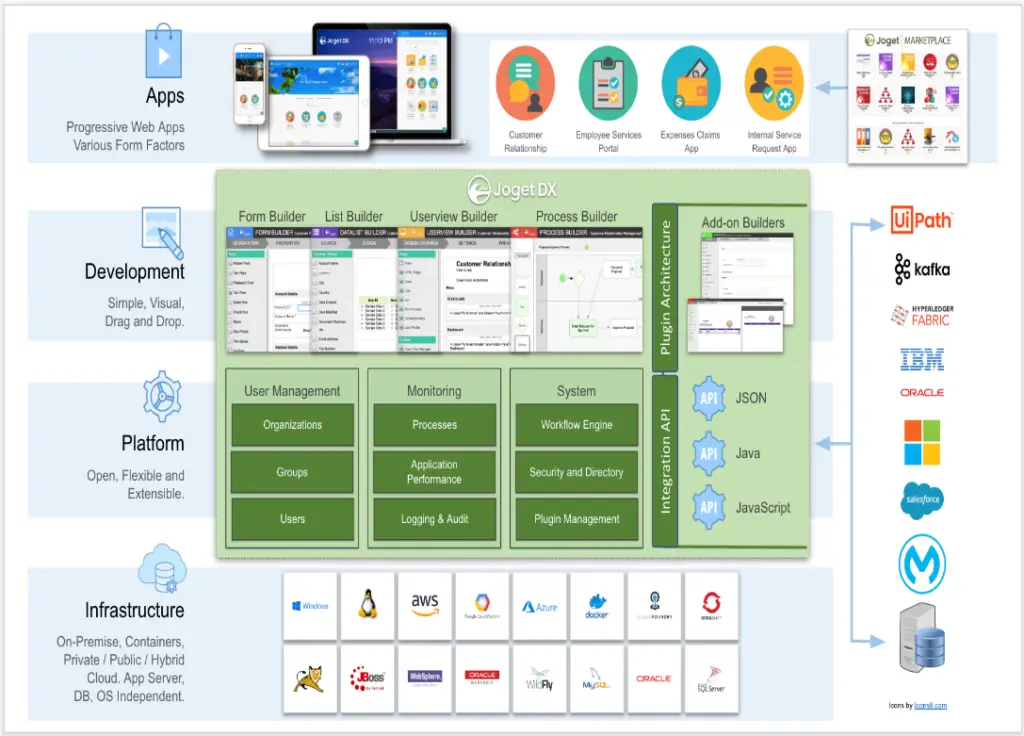 It is a low-code open-source software. It has the drag-and-drop and the point-and-click feature for beginners. It works on private, public, hybrid cloud and even on-premise. It can build apps, with simple features. You only need a web browser to access your work. There are plug-ins so you can access and integrate platforms as per your desire. It has flexible work-flow management. It has agile management capabilities like lists, forms, CRUM, and GUI. You can use Java Spring on the Apache Tool cart server.
10. jSonic BPM
jSonic has solutions ranging from design to final testing and deployment. It is known as a 'Zero-coding' app, with features like cost reduction, enhanced compliance standards, streamlined and automated business processes, optimized process efficiency, optimal asset utilization, and customer satisfaction. This software will reap you great benefits. Due to dynamic market conditions, business owners will get a lot of help from this software. Businesses prone to customization due to customer's requirements will also benefit from this software.