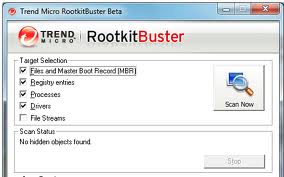 5 Best Root Kit Scanners
Using the internet or loading any files on your system for that matter come with the attendant risks of malicious programs that camouflage as genuine system applications.

When a malicious program infects your computer system, the threats are lower if the infection is easily discovered. This is often not the case because certain programs hide the heinous activities of malicious programs. Rootkits, as they are called enable programs and malware to run undetected in your system thus compromising your system's security. That is where good rootkit scanners/removers come in handy.
Five stand out
 1. GMER 1.0.15.15477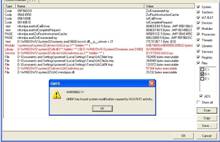 GMER, a free rootkit remover eliminates several threats such like hidden threads, hidden processes, drivers hooking IDT, hidden registry keys drivers, drivers hooking SSDT, drivers hooking IRP calls, inline hooks, hidden threads, hidden services, hidden modules, hidden files, and Alternate Data Streams.
The uniqueness of GMER is that it allows users to observe several system processes, registry items, loading drivers etc. The latest version of GMER incorporates improved kernel & user modes code sections and improved scanning.
   2. Blacklight Rootkit Eliminator
Blacklight Rootkit Eliminator scans and detects rootkits hidden in your system but gives you the option to remove them. The product performs a deep scan and prides in its consistency in being one of the first to detect new rootkit threats. Blacklight gives the option to first rename the detected files before deletion. The downside being that you take responsibility for any entries you delete!
  3. RootAlyzer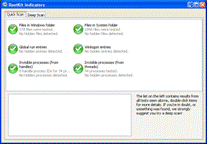 This effective and much less complex rootkit remover is easy to use making it a good choice for the newbie because it reduces the dangers of causing serious system errors arising from wrong deletions. RootAlyzer detects unexpected alternate data streams (ADS), altered administrative privileges, reversed file names and much more. It performs results packing and expresses scan details in a log. RootAlyzer has the special ability of decoding the various hiding methods used by rootkits to escape your systems/s defenses.
Because every process has a unique ID, RootAlyzer detects invisible processes by comparing the processes with those in the main process list.
4. NoScript
It's great to scan for hidden rootkits but some java scripts found on web pages could wreck havoc on your system long before you carry out a scan. NoScript is a pro-active threat detector that prevents the execution of malicious scripts on your system. It affords users great options in controlling what they allow or do not allow on any website. Rather than waiting until rootkits attack your system, NoScript acts proactively to stop the threats on-access.
5. RootkitBuster from Trendmicro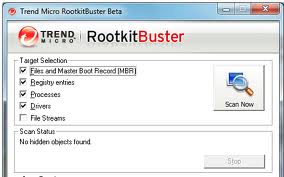 Certain rootkits attack Memory Boot Record (MBR) thus blending into the system and"pretending" to be part of windows. RootkitBuster from Trend Micro is one of those products that unearths these stealth malicious programs thus freeing your system from security vulnerabilities. RootAlyzer processes tools for scanning registry entries, hidden files and hidden processes. MBR rootkits keep undergoing metamorphosis to avoid your security systems but RootkitBuster detects all the variants.