Make the job of Call centers easier by using call center software. Automate and standardize the process of responding to phone calls through this software. It makes the call center to sustain their business and grow it. They have features like omnichannel, call routing, CRM integration, cloud-based calling, and reporting. These standard features are present in every software. However, special features are present in some software to make them unique. Let us look at the top 10 call center software to use and their functions in this article.
1. Hubspot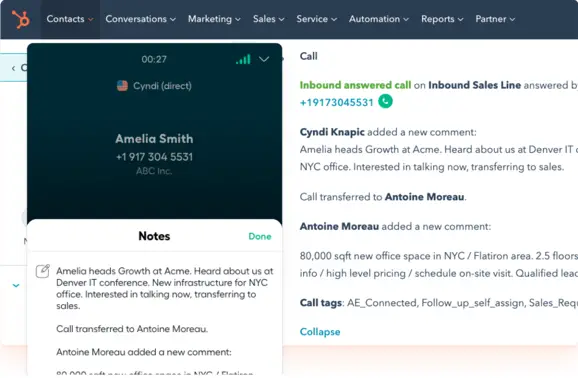 Connect Hubspot to sales and marketing software used in call centers. Get all information about your call through the call center employee, as this software will provide the information. Use advanced automation tools to improve customer service. Prioritize your calls with data from your CRM and set up a calling queue. Place and record calls from the desktop itself. Log calls onto CRM automatically. Use it as a sales software. Calling and call tracking is more accessible using this software. Use this software in a call center and make work simpler.
2. Bitrix24

Call centers use Bitrix24 as their software due to the various features available in it. Call recording is one specific feature for call centers that is present in this software. Call logging and call scripting features are also available. An inbound call center is present in this software. Chat in real-time is possible. Interactive voice response is present to get customers to get an immediate response. Distributed call recording is available for recording calls. Queue management allows many calls to be in the queue. Analyze data using this software and get a report ready. Use it as a mobile application in both IOS and Android. You can also use it on the desktop.
3. TalkDesk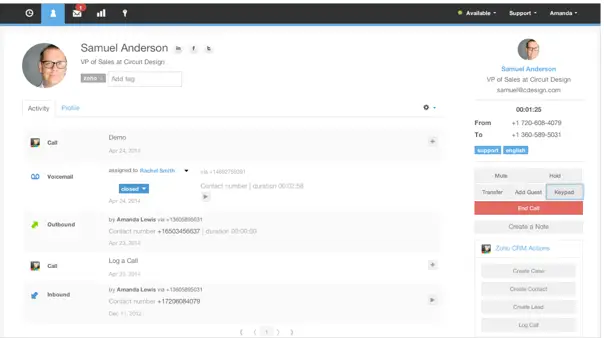 Use TalkDesk as call center software for call recording and call control features. Callers will have an enhanced waiting experience with features such as custom music and queue call back. Call directly from any website to get into contact with the call center. Optimize your global business by acquiring a toll-free number from many countries. Add call summary notes to your call log to the complete information of a customer. An outbound caller ID option is available to increase connection rates. Voicemail option is available to provide notifications. Make unlimited concurrent calls to maximize efficiency. A personalized greeting is available to have better interaction with the customer.
4. Five9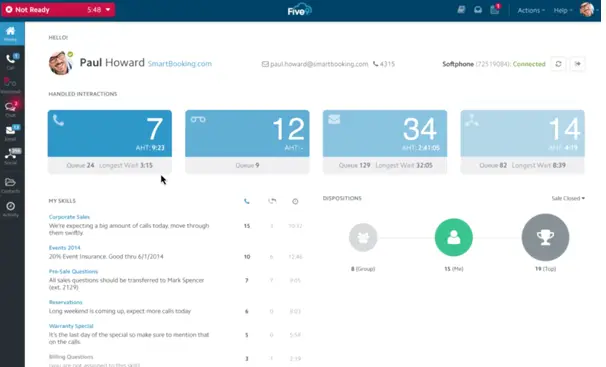 Five9 software contains omnichannel ACD that allows routing of inbound customer contacts. Autodialer modes are available to gain control over the rates of call center's dialing. It has integration with leading CRMs like Salesforce and NetSuite. Workforce management is also easier now as you can place the right person at work at the right time. Get reports and alerts about the call center. Engage customers over any contact channel like voice or email and create interaction between customer and call center. Campaign and list management is possible. Post-call surveys are present to get feedback from the customer. Call recording and reporting are possible.
5. Ring Central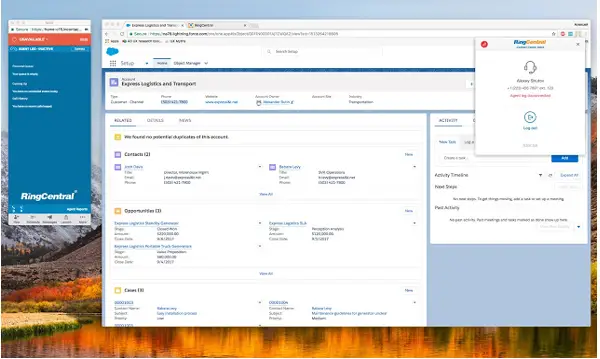 Ring central has intelligent routing that route calls to the right agent. Customers can get their needs satisfied through a personalized service using this software. Voicemail routing provides you with the option to leave a message during busy times. Social media interaction allows you to contact customers and make comments. Agents in a call center will get customer information at the right time to provide an excellent customer experience. Analyze speech and text to spot the problems customers are facing when they complain to the call center. This analytics feature manages the workforce and optimizes it. It provides powerful encryption to keep data secure. The shared directory allows you to see who is available in the entire company.
6. CloudTalk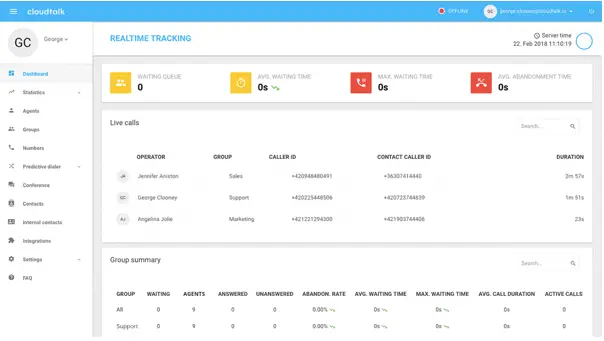 Access the phone call details of customers using CloudTalk. Track the performance of the agents of your call center and improve their communication with customers if needed. Use this software even in remote locations using your mobile phone or desktop. Call queuing is made easier by creating customized call queues. Each employee in your company will have a unique extension to reach out to them if needed. Create personalized greeting messages using voicemail. Convert fax messages to email easily. Use small numbers for general services. Select the working hours that you will be available to take calls. Create tasks directly from CloudTalk. Take statistics from cloud monitoring.
7. Nextiva

Get call center statistics rough Nextiva. Set up call center announcements to greet callers when they enter the queue. Use force forwarding to forward incoming calls temporarily. You can also set up an internal location caller ID that displays the caller's location within the network. Upload audio files that will play music for customers when they are on hold. Use the options available for customizing caller ID so that you can control what others see. Holiday service routing is available for adjusting your call routing on holidays. Night service allows routing to occur at a particular time. When all the agents sign out of the queue, then routing of stranded calls is possible through Nextiva.
8. Dixa

Attend an unlimited number of calls in a queue through Dixa. You do not need to worry about the maximum capacity of people that can be in the line. Recognize customers automatically through this software. It will save a lot of time for the agents of the call center. Use intelligent routing to prioritize the different queues. Set up your announcements to make meanwhile. Record inbound and outbound calls to replay them anytime. Customers get to choose on a callback option instead of waiting in the queue—export all the conversions as data to create reports. Dixa allows you to refer to the previous conversation of the customer to solve their queries better.
9. Zendesk

Agents can get full access to customer information through Zendesk. This cloud-based software makes work simpler for call centers and finishes their work faster. Empower your agents using this software. The ticketing system in Zendesk helps to track all customer interactions from various channels, making the task simple for the agents. It helps to prioritize the problem of the customers. Full details of every customer will be available for the agents. It provides a good quality experience for the customers. Track every customer service interaction. This cloud-based software is easy to set up and use. Bring your business to greater heights using Zendesk.
10. Avaya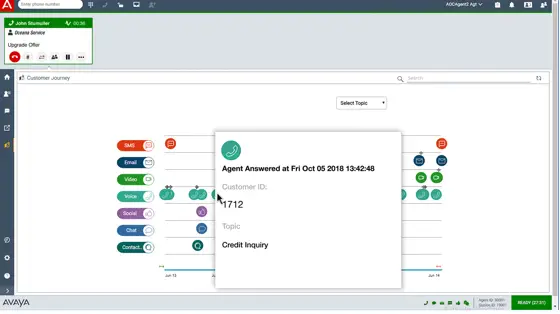 The easy to use desktop interface of Avaya is surely to empower your agents. Advanced desktop analytics monitor the calls. Gather data from the call center and turn it into insights. Improve the customer experience through these insights. Make information sharing and decision making much easier through this software. Agents get to have a desktop view of all customer information consolidated. Schedule your appointments and provide promotions for your customers. Manage all digital channels in a single workspace and get to choose deployment options and finance models. Monitor interactions by detecting irregularities. Use virtual bots to deliver intelligent interactions. Integrate Google cloud with your contact center environment to store data.