Already having a smart TV and looking for the best projector to build a home theatre? A home theatre projector can elevate your entertainment space and provide a large screen. Also, if you're looking for office projectors, this article will be helpful; we've compiled a list of the best and most versatile projectors.
(1) Epson EH-TW7100
It produces a picture similar to what you'd see at a movie theatre, and you'll get a great image right after an easy set up, without needing to be an expert at tinkering with the settings. The colors are well-balanced, and the motion is naturally smooth. Bluetooth enables direct connection to a wireless speaker or soundbar, and the high luminance means it can moderately lit rooms.
(2) Sony VPL-VW270ES
To achieve its actual DCI 4K 4096 x 2160 resolution, it, like many Sony 4K projectors, employs the brand's proprietary 4K SXRD panels. It includes support for 60fps 4K playback and increased processing power, faster response times, and lower input lag, which will no doubt pique the interest of gamers. Its incredible sense of insight and extremely solid and smooth picture elevates its caliber above less expensive competitors. If you want an actual 4K resolution with a large budget, this projector is for you.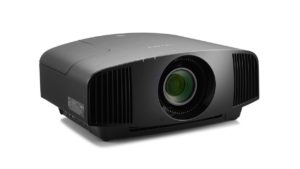 (3) Epson EH-TW9400
It's a powerful 4K projector with a striking image. The detail isn't spectacular, but it's a real winner in terms of color accuracy, the subtlety of contrast, and HDR handling. In terms of practicality, it's also a pipe dream. Its 50-300in image size gives a comfortable wide range of distance, and the motorized lens will enable you to set it all up from the comfort of your sofa using its excellent, backlit remote. Sit back and enjoy some cinematic classics.
(4) JVC DLA-N5
JVC's D-ILA projectors are among the best home cinema projectors on the market. The enhancements to HDR capabilities make the picture better and better over time. The motorized lens, simple menu system, and extensive selection of usable preset picture modes make it surprisingly simple to set up.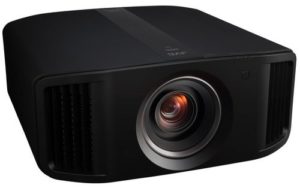 (5) Sony VPL-VW590ES
In many ways, this Sony is an undeniable showboat. The detail at 4K is exceptional, and every aspect of the on-screen image has excellent texture and realism. Tonal point in light and dark areas is perfect, even in scenes with mixed lighting, thanks to the Dynamic Iris' pinpoint contrast control. There's also the only benefit of Sony's superb motion processing. Setup is simple, and once it's up and running, you'll be lost in the images with eyes glued to the screen.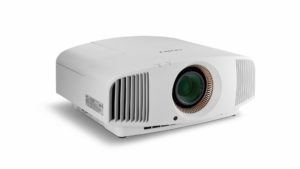 (6) Epson EH-TW7000
Another low-cost 4K projector to take your experience to the next level. It's a ceiling or desktop projector operated from an AV rack or shelf within throwing distance. The projector can produce an image between 40in and 500in for a 100in the picture. If you're looking at the projector screen from anywhere between 2.95m to 4.77m away, its 1.62x zoom lens can help. It has a lens shift that can move the image by +/- 60% on the vertical axis and +/- 24% on the horizontal axis. So there is room for adjustment in case the projector isn't perfectly adjusting.
(7) Optoma UHD40
The projector provides a 4K projection with HDR capabilities, vibrant colors, smooth motion, and a whole HD experience at an affordable price. You will not find a projector with such excellent features at such a low price.
There is no other way to put it: the Optoma UHD40 is an ideal budget projector that deserves to win the award year after year.
(8) Epson EH-TW650
It has an LCD panel model that has short-throw capabilities of between 1.35 – 1.64m and is full HD. It gives unique colors and brightness. This projector will surely provide you with a theater experience at your home, a perfect one for small rooms. This projector will deliver quality entertainment and an immersive gaming experience right in your living room with white and color brightness at 3,100lm.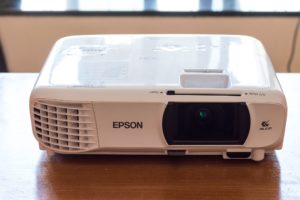 (9) Epson EH-TW7400
The Epson EH-TW7400 has a motorized lens and a handy remote control, allowing it to operate efficiently and provide details in low-light situations. The projector can display 4K and HDR content. Aside from these features, it also supports 3D content. It has a 5000-hour lamp life and a claimed 200,000:1 contrast ratio, and an above-average 2,400-lumen brightness output, which means it can produce a coherent image with some light present.
(10) Optoma UHD65
Texas Instruments' DLP chips with XPR technology have been used in an award-winning projector with 4K capability. These chips are not native 4K but instead have a resolution of 4.15 million pixels, which is half the resolution of Ultra HD. The image produced by the projector is excellent, with brilliant motion handling, color production, and exceptional upscaling abilities.
It is reasonably priced and supports HDR. It also has SDR (Standard Dynamic Range) for improved contrast.