The increasing computing power of laptops has made them ideal for serious gaming which was earlier limited to desktops. Buying a gaming laptop can be tricky given the huge amount of customizations available. We present our guide to help you in picking the best gaming laptop for you.
1. GPU
This one is a no-brainer you need a good GPU for high-end games. Buy a GPU with at least 4GB of dedicated RAM. Make sure you check the performance benchmarks of various models to compare them. Given the constraints of space and heat in most laptops, you can only have one graphics card in your laptop so make sure that one counts. Your basic choice will be between AMD and NVIDIA both have an excellent lineup, and you can choose from any one depending on your needs and preference.
2. CPU
Aim for the Intel i7 processors. There have no equivalent and are optimal for gaming. You can make things work in the i5 range, but you will notice performance issues in heavy duty games. AMD doesn't provide any chip good enough for serious gaming.
3. RAM
Buy a laptop with at least 8GB of RAM. If you want for future-proofing, you can go for a 12 or even 16 GB ones. But you should know that you can always upgrade you RAM, which will cost less than what manufacturers charge. While upgrading your RAM make sure that you buy the same RAM, don't add 2 different types of RAM in one laptop system for best performance.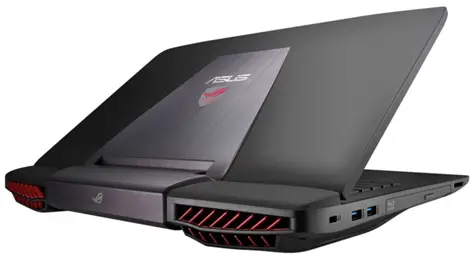 4. HDD or SSD
SSD is more expensive, is faster and has lower storage capacity than HDD. If you have the cash to splurge, go for a SSD. Your will get better performance in a SSD, and you can use an external HDD for storing other files. Computer systems with SSD drives are noticeably faster in boot-time and other hard drive intensive applications.
5. Screen
Laptops with big screens are fun to play on, but they are less portable and break more easily. 1080p screens are best for most people. You can also opt for a 4k screen but it will be very taxing on the hardware and will give performance issues on high frame rate in most laptops.
6. Other things
Invest in a good track-pad or keyboard for a good gaming experience. You will need speakers or headphones for good sound. Most gaming laptops have poor battery life. Thin laptops aren't very good at dissipating heat; they have limited capacity heat sinks. So look for a cooling pad to keep your rig running smoothly.