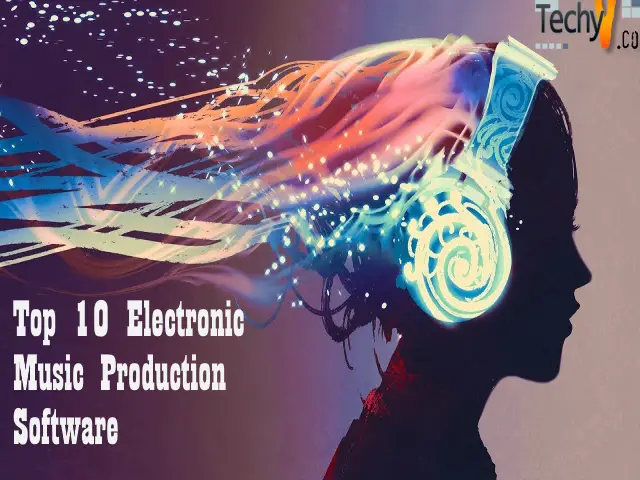 Electronic music employs electronic musical instruments, digital instruments, and circuitry-based music technology. For example, a synthesizer and computer can produce electronic sound. Electronic music production requires two important software: Digital Studio Workstation (DAW) and virtual instruments. Digital Studio Workstation helps to record, edit, and produce audio files. This application supports devices that operate using the Musical Instrument Digital Interface(MIDI). Let us take a look at the top 10 electronic music production software in this article.
1. Ableton Live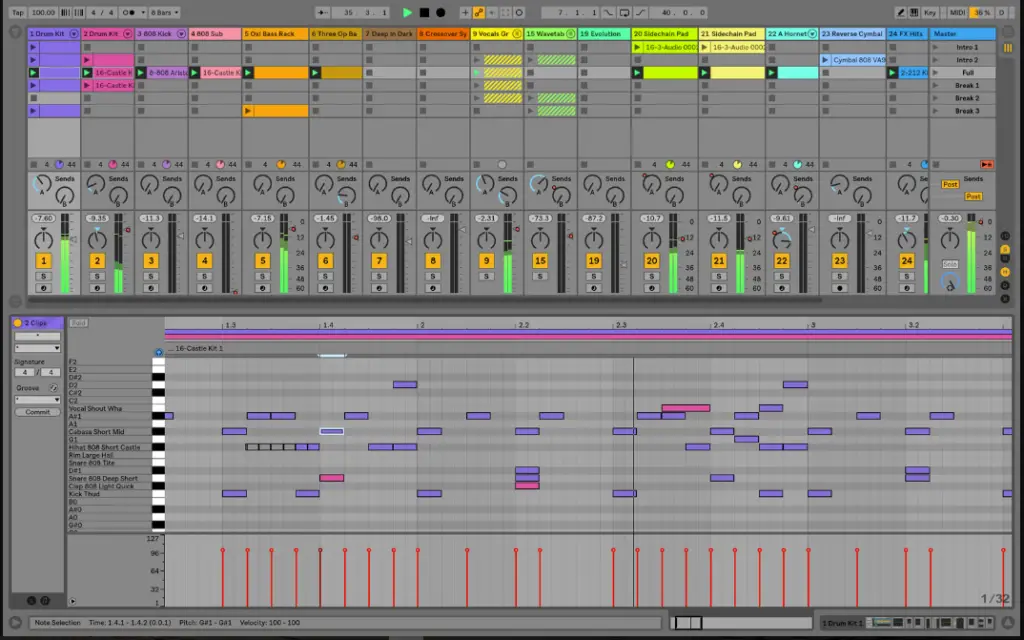 Ableton Live 10 contains all instruments and effects to make music. Use the controller to create music hands-on, and record songs for solo or a band. This software contains all live features that allow you to work with music electronically. Start your music with all the sounds and effects available and shape your tones to your needs. Produce music hands-on for your performance. Save your project as a Live Set and transfer it into your laptop. You can slice up parts of your audio, remix, or even reinvent your track. Mix songs and make the music you want.
2. Image-Line FL Studio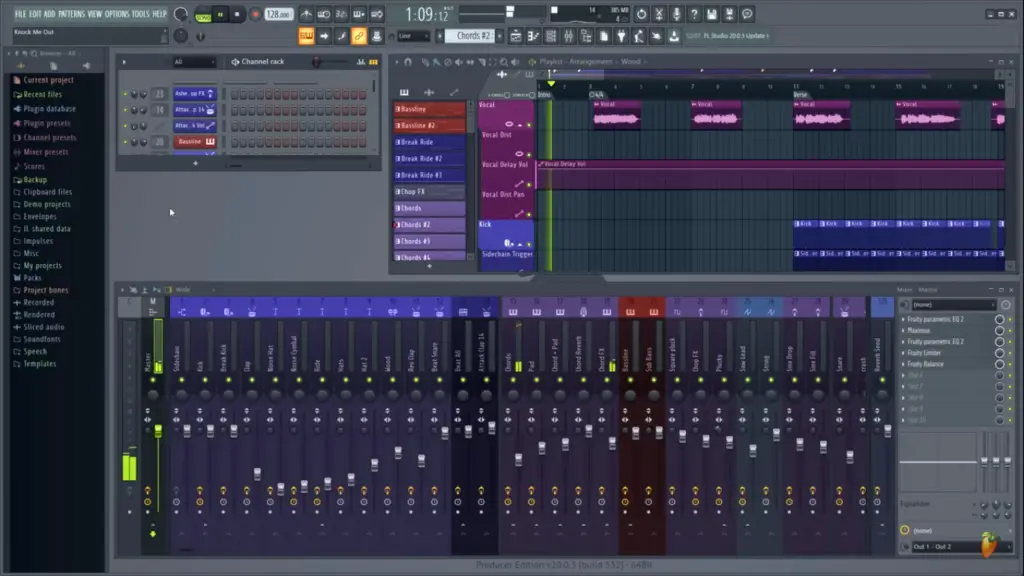 Get FL studio application on Google Play, App Store, or Windows Store. Try FL studio for free or buy its paid version. Expand your sounds by buying extra plugins. Studio drum tracks are available to bring you the real audio sound of drums. Mis the sound with your FL project. Do projects and save them easily to export into audio formats like MP3. Share your music with the world easily. Many DJs use this software to create their music. Effect chains, sidechain control, advanced automation, and many more features are available in this software to mix your music. The playlist of this software is flexible such that you can sequence all elements of your project.
3. PreSonus Studio One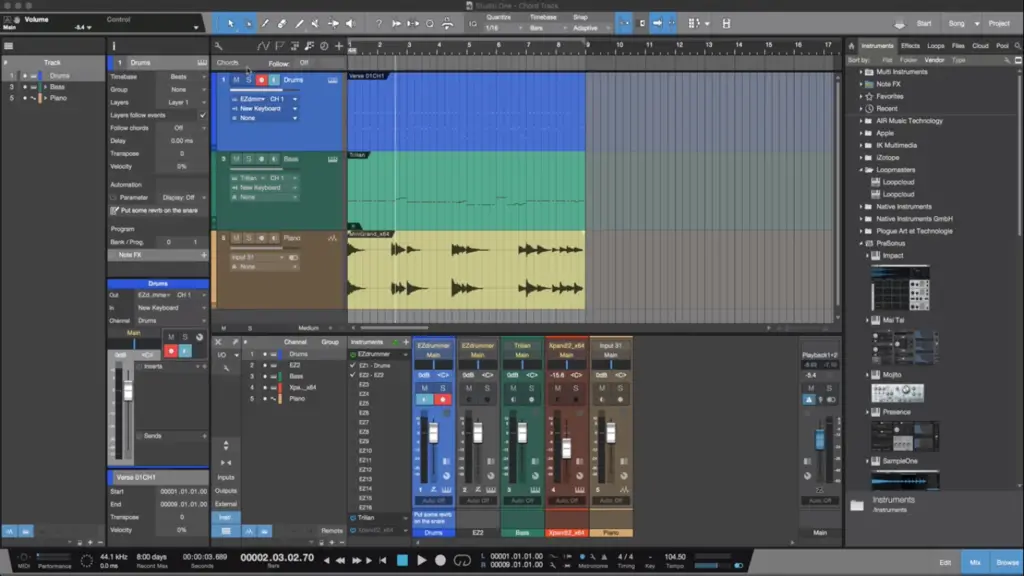 Record, produce and mix music using Presonus Studio One. The dashboard of this software provides you with all songs to start making your music. Make a personalized user profile to add custom metadata to your creations. The song page in this software has virtual instruments that you can play with to make your desired music. Use virtual instruments and plugin effects to improve your music. The drag-and-drop interface is available to convert audio to MIDI and vice versa. Switch between Score view, Drum View, and Piano Roll to view note data. Create your library of sounds using this software. Mixing analog with digital is easy in this software.
4. Cockos Reaper

Cockos Reaper is a Digital Audio Workstation. Use this software from home if you are working remotely. The cost of this software is affordable. A user guide is available to guide you through this software. Watch and learn from videos available on this website. Resources are available such that you can customize, modify, and extend them to create your music. Use the forum to discuss and share your music. This software supports many hardware and digital formats., like Multichannel support is available to perform audio and MIDI routing. FX Plug-in embedding allows you to embed some plugins into tracks.
5. Apple Logic Pro

It is a professional music production software by Apple. Use this tool for beat-making, songwriting, and mixing of music. Get the output of your music quickly with the easy interface of this software. This software contains a vast collection of effects, instruments, and samples to make your music. Use Drum Machine Designer to build your customized music. Use Step sequencer to program your melodies. Use this software from anywhere as it is available on the iPhone and iPad. Sampler helps to create multi-samples instruments. Build your guitar using an Amp designer. The sound library of his software has a wide range of genres available.
6. Steinberg Cubase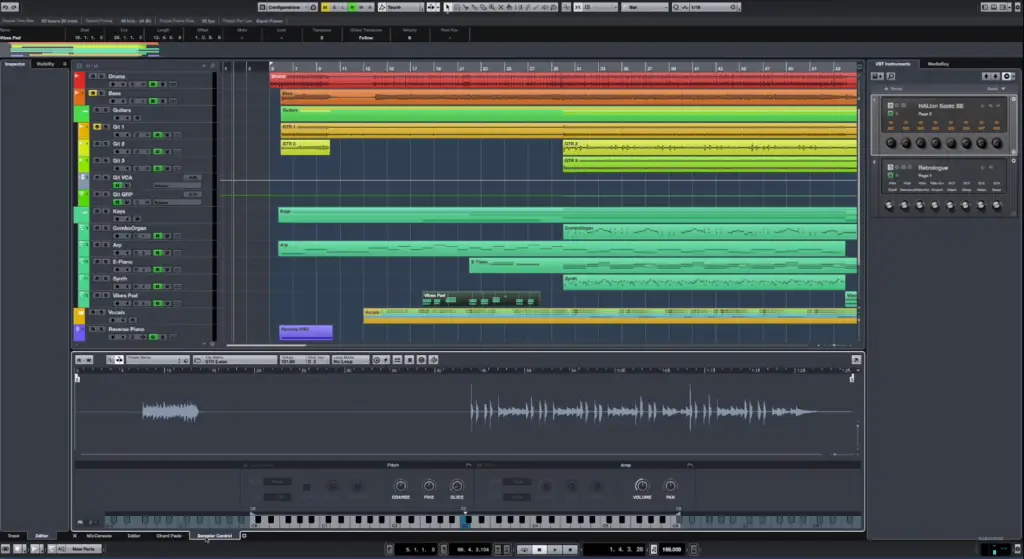 Cubase Pro 9 has Steinberg audio engine that has flexible routing and full automatic delay compensation. Get unlimited MIDI tracks and 256 physical inputs to accommodate your work. This software has high-end audio and MIDI VST effect processors. It contains MixConsole for the pro mixing of music. Loudness meter and Wave meters are available to track your volume. Edit monophonic audio tracks using VariAudio to correct pitches. Automatic voice harmonization and auto-tuning effects make music production easy. Many new features like Full Scoring Editor and VCA faders increase the performance of the software significantly.
7. Cakewalk Sonar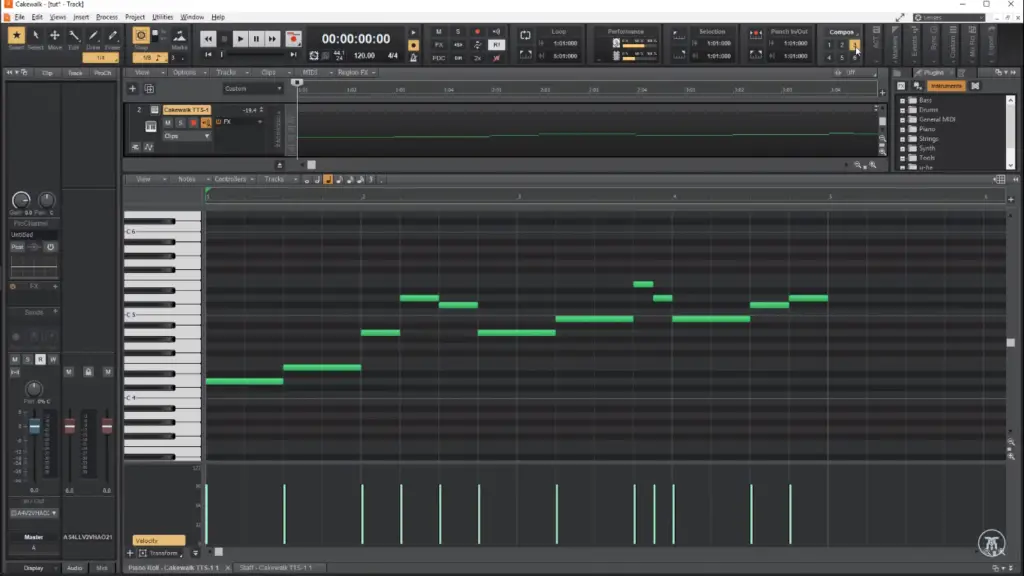 Cakewalk Sonar tracks templates and step sequencers so that you can focus on producing music effectively. Piano Roll View is a new feature that creates and edits MIDI sequences. Share your work on social media using SoundCloud integration. Compose using Sonar's integrated staff view to produce music. This software id ideal for songwriters and composers. Fill your tracks with virtual instruments and bring a band of instruments to compose your music. You can sing and convert Melodyne's audio to MIDI function. The blue tubes valve driver adds warmth and saturation effects to your music. Transform multiple performances into the composite track to compose perfect solo music.
8. Avid Pro Tools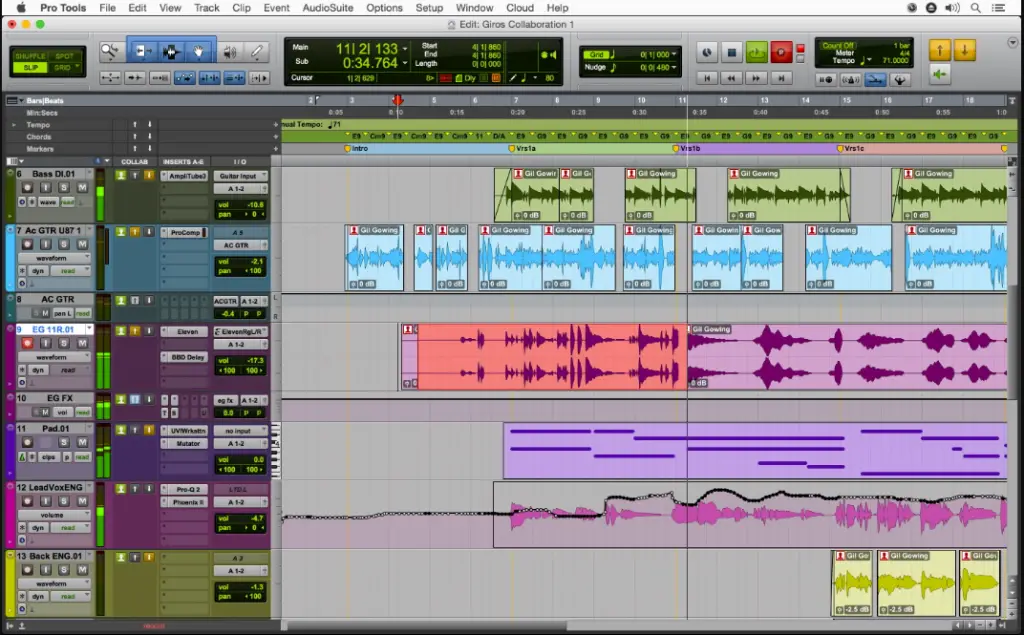 Want to produce electronic music? Avid Pro Tool is the right software. Organize your tracks into folders such that you can create and produce music effectively. Use the drag-and-drop feature to arrange and route tracks. Group your folders and color-code them for easy navigation. Automated playlist tracking and loop recording features are available. Use Track Presets to save and recall your vocal processing and track settings. Best mixing automation is available to mix your music. Trim clips and reshape sounds with a click. It optimizes your track with precision. Use the Elastic Time feature to switch the entire session tempo. Perform multiple types of edits quickly with this software.
9. Bitwig Studio

Bitwig Studio is a modern music production software that works in Windows, MAC, and Linux operating systems. The installation and setup procedure is easy. Use quick-start templates to start with your projects. The dashboard of this software allows you to use all the features easily. Play notes using your computer keyboard. Compose, record, and arrange music using this software. Controls are available for beat-matching and cross-fading; it supports traditional linear and non-linear music arrangements. Multi-monitor and touch screen support is available. Various audio effects options and MIDI effects are present in this software.
10. Propellerhead Reason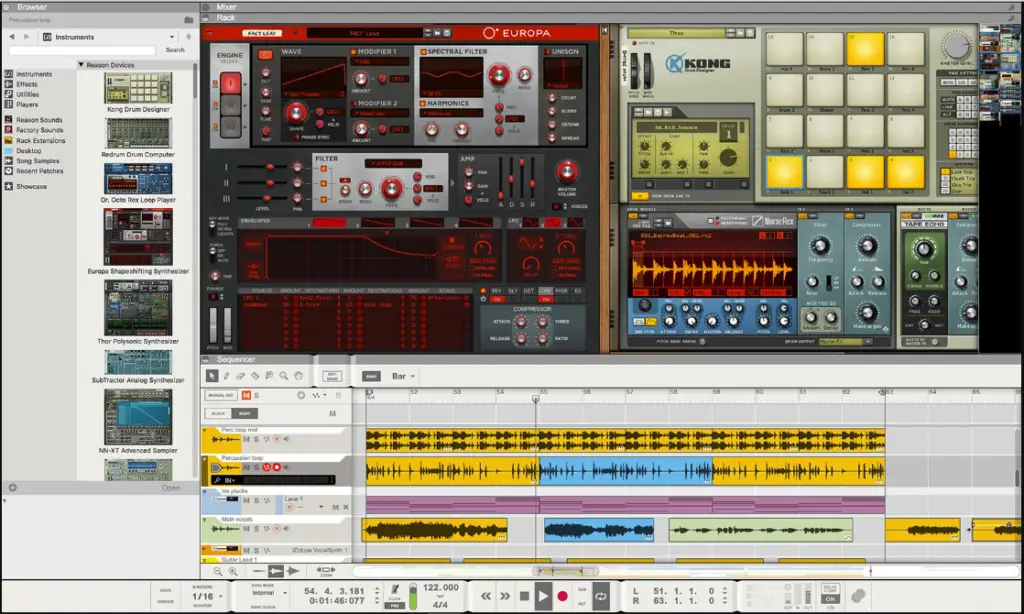 Propellerhead Reason is an electronic music software that acts as a virtual studio that offers synthesizers and drum machines to make your music. MIDI and audio tracks are available to start your music production. Synchronous effect modulator is available to modulate music. You can split notes with razor tool and even reverse MIDI. Record an unlimited number of audio tracks. A fast and flexible sequencer allows vector automation to be possible. Groove management devices like ReGroove Mixer locks tracks together into one. Double click to add or delete notes. Duplicate notes using quick commands. An auto-update feature is available to download and install updates. The Zoom-to-selection feature allows instant zoom to be possible.