The banking industry uses banking software to manage financial products. Access capital market using banking software, which is referred to as trading software. Monitor and control your transactions using Banking software. Financial institutions and banks can use this service. Retail banks use Core banking software. Connect the Bank's database to other services like SMS banking and internet banking through this software. Automation of banking is easier through banking software.
1. Novopay Banking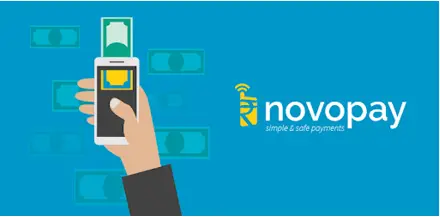 Novopay Banking has an AI engine joined to its components to process the requirements of the software using the Machine Learning algorithm. All the features of this software are available as a mobile application. Novopay makes mobile banking very efficient. Novopay has a cloud feature enabled to meet your demands. If you need to make large transactions, then extra infrastructure is available for you on the cloud. This platform is highly secured for you to use. This software is API enabled. You can expect good analytics from this software, which will allow you to make quick decisions. Get customer care support from them at any time to develop your business.
2. EBANQ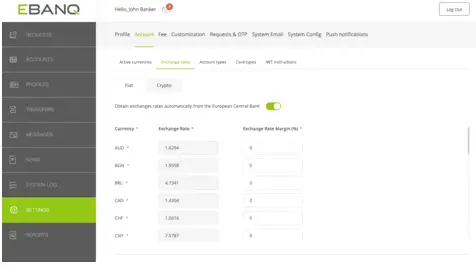 EBANQ banking software is available on Android and Apple mobile phones. Get assistance 24 hours. A digital currency feature is available for you to use. It uses extensive open API. Get all your details loaded quickly on any device or browser. Customize your software by uploading your logo and changing colors. Various types of transfers are available. Get all the reports of your transactions maintained easily. You can have your bankcards present in it with all the information for convenience. Get all details protected safely. Get to see messages or announcements always to be notified of information. View the exchange rates for money transfers.
3. Imagyn

Imagyn is a machine learning-driven framework that provides all facilities like being inside a bank. It is fully data-driven. Any bank will be able to use its versatile framework. Get your needs predicted using this platform, and it acts according to that. It has an artificial intelligence-based customer intelligence to provide all support its customers need. Get your services personalized to perform your needs. A Chatbot is also available to assist you. Get your processes automated and transactions monitored.
4. Interact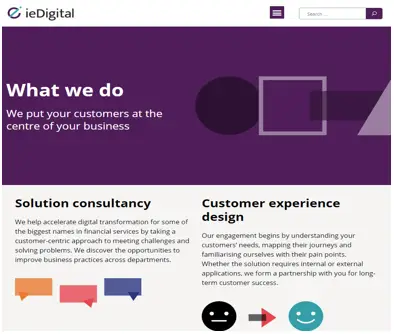 Interact is an online banking platform that allows banks to interact with the contact center through financial service providers. It acts as a financial management solution for all businesses. It helps with retail banking and allows you to engage digitally. This platform will surely reduce the cost for you. It is available on mobile phones, which makes it very accessible. View all your bank balances and loans all in a single tap with a picture of your card there. See your recent transactions and print them. Credit card management is also possible through online banking. Save a lot of time with their customer support as they use psychometric evaluations to evaluate their customers.
5. NovoDoba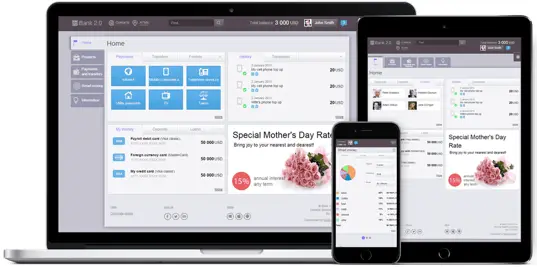 NovoDoba is a cloud-based solution to plan your banking processes no matter where you are. Get your bank databases managed and get financial services. It is a web-based application, which uses software-as-a-service. Get it installed in your Windows operating system. You can get training in the form of documentation or in-person to use this software. Small and medium-sized banks use this service. Get your work done at any time and anywhere without much difficulty. Monitor your transactions and manage all the risks of online banking easily. Compliance tracking is also available for you to track your progress in banking.
6. Bankingly

Get a native browsing experience through Bankingly. Experience a great online banking experience with this software. Access any products online from any computer or tablet. Make online transactions from wherever you want. Companies can also keep business accounts to perform operations they need. Use this fully secured digital banking. Make an onetime payment, and you do not need to pay for future enhancements in the software. Implement Bankingly in two months to start your banking needs. Pay only for what you use and save costs.
7. Apex Banking Software

Apex Banking software provides online and retail banking services. ATM management is also possible through this. Utilize private banking and transaction monitoring services. Get training for using this platform. Get trained through a webinar or in live mode. A free trial is also available in this software. Get functional support for all your products and services. The accounting system in Apex Banking System provides accounting information and reporting standards.
8. TCS BANCS

TCS BANCS provides banking with great customer experience. A global banking platform with many APIs enables a new ecosystem. The integrated analytics engine tracks your behavior as a customer. Get augmented customer servicing that is possible through AI. Open an account online and get all banking services performed using your mobile phone. Use multiple country currencies for the transaction, which allows you to have a centralized payments hub. This software will surely create new revenue models. It also provides you with insurance and capital markets.
9. nCino

Online banking software is becoming popular as people use technology for convenience and security. nCino is a cloud-based bank that offers interaction between customers and employees. Use it as commercial banking to get loans. Decrease time for your loan cycle and increase efficiency through this software. It has warehousing and analytics-enabled data-driven solutions. Ensure your data stays consistent. Get all data viewed through a graph. Make account opening much simpler, and get the best digital banking experience. Multi-channel consistency allows you to access data from any device. Apply for additional products like debit cards all through online. Manage all your documents and integrate services like document preparation.
10. CSI

It provides solutions to the core and digital banking processes. Online banking technology allows you to have a secure connection in an interface that is easy-to-use. Banking is possible on Apple and Android. Get yourself authenticated with improved biometrics. Perform real-time transfers and access the interactive digital statements. Name your debit cards for easy identification and turn them off if you lost them. Set financial alerts and track the activity of your cards. View all the transaction history of your account. You can deposit cheque through mobile. Manage all your accounts and set personal financial goals for yourself. If you are running a company, then you get to provide permission for sub-users to manage company details.