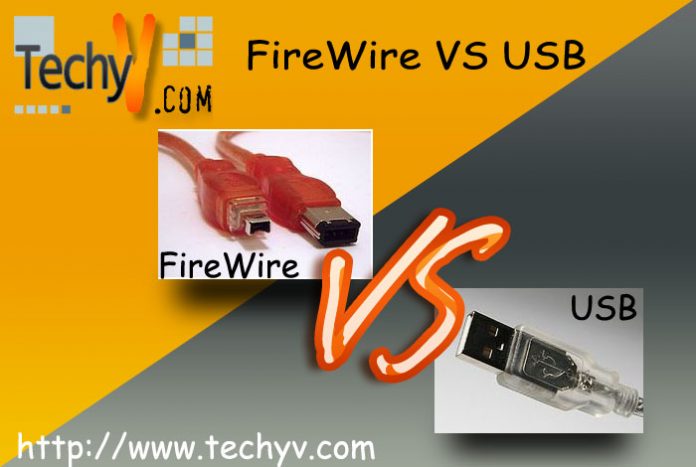 FireWire VS USB
FireWire
FireWire is a device connection interface for data communication. Actually the interface is called IEEE 1394 and FireWire is its brand name given by Apple. It is also known as i.LINK & Lynx names given by Sony and respectively Texas Instruments.
The bus interface is designed for high-speed communication; protocol of connection is serial. Data rate is 50-400MB/sec., hot plugging & external interface enabled. The serial bus interface is especially designed for High-Definition Audio-Video peripherals. It supports devices up to 63 with plug & play enabled.
USB
Universal serial bus is also an interface to launch data communication between peripheral and host controller or workstations. USB is also a popular computer hardware bus; enables hot plugging and external interface. Serial connection protocol of connection is serial and data rate is 1.5-625 MB/sec. It supports devices up to 127 with plug & play enabled.
History of FireWire
FireWire was first shaped by Apple Inc. in the mid 1980s with a view to setup high speed data transmit method from hard disk drives. Then Apple brought FireWire to the IEEE in order to provide it a standard form for workstations and external devices. Finally in December 1995 the module which we called IEEE 1394 was released with the initial transfer speed of 100 Mbit/sec & above. Before this, Sony used interfaces called i.LINK in their electronic devices especially in digital camcorder.
In earlier times, Sony and Apple were the two major hands in manufacturing FireWire compatible devices. However, recently various manufacturers have shown great interest in these devices and have installed products such as scanners, web cams, external hard drives and optical drives as well.
History of USB
Development of USB started in 1994 by joint the venture of a group of seven companies; Intel, DELL, Compaq, DEC, Microsoft, NEC, & Nortel. The designer of USB was Ajay Bhatt from Intel and was introduced in January 1996 for the first time. That was a USB 1.0 specification. USB 1.1 specification was released to support varying speed in September 1998. After then, in April 2000 USB 2.0 was released. At the end of 2001 it was standardized by the USB-IF. As a revolution, USB 3.0 was first announced in 2008 and released at the start of this year.
FireWire types
The first release of IEEE 1394 was FireWire 400. It is able to transfer data at a rate of 100, 200 or 400Mbit/sec; these modes are termed as S100, S200 and S400 respectively. The connectors are of two types, 4-circuit connector and 6-circuit connector. The additional feature of 6-circuit connector is its power supply support to the external matters.
An update was released in 1934 especially capable of asynchronous streaming, faster bus reset, power saver mode, and packet concatenation. 4-circuit alpha connector was standardized with this release by Sony.
In 2002 IEEE 1394b was released and introduced as FireWire 800 with an extremely fast transfer rate of 800 Mbit/sec. (beta mode came along with it). This is a new encoding method called 8B10B. The full specification supports a data rate up to 3200 Mbit/sec.
Another specification, IEEE 1934c was published in 2007 especially for Ethernet devices that provides data rate of 800Mbit/sec with 8P8C connector & category 5e cable along with automatic negotiation.
USB types
The very first specification was USB1.0 with a data rate up to 12 Mbit/s. Next specification was USB 1.1 data rate 1.5-12 Mbit/s specified for both high speed (mass storage) & low speed (joystick) devices. The most widely used version of USB till now is 2.0 came along with forty fold increase of data speed i.e. up to 480 Mbit/s. USB 3.0 comes with incredible speed, up to 5Gbit/s.
Role of FireWire on computer
FireWire is a connection interface so that different kinds of devices can be attached with the computer through it. Moreover it permits speed from 400 Mbit/sec up to 3200 Mbit/sec. Thus, it increases data transfer speed across hard drives as well as the performance of the computer.
Role of USB on computer
Role of USB on computer and its peripherals is also great. Due to its greatness large scale of production took place every year. It reduces cabling cost and plug & play mode permits ease of access to any device by reducing manual treatment of driver application. USB interface silently play a great role by replacing interfaces like parallel, serial etc, and thus reduce machining cost.
Devices use FireWire
FireWire is mostly popular in multimedia applications where high-speed data transmission is required like live audio-video editing. Another important reason is that it ensures less fluctuation while transferring data by keeping a certain width to device. Thus enabling data transfer without longer interruption. That's the fact why FireWire becomes a gainer with IEC bus in CAM engineering. FireWire is gaining acceptance among consumers as a keyword for home-based multimedia network. Multimedia peripherals such as camera, TV, gaming console, stereo system etc. are getting along with the FireWire interface. With machine and workstation, devices like webcam, scanner, microcontroller, audio controller etc. are greatly integrated into FireWire interface.
Device use USB
Devices using a USB interface simply replaced serial port, parallel port, and PS/2 interface. Such kind of devices are mouse, keyboard, power supply system, UPS, printer, scanner, webcam, dial-up modem, mass storage drive, along with main board. Other peripherals such as portable media player, smart phones, PDAs etc. use USB interface for both power supply & data transfer.
Firmware vs. USB
Though it is seen that FireWire & USB compliment each other, USB operates at a much lower rate than FireWire. High speed Bandwidth of FireWire makes it efficient to use with hard drives, digital Audio-Video equipment and other devices requiring higher data rate while USB is used with much simpler devices of lower data rates. To overcome this USB 3.0 version was released during the current year with a very high speed data rate of up to 5Gbit/s which is much greater than FireWire S3200. USB network is based on tiered-star topology while tree topology is used by FireWire network. Current rating of both is also different. USB provides 5V power line, while FireWire provides 12V and can supply up to 30V.