One time when I was on Facebook doing my own thing, my former officemate sent me a private message asking about something. He said, he was trying to print a PDF image on Windows XP but it keeps failing with a message "A required resource cannot be loaded". Though we used to print PDF files back in our office days, we never encountered this error.
Doing a little research, I learned that it is usually caused by a problem on the PDF driver or the PDF Printer driver. To a program, the PDF Printer appears like an ordinary printer which allows it to write documents in PDF format just like it would print the document to a printer. When a user prints a document to a PDF Printer, the application creates a PDF document instead of sending the file to a printer and literally printing it.
To fix the problem, you need to install the PDF Printer driver which is not possible if you are using Adobe Reader. Though you can print PDF documents on your printer with Adobe Reader, it cannot convert documents into PDF format using the PDF Printer. The PDF Printer feature is not available in Adobe Reader which is the free version. The PDF Printer feature is only available with the paid version, Adobe Acrobat.
To have the PDF Printer, you need to purchase Adobe Acrobat but if this is not an option, a good alternative to Adobe Acrobat is Foxit Reader. It offers all of the features you can find in Adobe Reader plus the PDF Printer. You can download the latest Foxit Reader from FileHippo – Foxit Reader. It supports Windows 2000 (32-bit only), Windows XP, Windows Vista, Windows 7, Windows 8, and Windows 10 both 32-bit and 64-bit.
Once you have downloaded Foxit Reader, navigate to the download folder and double-click the setup file to begin the installation. Configure the installation as you prefer.
The installation takes only a few minutes to complete. When it is done, you should have the Foxit Reader PDF Printer among your installed printers.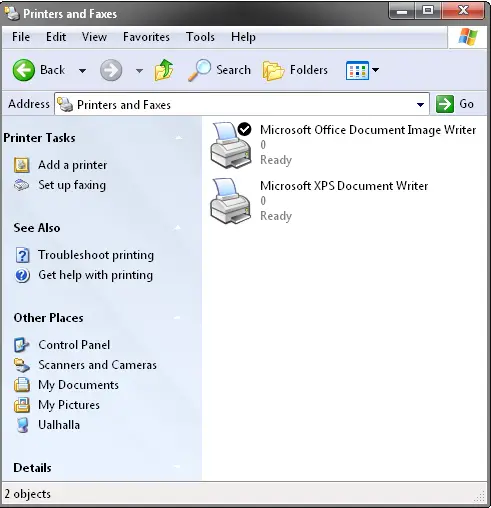 And that's it. You can now convert documents into PDF format with the Foxit Reader PDF Printer and also print PDF documents to your printer without having the annoying "A required resource cannot be loaded" error message. Though this solution may not work for everybody, it does give you a hint on where to start and what is going on.