Nowadays, our life has become very stressful, which leads to anxiety and high blood pressure. It's scientifically correct that almost 70% of human problems are coming from stress. So, to solve your problems, a body massager is just what you need. It's a great appliance that helps in releasing stress and relaxing the muscles. There are different types of massagers available in the market, ranging from full body massagers to one device. But wouldn't it be fantastic if you get a full body massage from one single device at a reasonable price? The answer is yes. You can have your massage session at home without any hassle. Here are the top 10 body massagers you can check out.
1. AGARO ATOM Electric Handheld Full Body Massager
The Agaro Atom body massager is a lightweight and versatile product from one of the popular brands in the Indian market. It's a perfect full-body massager with a simple control panel to adjust the required speed. It has 3 detachable massager heads, and the motor has a material of pure copper for better and superior performance.
2. Dr. Physio Electric Full Body Massager
The Dr. Physio Electric Full Body Massager is available in an affordable price range, and one can efficiently operate it themselves. It has a strong motor but is also lightweight, which makes it easy to use. It helps in burning fat, giving wrinkle-free tight skin, and stimulating the blood flow. It has 4 customized heads with a 1-year warranty. Just be careful and don't use it in sensitive areas.
3. Lifelong LL27 Electric Handheld Full Body Massager
It helps in generating inner strength and improving blood circulation. It's also a pain reliever for the back, shoulder, and all body parts except sensitive areas. It also helps in toning up thighs, butt, hips, and stomach. It has three different types of massage heads with multiple speed settings. The materials used to make it are skin-friendly such as ABS plastic and TPR material. You may face some problems while changing the heads, but it is the best portable body massager at a reasonable price.
4. Dealsure Dolphin Handheld Massager with Vibration
It has a Dolphin shaped body, made with long-lasting and excellent quality material. Its motive is to help relieve muscle pain, lower back pain, sprains, and neck strain. It uses reflexology therapy to stimulate the nerve ends. It helps in reducing anxiety, depression and keeping a healthy blood circulation.
5. Dr. Physio (USA) Electric Hammer Pro Body Massager
Here's another electric body massager by Dr. Physio. It's an affordable professional-grading massage at your house. Its nonslippery handle ensures a better grip, and the powerful motor gives excellent performance. It has three removable massage heads with a friendly controlling system. You can change the speed controls according to your needs. It also has a 1-year warranty at a reasonable price.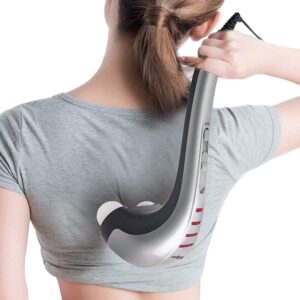 6. Dr. Physio Rechargeable Personal Body Wand Cordless Eva Massager
Dr. Physio brand is launching many great products to help people in relieving tense muscles at their home. They release all types of massagers, and one of them is Personal Body Wand Eva Massager. It has an intense vibration that stimulates lymph movements and focuses on cardiovascular health. It helps in reducing muscle pain and stiffness quickly. It also helps stimulate the production of natural lubricants, which are essential for muscle growth and development. The biggest advantage is that it's rechargeable.
7. HoMedics HHP-350 Percussion Action Massager
It's a face plus body massager which uses percussion therapy, one of the most efficient techniques. It provides many speed options so you can set it according to your needs. It has only two detachable massage heads which cover the complete body. It will take away all your tensions and discomfort with its special heating element.
8. Pure-Wave CM7 Cordless Massager Body + Facial
The Pure-Wave CM7 Massager is the best massager, also used by massage therapists and fitness experts. It has six removable heads, each having its purpose. It efficiently works on sensitive tissues, shoulder, and neck pain and helps in stimulating blood circulation. Its powerful and fast functioning motor keeps it working for an extended period of time.
9. HealthSense Toner-Pro HM 210 Electric Handheld Full Body Massager
The health sense body massage is a multitasker that will relax your muscles and target excess fat at the same time. The material used on it is high-grade ABS material that is skin-friendly. It also has a speed regulator knob to control the speed according to needs. The 8 LED red lights circle ensures the increase in blood circulation and massage. It is perfect equipment for people with arthritis.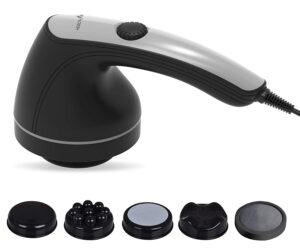 10. Lifelong LLM36 Powerful Double Head Body Massager
Here's another model of the Lifelong brand, which is great for the muscles. Just keep in mind, it's not for the bones. The model has three separate massage heads and a speeding option. It has a covering of rubber, as it uses friction to loosen your muscles. It also works as a reliever from pain and other problems.