Internet Protocol version 6 (IPv6) is a protocol that allows the communication of data over a network and can work simultaneously with IPv4. In IPv6, the communication is completed with the help of packets known as the header (identifies the source and destination) and the payload (the actual data). Internet Engineering Task Force (IEFT) issued the conventional working of IPv6. It was planned to replace the vast Internet protocol version 4 (IPv4).
The new internet protocol is referred to as the backbone of the modern Internet. Apparently, it is the 'next generation internet.'
Enormous enhancements in IPv6:
Increased Address space: This is one of the major advantages of Internet Protocol version 6. The length of IPv6 is 128 bits which are more satisfactory than IPv4 of length 32 bits. IPv6 can literally contain 340,282,366,920,938,463,463,374,607,431,768,211,456 addresses. Ipv6 packets support a massive payload than IPV4 which results in an increased throughput and transport efficiency.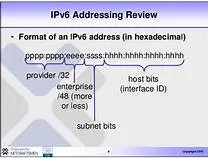 Support for mobile devices: IPv6 reinforces the Mobile IPv6 protocols that facilitate the mobile devices to switch between the networks and receive a roaming notification despite physical location. Internet Engineering Task Force (IEFT) has a distinct specification for MIPv6 that details security requirements and messaging.
Auto-configuration: Auto-configuration is beneficial to network executives. There can be auto-configuration among IPv6 devices. To lay guidelines for IPv6 auto-configuration, the IEFT has published RFC 2462. An IPv6 router has the potential to verify its IPv6 address using the data link layer's addressing parameters.
Increased authentication and privacy measures: There is a better security system of IPv6 than IPv4 protocol. An integrated framework is introduced in the protocol that allows secure data traffic between hosts. As a result, it provides a productive security framework in all respects for data transfer at the network level.
What to perceive about IPv6?
The necessity of IPv6: IPv4 is running out of addresses which are the main reason for the introduction of IPv6. IPv6 uses 128-bit addresses and is competent of 340 undecillion addresses. IPv6 is important because a large number of computers, smartphones, gaming devices, and tablets are connecting to the internet.
Difference between IPv4 and Ipv6: Apart from the availability of addresses, IPv6 is better than IPv4 in other aspects too. An IP address that is a binary number, but for easier reading of human readers, it can be stored as text. Also, IPv6 supports auto-configuration whereas and renumbering whereas IPv4 supports manual and DHCP configuration. IPSEC is inbuilt in IPv6 protocol however in IPv4 security is dependent on the application.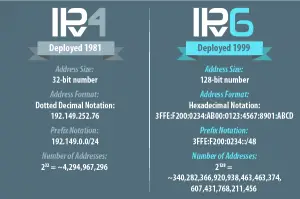 Services, software, and equipment to buy or replace for IPv6:
Some of the software and equipment you possess already are IPv6 ready whereas others are not. Prior to any purchase of new equipment or software, consumers should check their device for compatibility with IPv6 which includes the following:
Computers operating systems such as Mac OSX, Windows, and Android;
Computer networking equipment such as cable, DSL modems, wireless access points, routers and home gateways;
Networks home electronics such as Blu-ray players, Av receivers and Television sets which are capable of connecting to the Internet;
Home Security Systems that uses IP networks;
Internet Service Providers (ISPs);
Web browsing software such as Internet Explorer and Firefox;
Computer security software such as firewalls and anti-virus programs; and
Voice-over-IP and video conferencing programs.