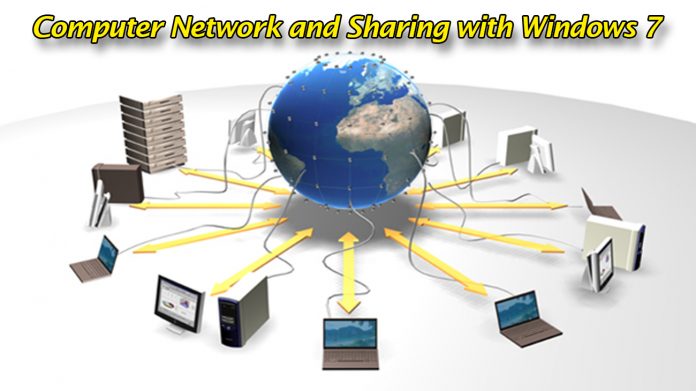 Network and Sharing with Windows 7
Computers are becoming a basic need of each organization, institute, and for personal use. An end user is required to have an Operating System in the computer to be able to perform daily tasks that include both professional tasks and tasks at home. Microsoft, in this context, has launched several Operating Systems with the passage of time. Microsoft Windows 7 is the currently launched and a marketed Operating System.
Microsoft Windows 7 Operating System is more user-friendly with regards to its features as compared to the earlier Operating Systems launched by Microsoft. Windows 7 has introduced more advanced network sharing options than the earlier versions. A computer network means a pool of computers connected through a specific medium (e.g. routers) for communication and sharing resources among computers. Microsoft Windows 7 allows network sharing in a very convenient way. The main objective of networking is to facilitate communication, sharing hardware and software, files, information and data; which Microsoft Windows 7 allows at its best.
Networking and sharing also needs proper security related options and Microsoft Windows 7 has advanced security and permission options both for the local users and the network users. It has a client server environment where users on a professional Operating System can apply settings to its personal computer just like a server to its client. However, the stand alone server mode has a limited directory and security criteria as compared to pure server Operating Systems. There are three categories of network in Windows 7 (i.e. Home Network, Business Network, and Public Network). The details regarding network and sharing options in Microsoft Windows 7 are further elaborated with detailed screenshots below.
Accessing Network and Sharing Options in Microsoft Windows 7
In order to open "Network and Sharing" in Microsoft Windows 7 press the "Start Menu Button" and go to "Control Panel" as depicted in the first screenshot. Further to this, you need to select Network and Sharing Options in All Items window of Control Panel as depicted in the second screenshot below.
Network and Sharing Options
Users can set up a VPN, local network, internet, dial up, or wireless connection network settings under this option. Further to this, users can troubleshoot the network connections and they can identify errors to fix the network issues using the troubleshooting wizard. The Network and Sharing option is further categorized in three options explained below: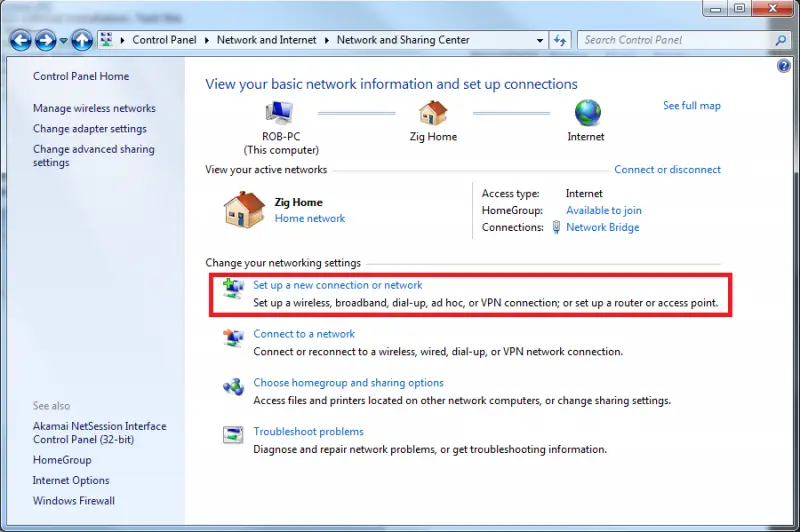 Set Up a New Connection or Network
Users can setup a network connection using the simple and easy network wizards. It allows users to set up a dial up connection, workplace, and a network connection.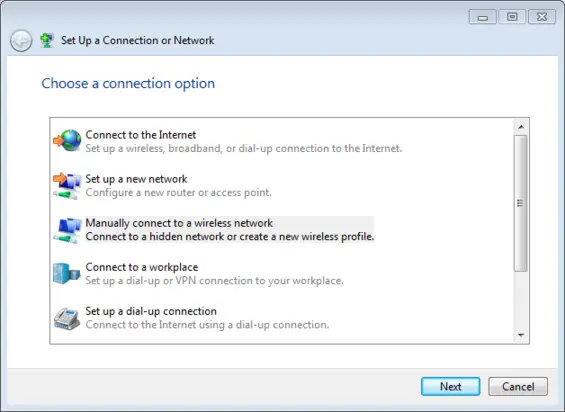 Connect to a Network
This option allows users to preview the network connections like wireless, dial up, or VPN connection. It is interactive and has a wizard-oriented option to switch between networks.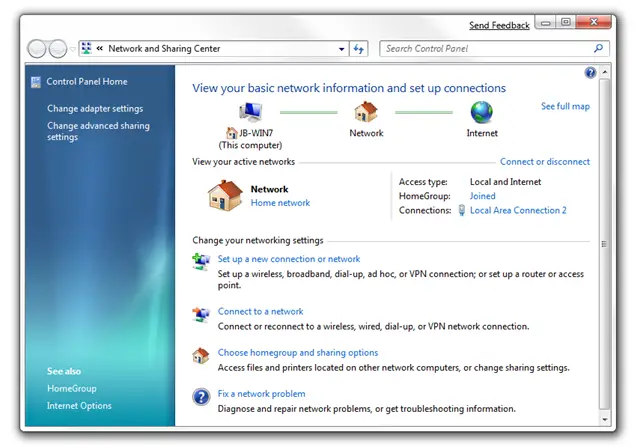 Choose Homegroup and Sharing Options
Users can change "home group" settings through this option; such as password options, advanced sharing settings, homegroup troubleshooting, and joining or leaving a homegroup.