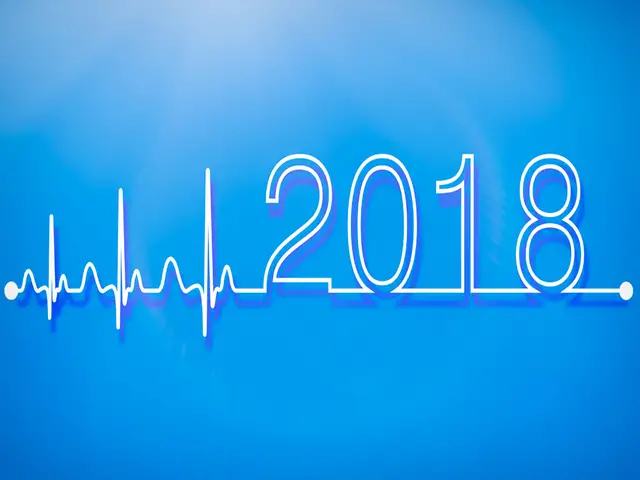 Before going to the main topic which is given above first you need to know "what is a fitness tracker?"
A Fitness Tracker is a device which is used to measure your physical work (such as distance walked, calorie consumption during a work, heartbeat etc.) related your fitness. It is also known as an "ACTIVITY TRACKER". Generally, a fitness tracker refers to a wearable device which can record person's physical fitness.
Now let's have a look at some top fitness trackers that are expected to have a huge popularity in 2018 –
1) MISFIT RAY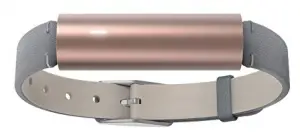 Misfit ray is a product of an American consumer electronics company "MISFIT" which is specialized in producing technical wearable devices. MISFIT RAY is a new arrival in that series. The company promising that it is their most nominal and versatile fitness tracker. It provides you the motivation to stay fit by recording your steps taken, distance traveled, sleep duration and calories burnt. The most remarkable feature of this device is that it never needs to be charged and is also water resistant so it can be worn continuously. Most attractive features of this device are listed below –
• It records your sleep duration and also the quality of your sleep.
• It also gets vibrations alert for texts, calls, and messages.
• It can calculate the calories you have burnt during physical exercise.
• It can also control light and music.
Its physical appearance includes-
• Replaceable cell batteries
• Multicolor LED display
• Water resistance to about 50 meters
• Aluminum body
• Piezoelectric vibration
• Accelerometer
• Bluetooth smart wireless syncing
It is a worth buying tracker at the price of approx. 7500 and this price is justified for this kind of device.
2) FIT BIT CHARGE 2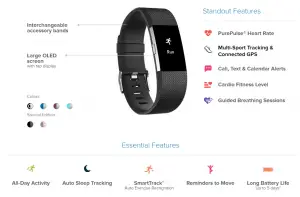 It is a product of another American consumer electronics company "FITBIT". The launched this device as a replacement for its previous product charge HR, it features many specifications of charge HR and also some advanced features to overcome the previous product. The prominent features of this device is as follows –
• It can record your steps, distance traveled by you, floors climbed by you, calories burnt by you, and all your activity hours.
• It consists of a smart track so that even if you forget to log the workout it can automatically record your exercises like running, biking, hiking, and yoga etc.
• Through the GPS connectivity feature of this device, you can connect your phone to this device to see the real-time run stats and track your route post-workout.
• You can get a better understanding of your fitness level and see ho can you improve your overtime with a personal cardio fitness score powered by pure plus.
• You can find your moments of calm throughout your day with its feature guided breathing session.
Its physical appearance include –
• Interchangeable accessory bands which are sold separately.
• Large OLED screen with a tap display.
• It is made Elastomer material.
In India, it is available on many online shopping sites at a price around 14000.
3) MOOV NOW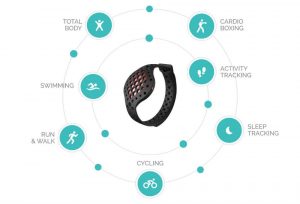 Most of the fitness tracker we have heard of focuses on step counting and calorie calculation and still tells that their main aim is to track the daily physical activity.
But Moov now takes a different approach, the Moov now the band has a number of workouts that you can try for at your own pace all having a voice coach. It is a very good choice for those who are looking to step up their game are definitely going to appreciate this device.
Its remarkable features are –
• Real-time coaching
• Voice coach feed-back
• Tracks running, swimming, cycling, sleeping, and daily activities.
• 12 guided workouts
• Six-month battery life
• Works with IOS and Android
• Third party heart rate monitors support
• Uses Omni motion 3D sensor to track movement
• Dust and waterproof
4) HUAWEI BAND 2 PRO
The Huawei band 2 pro looks like that it will be the most awaited wearable devices of 2018 and the key attraction of this device is its reasonable price. Although, it does not have some remarkable features like the other competitors in the market its price recovers all its drawbacks because its price justifies its value. Few things go on this device which includes inaccurate metrics and the design is not so innovative. The company stated that the main aim of launching this product is to shift the buyers from established companies like Fit-bit, Misfit, and Garmin.
Key features which go in favor of this device are-
• Multisport tracking
• 3- axis accelerometer
• An infrared wear sensor
• Detached PPG Cardio tachometer
• GPS connectivity
• VO2 max tracking
Conclusion
At last, we can say that for those who are overweight and fatty peoples these devices are useful and help them to reduce their weight by reminding them of their physical exercise and research showed that results are accomplished in 18 months. But one thing goes against such devices are that these devices are uncomfortable to be worn all the day so their wear time becomes low.