5 Best MP3 Tag Editors for ultimate satisfaction
Interested on finding the coolest and in the trend MP3 tag editors? Here is a list of 5 of the best that is available for your ultimate consumer satisfaction.
Professional Tag Editor
First on the list is the Professional Tag Editor (by Hamed J.I). This editor not only is indeed functional for MP3 files, but, as well as WMA files, an added bonus isn't it. MP3 files use ID3 tagging; the commonly used version nowadays is the ID3v2.3. ID3 contains absolute information about the MP3 file.
Professional Tag editor has the following features:
Could easily edit files together at the same time.
Renames files according to tag information available with a use of a formula. This editor enables the user to rename files based on a special formula and by its tag information.
Loading filter. It enables the user to see only the wanted information he wants from the file. Complete control on what he wants to be displayed.
Template Support ID3 and WMA file information could be stored as templates. Lyrics editing supported, lets the user synchronize or unsynchronized lyrics.
Unicode supported.
Error management; an error incurred on the process is showed by the editor for the user to manage the certain errors.
Set-up and installation is user friendly and easy.
Link for download:
http://sourceforge.net/projects/professionaltag/files/Source%20Codes%20and%20amp_%20Setup/1/ProfessionalTagEditor.zip/download
MP3 Tag Pro 6.1
MP3Tag Pro is an editor that lets editing and controlling MP3 file with such ease. Downloads unsupported tags from the internet, extracts tags from filenames, imports tags from text files, and exports tags. It is fully functional for renaming music files and organizing them into new folders
MP3Tag Pro can easily administer both versions of MP3 files, copy info from one file into the other, multitasking of tags, MP3 tags download from the internet, creates custom MP3 playlists.Mp3 file renaming capable.
It is a brilliant tool that supports a lot of audio formats. It can process OGG, AAC , APE, WMA, MP4, WAV, FLAC, and MPC tags. It works with all formats consistently, that means tag processing is always the same for all types of formats.
Features:
ID3 tag editing.
Download ID3 tags from Amazon and FreeDB.
Track number auto-filling for grouped audio files.
Multitasking.
Export tags to MS Excel, CSV, and TSV.
Audio file renaming.
Multilingual interface.
File names and tags are Unicode supported.
Download lyrics from the internet.
Built-in player.
Various enhancements.
Technical details viewable.
Windows Vista support.
TAG & RENAME
Tag & Rename, the versatility of this program makes it one of the bests in its field. It could handle all popular audio formats and as well has full support for mp3 files, Apple iTunes and iPod files, Windows Media Audio, MusePack mpc, asf, wmv, Ogg, Flac, and Speex, including mp4 and protected mp4files and many more. In which other tag editors cannot process. Among this unique capability, Tag & Rename has other added features such as:
Batch tag editing.
File tag repair using DB software.
Load cover arts and load titles from amazon.com servers automatically.
Load album titles from tracktype org server.
Creates play lists.
GODFATHER
The Godfather is a tag editor with a built-in library to organize MP3 files based on its tag info. Auto-scans your MP3 folders and then suggests the files to rename. It allows you to edit and show up to 4 pictures for each album stored in MP3 files. Also it is synchronized with "Search Lyrics with Google", makes searching a lot easier and faster.
On top of its manual editing of tags, it also supplies auto tagging via online databases such as Amazon, freedb and Allmusic.
JAIKOZ
The Jaikoz Tag Editor combines supremacy and yet simplicity to let you to organize, edit and correct thousands of these tags with ease. Jaikoz has superb automation features designed to do the dirty job for you. It uses MusicBrainz and MusicDNS, having a song to be identified by the actual music, such that it can do a match even if you have no metadata. Major flexibility is provided by the editor as well as accuracy to lookup your songs by both the acoustic id and the metadata.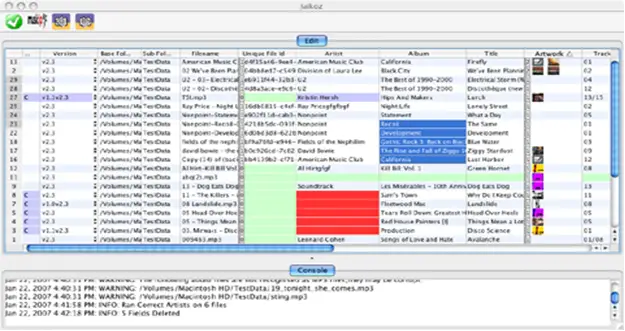 Other features are:
AutoCorrect for automatic formatting.
Folders and files can be renamed from your tags in your desired format.
Easy conversion of tags from one ID3 version to another.
Runs on Mac OS X, Windows and Linux.
Automatic MetaData matching.
Provides full support of all ID3 text.
The innovative split screen spreadsheet.
Full Unicode support.
Multilingual.