Apple iWatch vs. Samsung Galaxy Gear SmartWatch
The world is witnessing a huge leap in technology and we have now moved on from smart phones to smart watches. We have now taken one more step towards wearable technology and these smart watches are definitely an example of what will shape the future of wearable technology. The coming year will be a witness to launches of smart watches by giants of this sector. Even though one is going to come out before the other, we will still see a fierce battle between the Apple iWatch versus the Samsung Galaxy Gear SmartWatch. When have these two giants ever missed a chance to compete against each other, anyway?
The War of the Watches!
When is the Apple iWatch coming out? While the Apple iWatch release date is expected to be somewhere in 2014, Samsung galaxy Gear has already been unveiled. Although the Samsung Galaxy Gear SmartWatch release date isn't specified, it is expected to be out somewhere in the last week of September this year. It will be coming out alongside Galaxy Note 3.
Latest Apple iWatch Rumors – Its Pros & Cons
A few rumors that are flying around the much-awaited iWatch are as follows –
It is assumed that the price of an iWatch would be somewhere around $149 to $229.
It is assumed that this time Apple might be experimenting with curved glasses that are used in the manufacturing of wrist watches. This is hinted by the fact that Apple has patented the slap-band style which was quite a hit in the 90's. This particular style would quite obviously require a very flexible display.
There is a rumor which might indicate that Apple will be paying a lot of attention to fitness this time. This can be linked to the fact that boxes of Nike Fuelbands have been ordered by Apple.
The rumors suggest that you will be able to connect your iWatch with your iPhones and iPads via Bluetooth. So it is very likely that iWatch will have Bluetooth and it has been assumed that it will have a 1.5 inch screen display. It is thus very easy to conclude that the iWatch will only be able to perform and display a certain things and it will definitely not be able to duplicate the data in the iPhones and iPads.
The existence of Siri and Apple maps in the iWatch is most likely too. Having Siri present in the iWatch will definitely benefit Apple.
Since there is still a lot of time (if we believe the rumors) in the release of the Apple iWatch, these are a few rumors that have made their way. The release date actually seems a bit real because of Apple's history. They have usually never been the first ones to come out with a certain technology like in the case of tablets; when iPad came out, it was not the first time the world saw a tablet, it just was one of the best that the world had seen.
Latest Samsung Galaxy Gear Rumors – Its Pros & Cons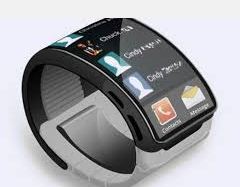 We still do not know what exactly will the iWatch comprise of but it definitely is about to face a tough competition. And one of its biggest competitors is Samsung Galaxy Gear. The features that were rumored to be present in Samsung Galaxy gear before it was unveiled are:
This device, like the iWatch is the future of wearable technology. This will provide you with internet access, receiving calls, emails and messages.
The Gear is also going to focus on fitness and it is the same road where iWatch is headed.
GPS and maps might make it to the Gear too.
The rumors suggest that the Samsung Galaxy Gear will most probably have a 2.5 inch OLED display. It is also being assumed that Gear might have Exinos 4212 SoC and 1GB of RAM.
This wearable device might come in various colors like grey, orange, white and black. These colors are expected to come out the day the device is released and it is rumored that a gold colored Gear might make its way a week later.
While the rumors in the case of iWatch quite strongly suggest that the display would be flexible, Samsung does not seem to have that possibility. The rumors which pointed out that Gear might have flexible display were dashed by Samsung.
Gear might have the 4.3 version of android.
The rumors that surrounded Galaxy Gear were almost similar to the ones surrounding iWatch. Though after Gear was unveiled, it was seen that it does have Android 4.3 and the screen size is 1.63 inch Super AMOLED display. It has a metal face and adjustable wrist bands. The rumor about the colors that are available was true as well. It does rely on a Bluetooth connection with a Galaxy device but it does all the work of the phone (well, mostly). It has a decent 1.9 mega pixel camera and two micro phones and speaker. It is app-rich. Samsung claims that it can support almost 70 apps. It also has storage of 4GB.
The downside of this device is the poor battery life. Also, the speed of the user interface is quite low. It takes a lot of time for a few simple tasks to perform. Even the swipe menus are a little difficult to deal with. Basically, every task is a little too difficult to deal with on the Gear. Adding to the list is the fact that you can make phone calls through the Gear only when you are in a quiet area.
Apart from all the technical problems these devices come across, the biggest issue that one can have with such technology is the money factor. Gear will be available to public in around $299. Paying this much amount on a device that is basically dependent on its parent device- in this case, Samsung galaxy devices does not seem fair and worthwhile. These kinds of devices do make us look at the leaps and jumps technology is making but there still needs to be a lot of independence and logic that is required to be present.
Who Will Win the War?
And as far as the war between these big shots is concerned, they both have many more devices to compete with companies like Sony and Google (it is also planning to come up with a smart watch). But that will truly be seen when the Apple iWatch release date is finalized and its specifications are unveiled before the public. Google Glasses and all these upcoming smart watches are soon going to redefine the future of wearable technology. Stay tuned in as we bring you more updates in this regard.