Released on Oct 2016, Google Pixel is giving a tough competition to iPhone 7, released on Sept 2016. Both phones are quite similar in first look, touch and the camera quality. These are listed at the same price, making difficult for the user to choose one among them.
Here we are going to list some features, pros and cons of both phones. Go ahead, compare yourself and make your decision.
1. Display:
Apple iPhone 7 comes with a 4.7 inch IPS LCD screen having a resolution of 750 x 1334 resolutions. Pixel density is 326 PPI offering excellent colour reproduction. It has a brighter display than Pixel. An Ion-strengthened glass having an oleophobic coating protects its screen. It supports 3D touch display and home button.
Google Pixel has 5.0 ¬inch AMOLED screen and a significantly larger resolution of 1080 x 1920. Pixel density for this phone is 441 PPI resulting in a sharper display. It comes with Corning Gorilla Glass 4 shield.
2. Design:
iPhone 7 is of dimension 138.2 x 67.1 x 7.1 mm and weighs 138 gms. It is IP67 water-resistant and resists up to 30 minutes and 1-meter thick water layer. It supports nano-SIM too.
Google Pixel has a dimension of 143.8 x 69.5 x 8.5 mm and weighs around 143 gms. This phone is only splash and water-resistant and lags behind iPhone 7 here. It also operates on nano-SIM.
3. Camera:
iPhone 7 has a 12 MP main camera with f /1.8 aperture. It supports optical image stabilisation (OIS) and a quad-LED flash. The secondary camera has a 7 MP having aperture f/ 2.2.
Pixel has 12.3 MP main camera with f/2.0 aperture. It has a Gyroscopic stabilisation (GIS). Its secondary camera is of 8 MP with f/2.2 aperture. Both cameras support HDR and Panorama mode with an autofocus, geo-tagging and face detection. You can also record video on 1080p at a higher frame rate.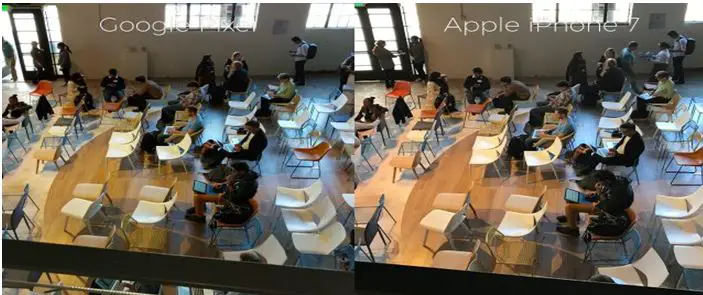 4. Software:
Apple's device run on iOS 10.0.1, presently the best version of iOS. You can upgrade this to iOS 10.1. It comes with Apple A10 fusion chip with Quad core processor.
Pixel runs on latest version of Android i.e. Android Nougat. It has Qualcomm Snapdragon 821 Quad core processor.
5. Storage:
iPhone 7 32/ 128/ 256 GB internal memory options with a 2 GB RAM. There is no slot for the external card. Google Pixel comes with 32/ 128 GB internal storage options while no space for the external card. It has 4 GB RAM. It also offers unlimited cloud storage for videos and pictures something which you have to buy on iPhone that too is limited.
6. Battery:
iPhone 7 has a non-removable Li-Ion 1960 mAh battery.
Google offers 2770 mAh non-removable Li-Ion battery to Pixel owners. It also has a fast-charging capacity and can charge up to 7 hours within 15 minutes.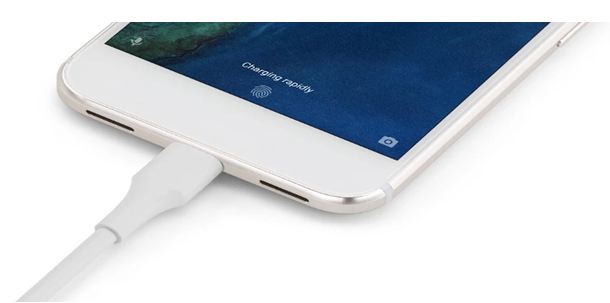 7. Voice Assistant:
You can ask your voice assistant anything you want. You can command it to play a song or maybe you would like to know next day's weather. iPhone voice assistant Siri and Google Assistant both can perform tasks in a specific apps. But Google voice assistant is more accurate and specific at times. Suppose a case when you want to search a location or check the weather or ask it to set an alarm Google Assistant respond much faster than Apple's Siri.
8. Sound:
iPhone has a dual stereo speakers. On the contrary, Google pixel has a headphone jack.
iPhone has a superior gaming experience over Google pixel. Pixel offers customization and personalization of apps, something which iPhone doesn't offer to its users. iPhone has a smooth functioning with better apps.
In Google Pixel, you can access millions of apps, but you can't beat gaming and app quality of iPhone. Pixel is better multi-tasking than iPhone 7.
iPhone and Google Pixel both have Finger Print sensors. The only difference is that Pixel has it on its back side while iPhone has on its front.
Talking about the colour options, iPhone is available in Jet Black, Black, Silver, Gold and Rose Gold. Google Pixel comes in Black, Silver and Blue.
So it's totally up to you. Choose what suits you the most.