Display :
Hello Guys! I have a Dell Venue Tab 8 Pro. Did not use it for a month as a result, I forgot my password. It is sad that cannot open my Tab right now. Is there a way to retrieve my password? Or is there a third party tool that I can use to open it.
Can somebody help me on my research Assignment? I would like to know the steps on how to get the list keywords used in a website. Is there a way to get these stuffs? Or Is there software or a tool to get these keywords? Let me know. Thank you.
I just created a trial account for Google Apps for Business and totally confused how to use it. I wanted to use Google's email services to receive/send emails from my hosted email address, but for some reason I ended up creating a new email account instead. My question is how I can get my existing hosting email address to be forwarded to this new email address.
I was annoyed on the random updates of the applications on my phone Every time I connect to the internet. I wish it to stop, then I saw the download manager on my phone. I tried so force stop the updates. After that I can no longer connect to the internet. Please help! My phone is LG SU760.
I have a Samsung S4 and my problem is that I can no longer browse thru chrome, but it can do browsing on its default browser. I am having a hard time using the other browser so I want to have the chrome back. Please send me advise on how can I restore it. Thank you.
Hello,
Microsoft Dynamics AX provided me this weird error. File name too long is the error and if I Try Again the same error appears no matter if I name the file "A". Can anyone please explain me what I did wrong ? Is there a solution ?
Thank you !
Error in file: C:\Program Files\Microsoft Dynamics AX\60\Server\RAxAX_12_Transaction\bin\Application\appl\Standard\axapdnb-no.alt while reading in record = 0
Windows error
Error code: 38 = Filename too long
Try again?
Yes No
Hi there,
This long error appears when I want to create a Software Update Group and until now after a long research on the Internet no solutions were found. Can anyone help me please to fix this error ? Why I have this kind of error ?
Thanks !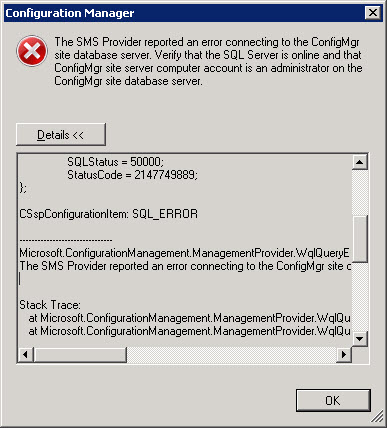 The SMS Provide reported an error connecting to the ConfigMgr site database server. Verify that the SQL Server is online and that ConfigMGR site server computer account is an administrator on the ConfigMgr site database server.
Details<<
SQL Status = 50000'
StatusCode = 2147749889;
};
CSspConfigurationIdem: SQL_ERROR
Hello there,
Autodesk showed me up today this error when I tried to load some projects. Is not the first time when I have this kind of error, all time I solved this error by reinstalling the program. Now I am tired of this and can anyone help me please to fix this error ? Is there another solution ?
Thank you!

Cannot open database C:\ProgramData\Autodesk\ACA 2011\enu\Details\Details (US)\AexDtlComponents(US).mdb.
OK
Hi,
I got this Error after patching SCVMM 2012 SP1. I don't know why and I was expecting that the patch will improve the performances of the program. What should I do experts ? Please help me to fix this error.
Thank you experts !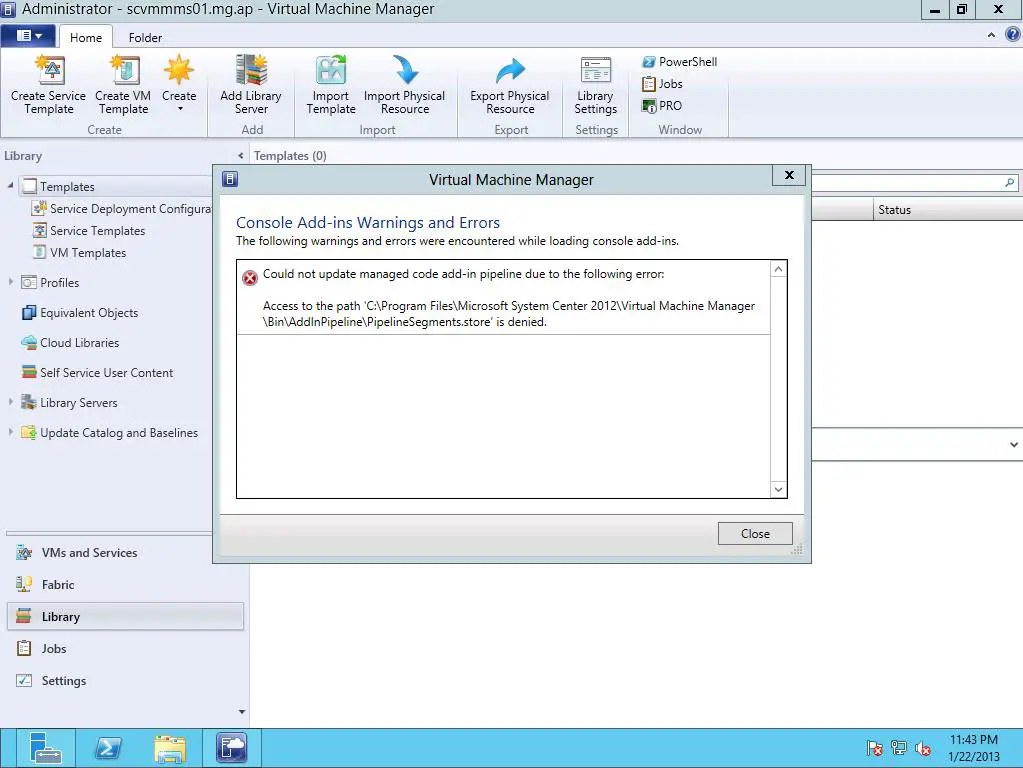 Administrator – scvmmm01.ms.ap – Virtual Manager
Virtual Machine Manage
Console Add-ins Warnings and Error
The following warnings and errors were encountered while loading console add-ins.
Could not update managed code add-in pipeline due to the following error:
Our Company recently availed an MS 2008 Enterprise Software licenses. Then later we realized that we require it to be Multi-Language version since we also work on other languages. Do we need to upgrade these licenses to make multi-language or there are just some downloads that we need to do.