Display :
April 25th, 2014
I am facing Update Error Code 800F0092 on my Windows 8.1 64-bit PC. I can't continue with the KB2919355 update as it always fails. When running the update, it will stop in the middle of the update and there's nothing more. The update will stop in the middle of the process and then the update error code 800F0092 will appear. How can I fix this?
April 22nd
Despite numerous attempts I cannot download apache open office I always receive an International error code 2908 (F9CA2E00-7476-DD4D-8C20-223A2A9F8981
April 16th
Hello,
Recently I experienced some problems with my Cloud. This error is the most recent one and I don't have any solution for it. I don't know if a problem with my PC or the Cloud is. Please help with this error. Can you recommend me some different Clouds that will work without any problem?
Thank you!

Error
We're sorry, but a serious error occurred. Please don't close the Cloud Flow Designer window. Contact salesforce.com Customer Support as soon as possible. OK
Hi experts,
I can't install this plug-in and this error shows up every time. A friend of mine tried to solve this one but with no solution. The same friend told me about this website where I can find some experts answers. Is any expert online and can help me with this error?
Thank you!
InsertLoremIpsum error!
InsertLoremIpsum plugin can't find the InsertLoremIpsum_stats.cfg file and needs to close. Make sure InsertLoremIpsum_stats.cfg is in Config directory!
OK
Hi,
I have this error with Eclipse and I don't know why this one appeared. I have inserted a correct Xhtml and still. I am not an expert working with Eclipse so am looking for an expert solution. Can any expert from this website help me with my problem? Is this an Eclipse error and how can I prevent it to happen in the future?
Thank you!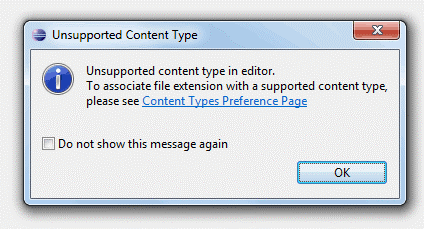 Unsupported Content Type
Unsupported content type in editor.
To associate file extension with a supported content type, please see Content Types Preference Page
Do not show this message again
Hello there,
I did the standard install of Tapatalk and when I opened the app this error appeared on my screen. I don't know why might not be compatible with my system since my girlfriend is using the same version as I tried to install. Does anyone have any idea about this error? Is a problem with my phone or the installer was broke?
Thanks!
System Message
Package file version doesn't match with the installed version, please go to your forum's AdminCP->Flugin&Products->Manage Products to upgrade by importing the latest installation xml
OK
Hi there,
I use Tapatalk for almost a week and is for the first time when this error appears. I did some researches on the Internet and it seems like is a common error, I didn't find any solution. Please experts help me to fix this one. Does the server have some issue or is a problem with my phone?
Thank you!
Unknown Error
It appears the server has some issue with Tapatalk or your permission is expired. If this problem persists, please re-enter this forum from Account tab.
OK
Hello experts,
It seems like Angry Birds can't run on my new tablet. I have the same version installed on my phone and is working great. I don't know why the same version of game is not working on my new tablet. Please someone help me to fix this one. Why I can't run the game on my tablet?
Thanks experts!
Unknown Error
An unknown error has occurred
Please tell Riot Games about this problem.
We have created a report about this error for you to send us.
Send Error Report Don't Send
Hi,
After this error appeared on my desktop when I tried to run some new programs that I installed, I did the necessary updates for my video card and I still have this error. What could be the problem? Is my video card so old that I can't run some new programs?
Thanks!

It appears that your graphics driver does not support the necessary extensions to use this tool. Do you want to use your graphics driver vendor's tool instead?
No Yes
Hi there,
When I turned on my laptop this error appeared on my desktop. I see is something about java and I think maybe the updates I did lately are causing this error. Can anyone help me to fix this? I have this error because of the updates?
Thank you!

Load measured data set error
File is not in a Room EQ V5,01compatible.mdat format
Exception jave.io.StreamCorruptedException: invalid type code: 46
OK