Display :
March 6th, 2014
I am trying to log in to Hero in Diablo III but it keeps throwing an Error 3006. The last time I played, it was working without any issues. But now, I can't even log in. How can I fix this? I've seen some users who are encountering the same issue too but there is no working solutions yet. Please help.
March 3rd
I got this error on publishing my site through Rapid Weaver: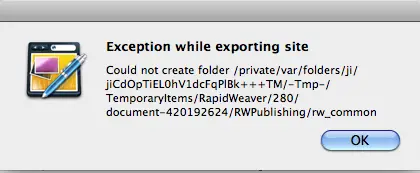 Exception while exporting site
Could not create folder /private/var/folders/ji/
JiCdOpTiEL0hV1dcFqPIBk+++TM/-Tmp-/
TemporaryItems/RapidWeaver/280/
Document-420192624/RWPublishing/rw_common
OK
I restarted my computer and another error appears. But this time it is showing a permission error and I am unable to start Dropbox. Can someone please help me with this issue? I will appreciate any help. Thanks.
March 1st
Hello tech experts,
I am getting this error message, when I am working with InstantStrom. I am not a technical person so finding very difficult to handle an error. I just started learning new concepts. I don't know how to explain an error. So I have attached the error image, please do check it and explain me. Thanks a lot. Your help is really great.
Exception EReadError in module My Screensaver.scr at 0020218.
Error reading txtPassword.PasswordChar: Invalid Property value.
Hello Professionals,
When I am updating the Moto I ended up with an error and it failed to update. It says that some dll may not be registered in the computer and XML load error too. Do I need to install the dll separately in the desired folder? Does anyone know how to fix this problem? Thanks.
Programming Failed.
Cause: Other failure
Reason: XML load error. msxml*.dll may not be registered.
Hi trouble shooters,
When I try to install the GoToMeeting in the computer I am facing an annoying error message. This error message is not allowing me to proceed further with the installation. It failed to create the directory for GoToMeeting in the computer. Can I able to create directory manually to solve this error? Help please. Thank you.

Unable to create directory C:\Users\uzunay.TRUMPF\AppData\Local\Citrix\GoToMeeting\1082.
Hi all,
I was using NetWorx for quite long time, when I try to open NetWorx all of a sudden I got his pop up message. It worked well in Xp operating system, but this happened in windows 7. Tried million times to uninstall and reinstall the NetWorx, but nothing magic happened. Experts help me solve this issue. Thanks in advance.

Access violation at address 004FE29F in module 'networx.exe'. Read of address 00000005.
Hi experts,
After the updating the ZoneAlarm firewall, I have a problem with the Toshiba power saver utility on my laptop. I think the ZoneAlarm firewall has created some problem. How to solve this error? Can I able to revert back to original version? Does anyone know how to fix this problem? Please help. Thanks.
A Fatal error has occurred. This program will be terminated. code: 0x5
Hello Expert friends,
I am facing an error when I try to execute the correct version for the meeting. I tried several times to execute the meeting from GoToMeeting but no result. How to resolve this error? Do I need to re-install it again? Please help me to find the solution. Thank you.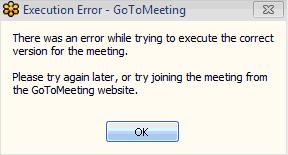 There was an error while trying to execute the correct version for the meeting.
Please try again later, or try joining the meeting from the GoToMeeting website.
Hello Pro Experts,
While working with Paint Shop Pro it throws me an error message. The error states that an invalid parameter has been passed to a function. I am a beginner in Paint Shop Pro so finding it very difficult to understand the error message. Really I am in help. Please help. Thanks a lot.
Internal program error: An invalid parameter has been passed to a function
Hello,
The download and the installation of Game Maker Studio went pretty well and good. But when I try to launch it I stuck up with an error message. I think the Game Maker is crashed. Am I going in the right path? Please assist me solve this problem. Thank in advance.
Exception EInOutError in module GameMaker-Studio.exe at 004E234D.
File access denied.