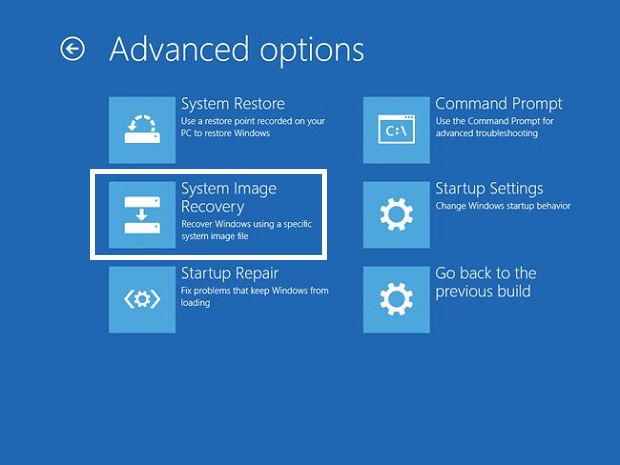 Performing Image Backup in Windows 10
How to perform an image backup in Windows 10?
The image backup contains the full installation of your computer such as operating system, Windows apps, settings and all your data and files. This process can be useful in case of any critical software error or even hardware failure. However, it doesn't offer restoration of individual files as it meant to restore everything in your computer. Also, backing up your entire computer system regularly can help you in case of any system failure. If you don't do it on regular basis, chances are, you could lose important documents, software, settings and other files because once you encounter any error, you can only restore your computer from the last time you back up your system.
Microsoft introduced this reset feature on Windows 8, but it is still available in Windows 10. So the steps below can also be done when running a Windows 8 computer.
To do this, just follow the step-by-step procedure below:
1. Point your mouse to the Start button and right click it then select Control Panel.
2. Click Save Backup Copies of Your Files with File History.
3. From the File History window, click the System Image Backup, which you can find in the bottom left-corner of your window.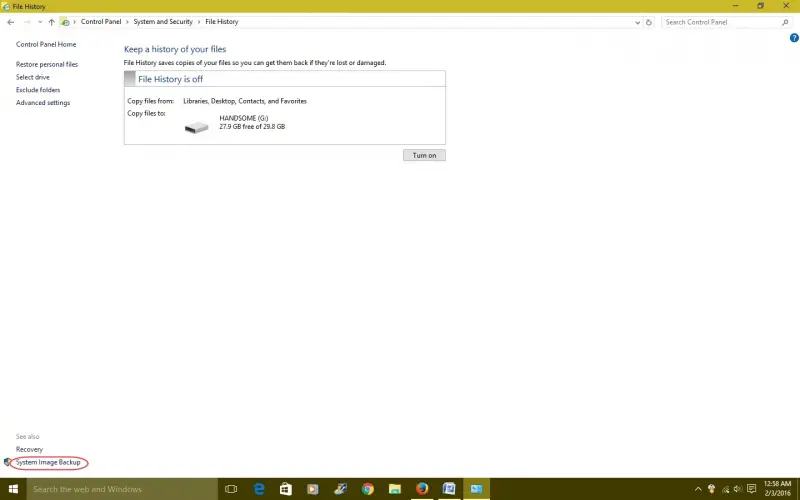 4. Connect your external drive such as USB hard drive with sufficient disk space.
5. From the Backup and Restore window, click the Create a System Image option in the left portion of your window. This will launch the Create a System Image window, and you will be prompted to select where you want to save your backup. You can choose to save on your hard disk, blank DVD or a network share. On this example, we are going to choose the USB hard drive that you just connected.
6. Click Next from the Create a System Image window.
7. Confirm your backup settings by checking if the information is correct then click the Start Backup button to begin the process.
8. Wait until the process is done. The process can usually take few minutes until few hours depending on the amount of data that you are backing up.
During the backup process, you can still be able to use your computer or do other tasks as you normally do. Remember to keep the USB hard drive in a safe place after backing up your computer.
If you need to restore your computer using the USB hard drive where you saved the backup, just connect the drive to your computer and perform a reboot. Under the Windows Setup window, just click Next and then click Repair Your Computer in the bottom left-corner of your window. Afterwards, click Troubleshoot and Advanced Options and then choose the System Image Recovery option. Choose the target OS that you want to recover and then click the Next button and click Finish.