Not everyone can complete a project successfully. It requires a lot of effort required for successful completion. So there is a point where everyone has to focus. I think many of you must have understood. It is communication between team members what makes it the right way. But for communication to be successful, you will require project management software. But if you don't plan in investing on it, is fine. We will discuss the top 10 best free project management software.
1. TeamGantt


If you are looking for an easy to use the tool, then this is it. You will able to create tasks, milestones, etc. It works on Google Chrome, iOS, and Android devices. You can hang on to any device, and still, it works for all the members of the team. You can set dates and prioritize tasks on high on low. It has features including drag and drop, Guest permission, viewing multiple projects, assigning tasks, and subtasks, etc.
2. Asana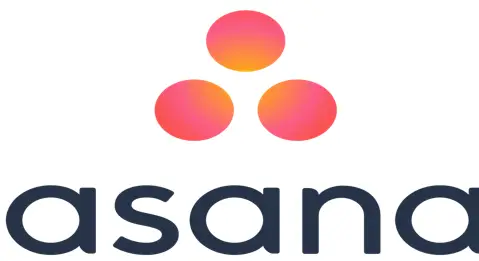 If you want your team members to do as per your request, then this is for you. It allows you to create a task list and can see the project timeline. You can see your progress, reschedule your task, due dates, and much more. It is excellent in document management, project management, time and expense tracking, CRM tools, and much more. It also comes with a feature where you can link it with slack, Google calendar, etc. It will make you integrated with them and easy to choose between different schedules. Additionally, it has portfolio management and resource management tools.
3. Click Up
If you work in detail, then this software is for you. It will allow you to assign specific tasks, small tasks, full projects, etc. If you want, you can enable automatic scheduling if necessary. Your team member will also feel delighted by using this software. You can work on goals, reschedule if you want to. You will have features like task tray, a notepad for making notes, assigning comments. Even dark mode is available. It is more efficient for small businesses and some others, including marketing and advertising, computer software, education management, design, and IT services. It works on android and iOS.
4. Freedcamp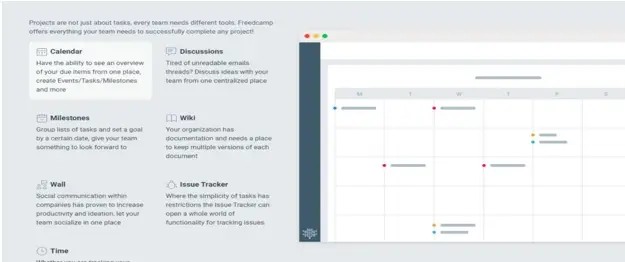 It is a cloud-based software that works on both Mac OS and Windows. it is feature-packed. It includes reporting/project tracking, collaboration, time tracking, task management, and Gantt charts. It has unlimited workspace and tasks. A virtual discussion forum is created to communicate effectively with team members. It is also compatible with third-party apps like Google Calendar, Google Drive, Dropbox, and much more. And the calendar gives information about pending tasks.
5. Teamwork

It is one of the best for the business being done on a small-scale. It has features for creating team members' status and can customize over some time. It allows us to view customer emails all in one place, assign tickets, thus providing customer satisfaction. Team members can view their project timelines and can prioritize based on needs using the Gantt chart. Private messaging is their feature to give details for specific members of a team.
6. Wrike

It is excellent in providing features and easily customizable software. You can edit and revise the project's bases at your convenience. It has an in-built feature known as mobile forms for updating information about the project by fellow workers. You can add comments, videos, documents relevant to your project or the company's requirement. It has taken several security measures to keep your data safe. The activity manager will keep track of small tasks, tag team members, see activities in chronological order, etc. Your email and calendar can be synced and can un-follow activities depending on your team.
7. Trello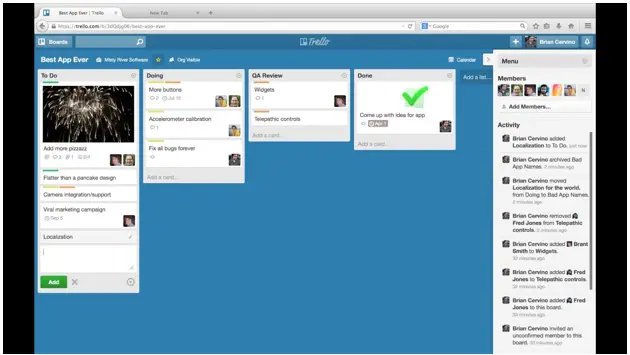 People prefer this software over others due to its drag and drop feature. You can customize names in to professional or personal. And depending upon your workflow, you can assign categories to it, which use cards for presentation. And each card can be given due date. It becomes so productive with a wide range of templates for different projects. Also, you can add images if you prefer. Even you can customize your workflow status.
8. nTask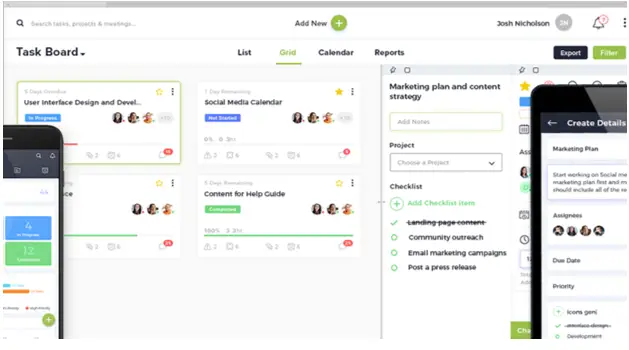 The task manager of this software will prevent us from becoming prey for hectic tasks to roll over our minds. It is available for individuals or professionals who are looking for software. Users can assign roles like a leader, create a budget, set milestones, and even set time tracking criteria for projects based on user's needs. Third-party apps like slack and integrated with many such apps. You can invite stakeholders for taking a look upon ongoing projects. Multiple workspaces for different projects and team admin assign duties for team members.
9. Toggl Plan

You can automate and visualize the projects ongoing with this software. If you want multiple departments to work under a single team, then this is for you. It has the feature to view the Gantt chart for viewing the details about ongoing work, project deadlines, and much more. Integration with Slack, GitHub, Evernote, and many more on the list. It also allows you to collaborate with team members by sharing task notes, calendars, and much more.
10. Todoist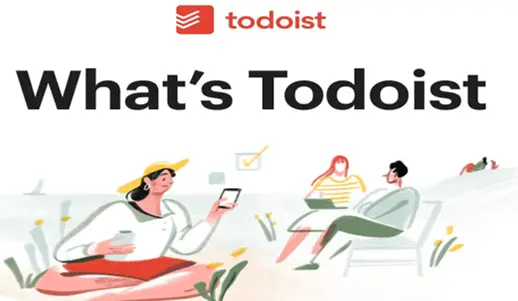 This software allows you to create intuitive and interactive to-do lists. We can assign priority based on team members. It has customizable features for making custom reminders. It can create a list depending on which action to take and assign a title to it. You will also get tools to customize for your own needs. And dates will be recurring when work is delayed. You can keep yourself organized by assigning labels, notifications, and much more.