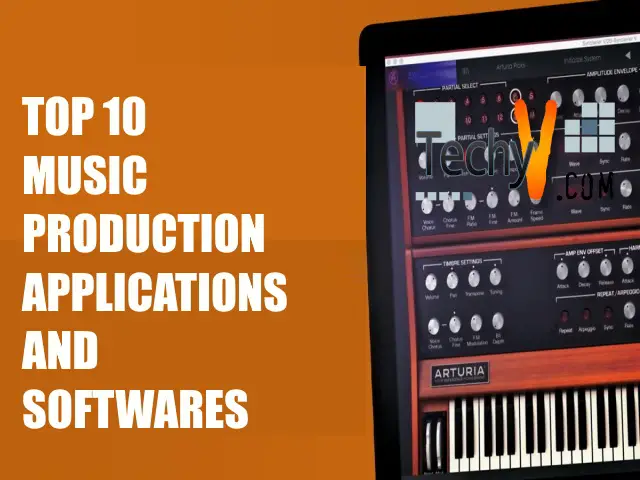 Everyone enjoys themselves when listening to your music. Many people love creating music too. That is when music production applications come handy for them. It allows them to create music of their choice and mood. These applications are not only used by musicians but also by ordinary people like us. Let us take a look at the ten best music production applications.
1. GarageBand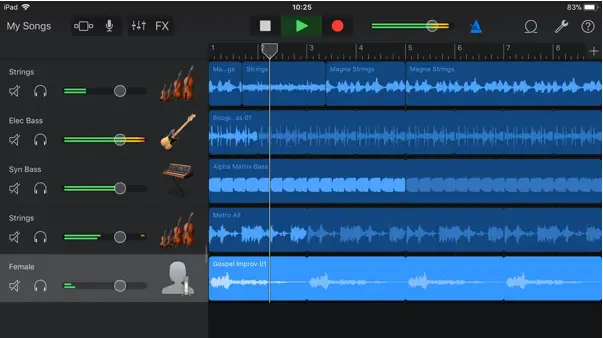 Want to create music? Use GarageBand for creating music, which is developed by Apple. It allows you to record audios for you to make the music. It gives good hands-on experience of trying different instruments. You do not need to spend money on buying expensive instruments. You can't learn them all. You can use the sample instruments in GarageBand to find out the sound of each one of them and make music from it. There are many outstanding tracks in it for guitars. One of the remarkable features of GarageBand is that it contains MIDI editing, which allows you to make changes to a recorded sound. You can change the pitch, velocity, and duration through this feature.
2. Animoog

You can make music using this app developed by Moog. You can make great music through Animoog. You can make changes to the songs in your Ipad through this app. It acts as an exceptional substitute for synthesizers. Beginners can also use this app. It has various presets for you to work on.
3. Korg Ielectribe

Create incredible rhythms with KorgIelectribe. It also has many built-in rhythm patterns that allow you to create your music by making tonal changes. You can create rhythmic beats up to your choice. It has many unique functions to make changes to rhythmic patterns, and it creates music for you.
4. Beat snap

Beat snap stores nearly 200 instruments. Five hundred different sounds are available in it. The step sequencer is also present in for facile composition of music. You can visualize music and make it through the drum pads. Then, you can combine it to make your music. Record your performance and share it with others to prove your talent in music.
5. Mixpad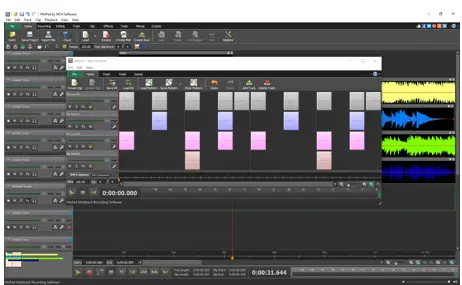 This software is used by professionals to record and edit music. It allows the mixing of music like the studio. Mixing media files can make new music. Add audio effects to enhance the music up to your choice. Compress your output and upload it to cloud storage to share it with anyone. Use reverse effects to reverse music to produce your desired output.
6. UFXloops music studio
Songwriting, sketching, and production can be made manageable through uFXloops. Many samples are present in this software by default. You can make changes to them to create your music. It has a soundboard sequencer, which is easy to learn. A volume mixer is available on four layers allowing you to make changes to get the desired output.
7. N-track studio DAW 9
Make your music through unlimited audio tracks. It supports multichannel USB. A 64-beat audio engine allows you to produce various beats. Collaborate with other artists to create music. It supports many types of music files enabling you to play with music files of different types.
8. Music Maker Jam

Control music to synchronize it to your choice of the beat. It offers four freestyles. You can find various music lovers on this platform. Many new ideas can arise from sharing opinions with others. You can record vocals and remix the tracks from your phone. Sound loops and sound mix packs are available to make it more accessible to you.
9. RD4 Groovebox

Configure your track using four channels. You get to choose between analog synthesizers and a drum machine for each channel. You can apply effects after producing a baseline and beats. A built-in sequencer allows you to make adjustments while playing. People of all ages can handle this application. Use MIDI support for sharing. Also, you can record a session live.
10. FL studio mobile

FL studio mobile allows you to work with all screen resolutions in all devices. It step sequencer uses fast percussion programming. Audio recording helps to capture live performances. You can create advanced sounds with high-quality synthesizers. Its mixer allows volumes to be controlled together with pitches and solo.