The Best 13 Content Management Systems of the Year
There are hundreds of options to pick from when it comes to a content management system in project development. It can be hard to get a perfect CMS for your project depending on what language to use, how advanced you want the content management system to be and who will be using it. However, some content management systems are better because of the software usability. Some are easy in installing, using and extending. Here the best 13 CMSs to use for your next project:
1. WordPress – The most popular PHP blogging platform and CMS for blogging. It is the best platform for beginners and thanks to its perfect documentation. Users not conversant with HTML or any other markup language can use WordPress. It has WYSIWYG editor provided for you to use. It comes with in-built support for multimedia and image uploading.
2. Drupal – Another CMS with a very large and active community. It is more of a pure content management system since it does not focus on blogging as a platform. It comes with thousands of modules that can add interesting features such as user blogs, profiles, forums and OpenID among others. One of its common features is taxonomy module, which allows for several levels and category types for contents.
3. TextPattern – Popularly used by designers due to its simple elegance. It checks on what feature to throw and the code base is minimal and svelte. Its main goal is provision of excellent CMS for creating well-structured and standard compliant pages. It generates lightweight and fast loading pages.
4. ExpressionEngine – An elegant and flexible CMS for solving any project type. It is designed to be easy to modify and extensible. It is easy to understand its backend layout and start creating content or modifying the look.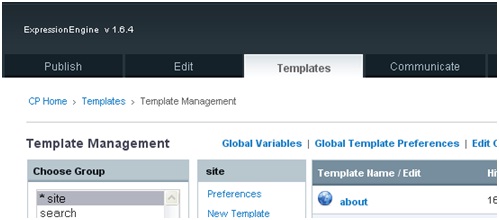 5. Joomla – Very advanced when it comes to functionality. It is easy to start with its installer meant for working on common shared packages for hosting and has a straightforward software configuration. It greatly supports access control protocols such as OpenID, Gmail.com and LDAP.
6. SilverStripe – A PHP CMS which behaves like WordPress, but it has more configuration options and it deals mainly with content management than blogging. It is unique since it has its own built framework Sapphire for PHP. It also gives its own language for templates to aid in design process.
7. Radiant CMS – Only comparable to Text Pattern in that it doesn't use PHP programs, but uses Ruby framework Rails in web development. It is simple and elegant with only the required amount of functionality. Doesn't use WYSIWYG editor, but relies on a Textile markup in creating rich HTML.
8. Alfresco – It is a JSP and a perfect enterprise content management solution. It is easy to install and has an important feature of being able to drop files into folders as well as making them into web documents. It isn't a good choice for simple websites, but a perfect choice for enterprise needs.
9. Cushy CMS – Contains all the basic functions of a CMS, but doesn't rely any specific language. It is a hosted solution so no worries for future upgrades or downloads. It works by taking FTP info and uploading content to the server, which then can be modified by the developer or designer.
10. TYPOlight – Has a perfect balance for features built into it. Highly functional and offers unique modules like calendars and newsletters. It has many features and configuration options.
11. Umbraco – Allows developers to have full control over aspects of design. Its focus is on web standards and provision of an open template system. It is easy to Silverlight and Flash content into an Umbraco – based website.
12. Concrete5 – Apart from being a powerful CMS, it can be used like a framework for web apps development. It makes it easy to design sites and provides varieties of levels for the same. It is advantageous over other CMS because of its in-context editing.
13. SPIP – Mainly for online collaborative editing and is popular for its easy set-up, use as well as maintenance. It is mainly used by thousands of people in both private and public institutions.