What 3D Printers Can Do
3D printing or additive manufacturing is the process of creating a 3D solid object from digital model of any virtual shape. It is made possible through an additive process in which layers of a material are made into different shapes. Processes involved in 3D printing are all digitally enabled. The following are the topmost 13 things that 3D printers are capable of doing.
1. Art
Through 3D printing, artists are able to make objects, which would be difficult, time consuming or costly if made using traditional methods. The diagrams below have been made by Bathsheba Grossman using laser sintering process.
2. Action Figures
Using 3D printers, blood Elves and band mates are brought to life. These figures have been made using machines by the name zCorp, which uses glue ink together with powder in fine layers to create a replica of some of your characters. Characters can be created by using FigurePrints from RockBand, Spore and WarCraft printing services.
3. Jewelry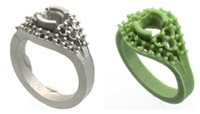 Jewelry manufacturers were among the first people to make use of 3D printing in manufacturing process, although they don't make use of metal printers, but one that uses wax. Investment casting process allows pieces of jewelry to be sculpted or printed from wax then the sides are plastered using plaster. Molten metal is then poured on wax, which melts to leave a metal like material of wax sculpts in place by the plaster.
4. Hearing Aids
3D printers are also capable of making things more functional. Hearing aids are made by casting the ear canal. A digitized 3D scanner is used in casting which makes perfect replication of your ear. This is of great fit and improved quality.
5. Prototypes
Prototyping is a great process in product development and the biggest user of 3D printing technology. Designers and engineers make a prototype before they commit themselves to making of expensive tools or manufacturing processes.
6. Home Decoration
Home goods usually appear structurally simple, but decorative. The decoration is done through 3D printing. You can make decorative picture frames by use of intelligent design tools or a zCorp printer.
7. Models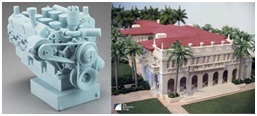 Sales are made possible if you have models of what you are selling printed for show. People believe after seeing, so you have to get models printed to show them the real product you are talking about. This is done through 3D printing.
8. Manufacturing
3D printers are of great use in the manufacturing industry. In fact, 3D printing is totally displacing the traditional manufacturing methods. Engine parts of high tolerance can be manufactured using this process.
9. Medicine
Surgeons used 3D printers for printing body parts before complicated surgeries. The surgeon will use the print out for reference purposes. 3D printers can also be used in creating bone grafts if a patient had traumatic injuries. Scientists are now working on how they can print replacement organs.
10. Reconstruction of Crime Scene
3D printing and scanning is helpful in forensics in real life. It can save lives, solve crimes and bring back scenes to life.
11. Building Plastic Houses
Plastic houses can be built using a giant 3D printer which was invented by a professor in a University in Southern California. This is done within 24 hours. This concept is going to be taken far to build houses for low income earning families as well as solve the problem of global warming.
12. Using human Cells for Ink
You can take stem cells and load them into cartridge then print them on bio paper. These cells bind with paper, hence turning to bio ink which is a multi-purpose liquid. This can be used in creating new human organs.
13. Spinning Blood Vessels from Sugar
Sugar can be used to create a temporary structure, which when poured some living cells or bio ink dissolves to leave solid tissue. This tissue forms a network of vessels which can pump blood. This is achieved through 3D printing.