Artificial Intelligence is growing at a faster rate and is definitely a leading technology. The smart devices built using this AI are changing the way we live. We could see a number of technologies as well as gadgets emerging today with AI as its parent. There are bots that answer our questions, EmoSPARK that triggers your happiness, personal assistants and much more. Here is something for the Audiophiles, called VINCI, an artificially intelligent on the go device that is controlled by the voice and not just plays the music but also understands you; invented by Max Wu.
What can it do?  
With the regular headphones, one has to choose the playlist manually and this isn't convenient at all times. Vinci allows the user to give voice commands. It isn't necessary to couple the device with your smartphone. All you need to do is ASK the device anything say music requests, directions, reminders, weather information, etc. and it does the job. We have many virtual assistants like Siri, Google now in which saying "OK GOOGLE" triggers the Google voice search. In the similar fashion we can say "HEY VINCI" when you need any assistance from these headphones, also one can press and hold down the touch screen.
No more boring journeys, jogging or walking when you are alone! Vinci is a perfect companion that makes intelligent recommendations based on your activities, preferences, listening habits, etc. With more use, it learns more you. It can pick a song for you that suits the moment. Not only Vinci plays the audio but it also can capture and record the sound with its 3D recording technology. It has two modes: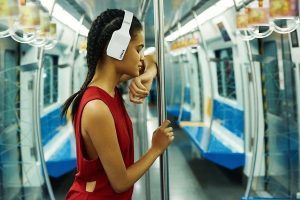 ANC (Active Noise Cancellation) – Any kind of noise that distracts the user's concentration from listening is eliminated.
ATM (Audio transparency mode) – This helps you in having a safe ride by allowing the surrounding noise audible say vehicle horns when traveling on roads.
Note that the ANC is only available in Vinci Pro but not in Vinci.
TRAITS:
The headphones have its own operating system built on the Android platform.
It is a self-contained device. The connection with any Android or iOS smartphone is possible via Bluetooth (4.1). It works with internet either 3G or Wi-Fi, there is also an option of offline mode. It also has a SIM slot.
The Vinci Pro standard avails wireless charging whereas, Vinci doesn't.
Processor: ARM Cortex-A7 1.2 GHz dual core.
Storage: Vinci has a memory of 16GB and Vinci-Pro, of 32GB.
A key feature of this device is 'auto pause'- when you take it off.
An exceptional battery life: it can stay alive for 3 weeks in standby mode, 50 hours playback via Bluetooth and 10 hours via standalone playback.
It is integrated with an accelerometer, a GYROMETER, a GPS to give directions, a heart rate sensor that tells your heartbeat rate, a proximity sensor to detect the nearby objects and to support auto pause.
It is capable of syncing with the Spotify, Amazon Alexa, and SoundCloud.
The price of Vinci starts from $199 which really attracts the audiophiles because this is cheaper compared to the other branded headphones.
A 3.1-inch screen panel on side of the headphones with responsive touch.
These artificially intelligent headphones use Deep Learning methods in order to learn the representation of songs from a humongous number of resources. It uses Bi-directional Long-Short Term Memory i.e. a recursive neural network that enhances the amount of sequential input information available. With this recursive use, it can learn the user's taste and preferences.
The device is pretty interactive, one can swipe up and down to adjust the volume, and left and right to change the songs. The device looks alluring on your head. This doesn't require you to carry your mobile phone with you, but who doesn't take their smartphones along with them in today's socially growing world. The very ambition of this device is awesome, that really is beneficial not just to the music lovers, but those who doesn't desire to carry mobiles with them; a true smart companion.