Windows is the largest selling operating system. Most of the laptop and personal computer manufacturers use windows as the operating system. Windows 10 is the latest operating system released by Microsoft and was an instant hit. The upgrade to windows 10 came with good news which was a free upgrade to windows 10 for existing customers for windows 8 and windows 7 (those users who don't use the pirated copy).
Windows 10 is an improvement over the previous versions as the general appearance of windows 10 has some features borrowed from windows 7 and some from windows 8 fused together to give windows 10. The performance and functionality of windows 10 has drastically improved over the previous versions of the operating system.
While keeping the improvements aside, there are a few annoying things which would annoy an average user. Here are some settings to change after you upgrade so that you don't get annoyed.
Update Automatically
With windows 10, the user cannot pause the updates. The updates will download automatically in the background while you work. The only solution to this is if you disable the option to update windows automatically.
Restart Automatically
If you still haven't stopped the automatic updates, you would have probably noticed that every time a new update has downloaded the system restarts automatically. Here is how to change this setting.
Start menu -> advanced update -> Advanced Windows Update options -> advanced options -> Notify to schedule restart.
Keylogger
Windows 10 in order to make its service better observes whatever you type into the system. This can be disabled for your privacy by
Start menu -> Settings -> Privacy settings -> General -> Send Microsoft info about how I write to help use improve typing and writing in the future.
Notifications
Windows has made this version somewhat similar to smartphones with applications and windows giving you important notifications. For a computer this does distract the user sometimes. This can be disabled by
Start menu -> Notifications and actions setting -> Notifications, find Show app notifications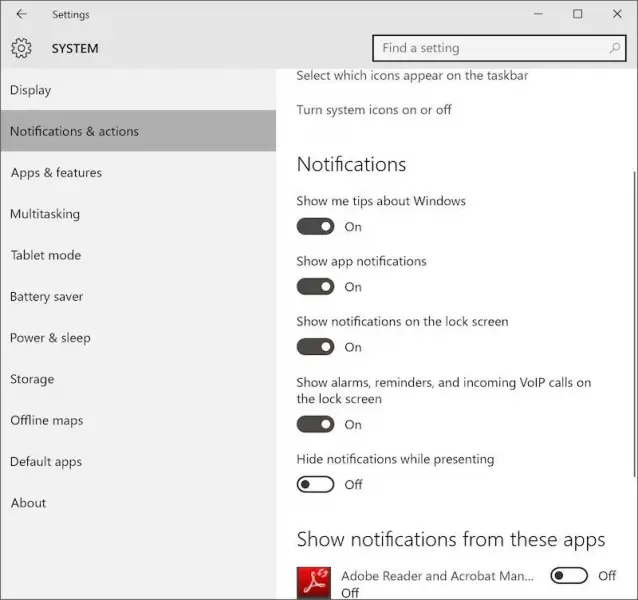 Delete Files
You might be surprised at the amount of storage space windows 10 is using on your disk. But that's natural. When you have just recently upgraded windows keeps a backup of your previous version of windows for 30 days in case you do decide that windows 10 isn't working out for you. But once you get used to windows 10 and don't feel like rolling back to your previous version you can delete your old backup files to free some space.