Amazon has many amazing products in their inventory. Here I have picked ten unique products available on Amazon, where many of us wouldn't have seen some of the products.
1. Tile Slim Bluetooth Track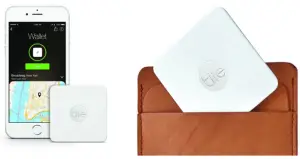 If you want to locate your lost or misplaced wallet and other belongings easily, this gadget might help you.
The Tile Slim is one of the newer smart Bluetooth trackers from Tile. The tracker is as thin as two credit cards and can easily slip into your wallets, passport holders, briefcases, and backpacks. The trackers can be connected to your laptops, cars as well as bikes.
The tracker works with Bluetooth devices that run on Android or iOS. To setup your Tile slim, download the Tile app from play store and that guides you to pair the Slim with your smartphone. Choose where you want to place the tile from the list given in the app and choose a ringtone, from 4 different ones provided.
The front side of the Slim features a logo which also serves as a button. You can double tap this button to find your smartphone after pairing with the Slim. The rear side of the Slim contains a tiny hole, which is the speaker.
If you have misplaced any of your belongings, go to the Tile app and click the "find" button which makes the Tile Slim ring. When the Bluetooth range is outside your vicinity, the "view on map" option will show you the last location where the app saw your tile.
In a scenario where you lost your wallet, you can share a link to a network of tile users which would alert them if they are in the vicinity of your tracker.
2. Rocketbook Wave Smart Notebook

The Rocketbook Wave is the world's first microwave-to-erase and reuses smart notebook. The Rocketbook Wave provides the merits of traditional paper and pen notebook while allowing you to save your notes instantly into the cloud using your smartphone.
The Rocketbook Wave (Rs.3349 in Amazon) is available in two sizes – Standard size: 8.5in x 9.5in and Executive size: 6in x 8.9in.
The package comes with the notebook of 80 pages and a Pilot Frixion pen. The material of the notebook's cover is like your standard notebook with a polypropylene binding.
You can take your notes in the notebook. A dedicated Rocket app lets you scan and instantly transfer them into cloud services such as Dropbox, Google Drive, Evernote, Onenote, and email. To do so, tick the appropriate cloud destination represented by predetermined symbols at the bottom of the page, and just align the camera with the page, it will capture automatically.
Using the Pilot Frixion pen allows you to erase and reuse the book up to 5 times by microwaving it, with a coffee mug filled with three-quarters of water until the "wave" logo color changes.
With the Rocketbook, it has become convenient to store notes on your phone and send them to classmates and colleagues.
3. WonderCube – Mobile Essentials in 1 Cubic Inch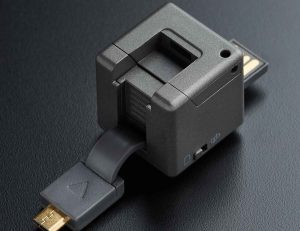 The WonderCube embraces seven handy mobile accessories in literally one cubic inch. It includes a built-in USB cable which allows to charge and sync your mobile to other USB compatible devices.
A micro SD slot is present below the USB cable, and thus you have an SD card reader. It is USB 3.0 and OTG compatible. The cube supports SD cards up to 64GB.
One side of the WonderCube features a suction cup plate that can stick back your phone and hold it in either horizontally or vertically. The side that features the suction cup has a small LED light which may provide handy during emergencies. The LED is charged by connecting the cube to a power source.
The top of the cube includes a 9V battery adapter. In cases of emergency, you can charge your phone by connecting 9V batteries which provide an extra three-four hours of talk time to Android and iOS devices.
Therefore, the Wondercube is a stunning gadget which is ideal for a keychain.
4. Kindle Paperwhite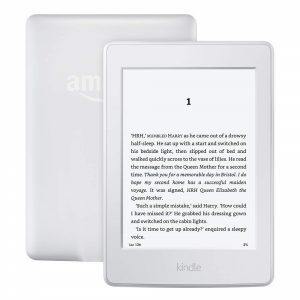 The Amazon Kindle Paperwhite is the best e-book reader for its price. There are different versions available on Amazon; the standard version costs Rs.10999.
It uses a high-resolution 300ppi screen which puts the affordable Paperwhite on par with more expensive Kindle Voyage and Kindle Oasis. The Kindle Paperwhite is all about reading, the glare-free 6-inch display with built-in adjustable light helps you read happily in the dark without straining your eyes.
Similar to other Kindles, there is no microSD card slot, but a 4GB built-in storage is provided. Amazon Prime members can store books purchased from Amazon in the cloud.
The text looks clearer and sharper like you are reading words printed on a paper. Amazon has created its typeface called "Bookerly"; the Paperwhite uses this font which gives a refined character spacing, hyphenation, and typographic ligature.
If you want to get yourself a new model e-reader, Kindle Paperwhite is a good choice.
5. Chevron Wireless Bluetooth V4.2 Earphones
With Apple introducing AirPods recently, wireless earbuds are a trend nowadays. The pair of Chevron Wireless Bluetooth V4.2 earphones which supports deep bass stereo sound is available at the cost of Rs.2999 on Amazon India.
These ultra-compactly designed earphones weigh only 6 grams. This pair of earphones supports Bluetooth 4.2 technology which makes them sync with smartphones, tablets, smart TV's and laptops which support Bluetooth 4.2 technology.
It is specifically designed to handle sweat which makes it a companion during vigorous exercises or jogging. Since the earphones employ CVC noise isolation technology to reduce the outside noise, they provide a crystal clear audio output. They deliver 4 hours of stereo mode playtime, 20 hours of playtime with charging box and 120 hours of standby time. The earphones also provide fast charging facility.
A 1500mAh power bank is enclosed in the package which allows magnetic charging on the go. You can also enjoy hands-free calling with built-in mic.
If you want compact wireless earphones with good music listening experience and low cost you can go for this.
6. Celluon EPIC Ultra-Portable Full-Size Virtual Keyboard
So, if you find your Bluetooth enabled keyboard old and bulky, this futuristic virtual keyboard might help you. The Cellulon Epic virtual keyboard projects an image of the keyboard on any flat and opaque surfaces. It uses infrared technology and an optical sensor to determine the key pressed.
Available at a price of Rs. 16222 on Amazon India, the device connected to any Bluetooth Hid devices such as your iPhones and Android. The virtual keyboard automatically enables its Bluetooth signal when it is turned on. You can go to the Bluetooth settings on your other devices (smartphones, laptops or tablets) and pair them with the virtual keyboard.
7. Navdy Augmented Reality GPS Navigation System with Heads Up Display
Navdy is a virtual heads-up display system that is designed to sit on your car's dashboard if your car doesn't have an integrated heads-up display. Navdy lets you drive looking forward at the road while staying connected to calls, messages, maps and music, all displayed in front of you so that you don't miss any information that matters to you.
Navdy is a sleek, small black plastic device, with a curved transparent screen on top that serves as the display. An infrared camera and a microphone that senses your gestures and interprets voice cammands, a LED light, and a power button are present on the front. Navdy is mounted behind the steering on the dashboard, and its cable is plugged to your car's OBD II port to draw power and data.
After the setup is complete, the Navdy can be paired to an Android or iOS by installing an app. By default, the screen displays your speed and rpm on the run. So Navdy is a smart device for anyone who wants to continue with their old tech-free car if they are ready to spend some money.
8. Samsung Fast Charge Wireless Charging Stand EP-N5100TBEGUS
The Samsung Fast Charge Wireless Charger is the best Qi-certified wireless charger that supports Qi-enabled devices without the need to plug your device into a socket or USB port. You can just place your phone on the pad, and it begins to charge.
It works with all Qi-certified smartphones including  Samsung Galaxy Note 8, S8, S8+, iPhone X, iPhone 8 Plus, iPhone 8. Galaxy Note 5 and Galaxy S6 edge+ users can take advantage of the pad's fast charge capacity which allows you to charge your device 1.4 times faster than any standard wireless charging.
The charger looks appealing with a combination of gloss and matte finishes. The color variants come in black and white. It works perfectly regardless of the position of your phone (either portrait or landscape mode).
To charge your phone, connect the charging cable to the Charging pad to provide power supply and place your phone on the pad. It has no problem in charging through the thickest and durable phone cases.
The front of the pad has a LED light to indicate charging status. A built-in fan and vents are provided to keep your device and the charger cool. This 2018 edition costs Rs.3299 on Amazon India. Overall it is an excellent wireless charger that performs well irrespective of the make and model of your phone.
9. Amazon Echo Dot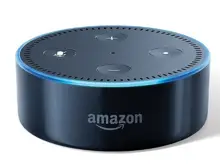 Amazon Echo was the first invasion of Amazon into the smart speaker world, shortly after which it introduced the echo dot. The Amazon Echo Dot looks like the top two inches of the Echo chopped off.
The Echo Dot is the smallest and affordable of all Echo speakers, and it costs you Rs.4099 on Amazon. The Echo Dot does not compromise on the sound quality and is just as good as the other Echo speakers.
Echo Dot is a hands-free, voice command device with an in-built speaker. Echo Dot uses the "Amazon Alexa" which is a digital assistant developed by Amazon, to play music, provide weather updates, new updates, make calls, set alarms, control home gadgets, sports score updates and further information.
Employed with an array of seven omnidirectional microphones, Echo Dot can hear you from any direction even in a noisy background. The commonly used wake word is "Alexa" which activates the Echo Dot. You can also change wake words. You can ask for songs from your music services, news, weather, your reminders and more. Example: "Alexa, what is India's score in the test match today?"
Alexa is getting smarter and incorporating new features and skills. You can ask Alexa to book a cab or even order food.
The Amazon Echo Dot maintains the features of the original Echo which makes it a great product.
10. Polaroid Snap Instant Digital Camera
The Polaroid Snap attempts to recapture the fun of instant photography with modern technology. The digital camera produces instant tangible pictures that can enjoy looking at on a wall or a notebook or a photo album.
The Polaroid Snap is a 10-megapixel pocket-size digital camera. It prints out a 2×3 inch photos instantly within a minute using ZINK (Zero Ink) technology, through an integrated Zink printer. It features six different picture modes.
The left side of the Snap features a microSD (supports cards up to 32GB) card slot and a USB port to charge and transfer images. It includes a tripod mount on the bottom and a flash in the front. A locking door on the rear side fits ten sheets of Zink paper on which the pictures are printed instantly. Above the door, there are three lights which indicate the status of the battery, microSD card, and empty Zink paper. A button on the top is provided to select a frame or border.
The photo-booth mode allows you to click four pictures in a row. The battery with full charge lasts up to few days on irregular usage. This fun and inexpensive camera costs Rs.12000 on Amazon and is worth buying because photos are all about preserving memories.