In recent years, uncrewed aircraft have become central to the operations of various businesses and governmental organizations, piercing through areas where certain industries were either stagnant or lagging. Drone features are proving to be extremely useful in places where humans are unable to reach or perform in a timely and efficient manner, from quick deliveries during rush hour to scanning an inaccessible military base.
Drones help industries worldwide by increasing work efficiency and productivity, reducing workload and production costs, improving accuracy, refining service and customer relations, and resolving security issues on a large scale. Drone technology adoption across industries accelerated from the fad to the mega-trend stage as more businesses realize its potential, scope, and global reach.
1. DJI Mavic 2 Pro
There are numerous reasons to believe that this is the best and deserves to be ranked first, including the fact that it has ten obstacle sensors facing in every direction. Another reason is its stunning three-axis gimbal-mounted Hasselblad camera, which has a one-inch CMOS sensor – similar to Sony's RX100 and RX10 series – and an adjustable aperture ranging from f/2.8 to f/11. This is a magnificent piece of gear capable of shooting in various video resolutions, including 4K at up to 30fps, 2.7K at up to 60fps, and 1080p at up to 120fps. It also captures razor-sharp RAW stills at 20 megapixels.
2. DJI Mavic Air 2
With a half-inch sensor capable of recording 4K video at 60 frames per second, the camera is fantastic. The still-image capture capability of the Mavic Air 2 is even more impressive, with up to 48mp resolution for unprecedented sharpness, clarity, and detail. It also includes a slew of photo and video enhancement features like Scene Recognition, Spotlight 2.0, which locks the camera on a subject while the pilot is flying, and the obligatory Active Track for tracking moving subjects. In Sport mode, the drone has a long battery life and can travel at speeds of up to 42.5mph. It also has three-way obstacle avoidance and APAS (Advanced Pilot Assistance System) for easier maneuverability around obstacles.
3. PowerVision PowerEgg X Wizard Version
This weatherproof drone is very attractive. The PowerVision PowerEgg X is a versatile drone that flies safely in inclement weather and over water. It performs the majority of the aerial tasks offered by the DJI lineup, such as front obstacle avoidance and autonomous flight modes such as return-to-home, follow-me, orbit, and time-lapse. Still, it goes two steps further by transforming into a hand-held stabilized camera and a tripod-mounted video recorder with motion tracking capability. Meanwhile, its top speed is a commendable 40mph, and its video transmission range is approximately 3.7 miles. On paper, it has a fixed focus 4K camera with a 1/2.8 inch CMOS sensor, which sounds fantastic.

4. Ryze Tello
If you're looking for a selfie drone that can stay in the air for 13 minutes at a time, has digital image stabilization, shoots video in 720p, takes 5MP photos, and can hover on the spot without the use of GPS, look no further than Ryze's remarkable little contender. The Tello is a very small device, weighing only 80 grams and measuring 98mm across its widest point. It has a wifi range of up to 100 meters and is simple to program.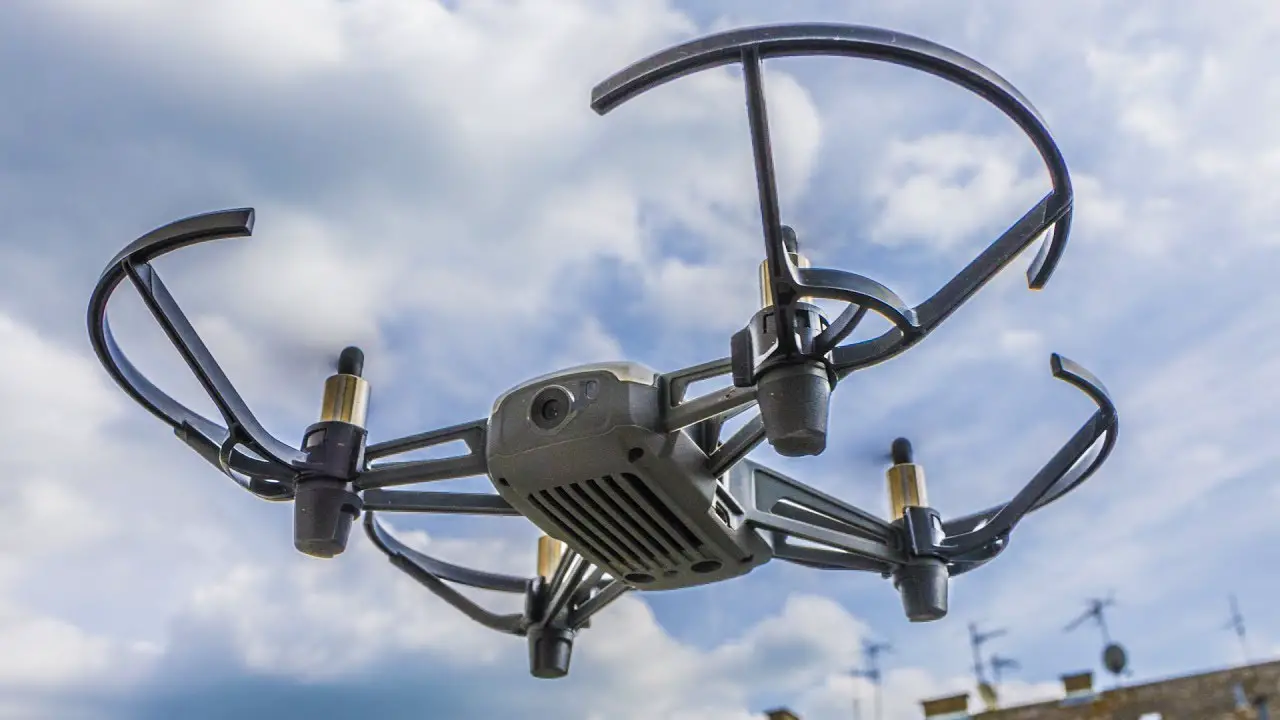 5. DJI Mavic 2 Zoom
This is ideal for shooting long-distance videos. The battery life is up to 31 minutes. The maximum camera resolution is 4K/12 megapixels, high-quality aerial photography, and the Zoom sacrifices image resolution for a 2x optical zoom with a 35mm format equivalent focal length of 24-48mm. The drone has an excellent zoom function and allows pilots to recreate the DollyZoom effect used by Hitchcock, Spielberg, and others.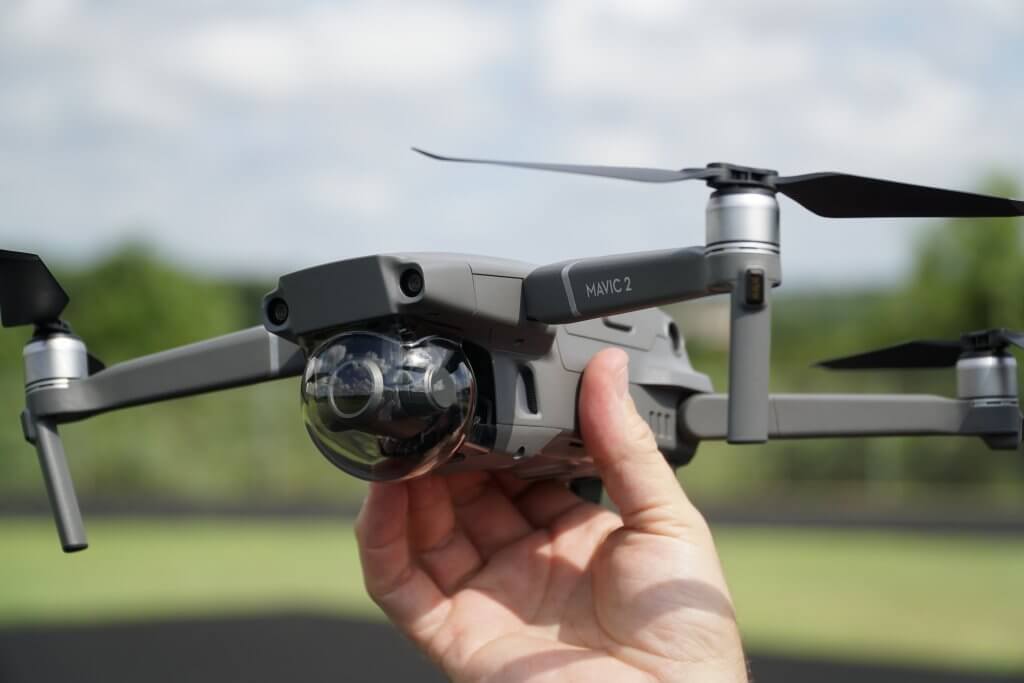 6. DJI FPV
The DJI FPV is the world's first fully-featured, ready-to-fly 4K-capable FPV racing drone for beginners. It has various safety features, such as smart Return-to-Home (RTH), an auxiliary LED light, low battery warning, and forward and downward obstacle sensors that will bring the drone to a stop in an emergency. The drone comes with a pair of goggles that create an exquisitely sharp image of what the front camera of the drone sees. Another significant advantage is the ultra-wide 150-degree field of view, which provides the flyer with complete confidence when darting in and around tight, tricky spaces. It also comes with a powerful hand controller, but you can upgrade to an optional Motion Controller, which allows you to control the drone solely with hand motions.
7. Autel Evo
The feature-packed, high-tech Autel Evo drone does it all. However it's aimed at intermediate-advanced photographers – the drone's camera, mounted on a 3-axis stabilization gimbal, records video at 4k resolution up to 60 frames per second (up to the new DJI Mavic Air 2) and has a recording speed of up to 100mbps in an H.264 or H.265 codec. The camera is one of the best we've seen on a drone at this price point, allowing you to capture more detail and color even when filming at high speeds, and a generous number of sensors assist you in avoiding other objects while also making it incredibly easy to land.
8. DJI Mavic Air
Although its successor is reviewed higher up on this list, the DJI Mavic Air drone remains a true pocket-rocket that excels in every category. It's significantly lighter and smaller than the DJI Mavic Pro 2s, and it's not much larger than its smaller sibling, the Mini 2. The Air's robust 3-axis camera system produces 4K video quality that is very impressive, and its 12mp photos are extremely detailed for such a small camera. It can also accept four different types of panorama images.
9. Parrot Anafi
The Parrot ANAFI drone, like the Mavic series, comes crashing down for easy transport, but it's not quite as pocket able due to its 244mm length when folded. Nonetheless, it comes in an excellent transport case that easily fits in a small shoulder bag. The Anafi is 110g lighter than the Mavic Air, weighing only 320 grams. It is less likely to sustain major damage if it falls from the sky. Both video and photo quality appear to be on par with the Mavic Air 1, if not slightly better in the low-light shooting. It doesn't have the same frame rate as the Mavic Air, but the 4K video and 21-megapixel images produced by its 1/2.4-inch Sony CMOS sensor are razor-sharp, with great detail and contrast.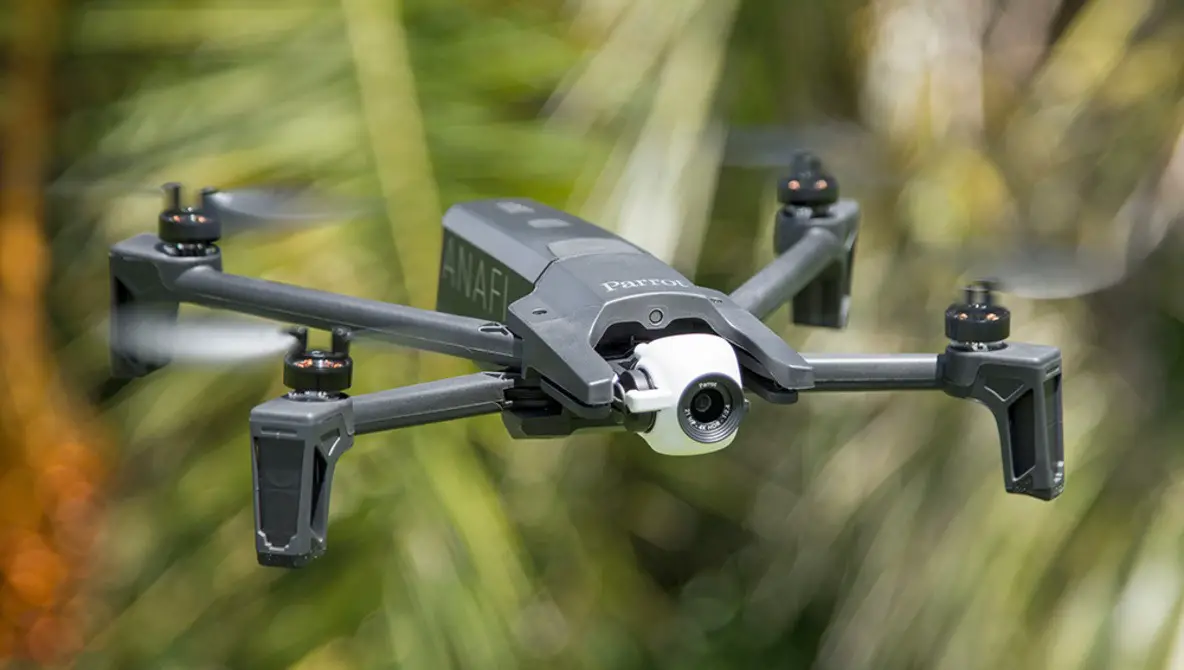 10. Parrot Anafi FPV
If you want to get into FPV (First Person View) flying but can't afford the DJI FPV reviewed above, you might want to give this package a shot. In case you missed it, the ANAFI FPV package includes the drone itself (reviewed above), a Sky controller 3 hand controller, and a pair of Parrot's Cockpit glasses 3. All three items are neatly packed in a small grey herringbone backpack.