Today's technology can be found in almost all corners of the earth; be it in our workplaces, our homes, restaurants, or even in theaters, technology is everywhere. The recent years have proven to be a zenith for technological innovation with new ideas and products coming in every day. Unsurprisingly, these innovative products have already reached our bedrooms, to occupy the table next to our beds. Listed below are the products that are known to be transformative on how we look in our bedroom.
1. Alarm Clocks:
Let me paint you a picture; you are sleeping on a comfortable mattress in a satisfying origami position, the night is quiet, and you are having a fantasy dream and 'bam……' suddenly, your alarm clock rings! This is a usual situation, and we all hate it as much as watching the advertisements before our favorite YouTube video plays. But what is more irritating is when we hit the snooze button to stop the alarm clock for a short time and get extra time to sleep, only to get woken up again while still feeling sleepy. And worst, we get late for work. Though an alarm clock is meant for you to get up on time, pressing the snooze button will make things worse for you. So, let's look at some coming-of-age alarm clocks, which redefine the term, 'wake up.'
As irritating as it is to pronounce the name, it is more irritating once you know what the alarm clock can do. Each time you press the 'snooze' button, the alarm clock will transfer money to a charitable trust through an embedded web browser. Though a press or two might seem harmless, this device is a nightmare for people who can snooze through hours at an end.
Imagine having a metallic band or concert performance as your alarm tone. This is what the Sonic Bomb Alarm Clock is designed to do. At 113 decibels, the alarm clock will surely awaken you, and even if the deafening sound is of no use, the 220V alarm clock comes with a powerful 12V bed-shaker coupled with flashing lights. This surely is an experience I wouldn't want to have. But sure enough, this product is a must for people who want to get up right away without setting off alerts in the neighborhood.
This is so far the most innocuous entry to this sub-list because it keeps your bank balance intact and does not pose the risk of deafness. However, this cute looking product is a devil in disguise. The alarm clock is powered by four AA batteries and is equipped with a detachable propeller. When the alarm started, the unit is propelled into the air. The only way to stop the noisy alarm tone is to get up and find the flying unit and put it back into its base. The device is, so genius that even meddling with the controls won't help you. You might think that this is easy, but you are so wrong. The unpredictable flying pattern of the unit adds on to the devilish design.
2. Sleep Monitors:
Long sleeping is part of everyone's daily routine. However, nowadays, sleep is taken seriously after knowing that it helps in reducing fatigues, helps in refreshing neural cognition and mechanisms, and it aids in building memory. These factors have caused people to monitor their 6-8 hours sleep every night so that they can make amendments in their sleep if necessary. A 'Sleep Monitor' basically is a device, which is a hotchpotch of sensors meant to monitor your sleeping patterns using a method known as 'Actigraphy.' This method will tell different phases of sleep depending on your movement using an accelerometer; since it is a popular belief that excess of movement equals lack of sleep. So, let's break down some of the sleep monitor devices available today.
This device goes a step ahead of conventional accelerometer-based devices. It doesn't only detects movement but uses a combination of sensing information like body temperature, heart rate, perspiration, etc. to differentiate various stages of sleep like REM (Rapid Eye Movement) sleep and Non-REM sleep thus giving a detailed picture of your sleep. Apart from being extremely user-friendly and robust, the device tells the user the importance of different sleep stages without needing to press a start button to indicate sleep. This lab-tested wrist-based device is ideal for anyone who wanted to know how much 'beauty-sleep' they are getting.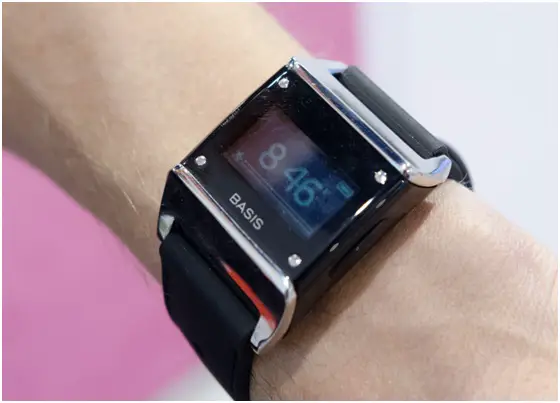 Though not as aggressive as the Basis Chrome in detecting sleep, the Aura has certain features that make it a superior choice amongst sleep specialists. The Aura is an embedded system with many smaller devices like an alarm clock, a sound system, a lamp, a sleep monitor, and a box of sensors. The Aura monitors your bedroom temperature and keeps track of ambient noise around you. This feature ensures that you sleep in the correct environment. Also, the Aura comes with a lamp that illuminates the room with soothing light; this is believed to enhance the secretion of sleep hormones, coupled with pre-programmed sounds or user-programmed music via applications like Spotify. This device will give you an ambiance of paradise. Though the Aura looks and feels gentle, you know what they say about innocent looks. The Aura comes with a mat that can be put below your mattress. The mat monitors movement during sleep and tells different sleep stages to awaken the user during an optimal time of the sleep cycle. Its price tag is higher than the Basis Chrome, but it is a better choice due to the simulation of the perfect sleep ambiance.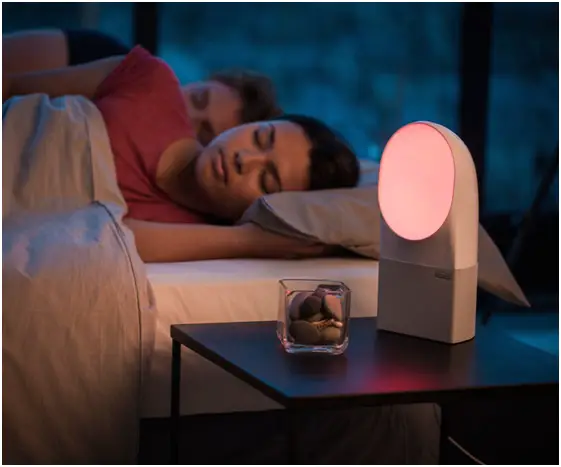 Internet of Things (IOT):
You may also forget to switch off the lights before you go to bed. It's punishment to get up from the comfort of your fortress and march towards the switches. But don't worry because the Internet of Things (IOT) is a promising technology especially in home automation. IOT refers to the creation of a network, wherein devices like mobile phones and PC's are used to control appliances like washing machines, other PC's, motors, etc. via the Internet. This method takes advantage of the widespread use of the Internet, as it already rolled over the globe like a mesh, providing the perfect interconnectivity between devices. Everyone sleeps with his/her mobile phones, allowing them to control their lighting and other electronic devices including the home security system. This allows the person to have a superior control of the house from the bedroom and to give us the perfect sound sleep.
For example, Multinational Corporations (MNCs) such as Philips and Haier are racing against time to develop mobile applications or integrated mobile devices. Let us assume that the appliance of interest is a thermostat; an electronic circuit used to control the temperature of a system such as a bedroom. The circuitry is altered to make the appliance wireless friendly, which is continually connected to the Internet. Smart devices such as mobile phones or smart watches are also connected to the wireless network. Through applications installed in the smart devices, the user can control the thermostat. Imagine that the user is uncomfortable with the temperature of the room, then he/she can connect to the appliance through the Internet and change the temperature as per requirement. Due to the existence of secure WiFi technology and private networking, the control of the appliances cannot be taken over by anyone other than the user.