We are going to talk about some portable and unique gadgets that you can buy online but people believe they do not exist. The list is going to be pretty informative and here it begins:-
1. GoCool Semi Truck or Car Air Conditioner(Portable)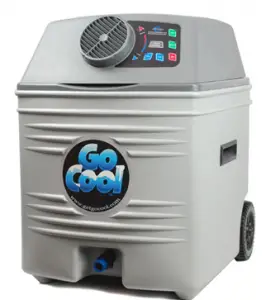 When there is scorching heat inside the tends while camping we've always felt the lack of Air Conditioner but when Go Cool is at your rescue you do not have to worry. It is a simple device that either runs when plugged in the houses or by giving power supply from the lighter port of the Cars.
It costs about $500 and produces cool air by using ice and Water.
2. AI-100 Icemaker
Ever felt that you are at a loss when you run out of ice at parties then do not worry about your problem has been solved. This Icemaker right here produces up to 28 pounds and each batch within 6 to 15 minutes which is really efficient and could be taken home for $190 from Amazon.com.
3. Vu Point Solutions Wand like Portable Scanner
A tool which is worth putting your money in if you work in a mobile office. It scans documents and books for quick reference. The images could be stored in an SD card is inserted. It can produce outputs in both JPG as well as PDF format and talking of quality, it can go up to 900dpi and it costs $55.
4. IPower Pro for iPhone 4 and 4s
You always had to wait to reach the office where you had a large projector for giving presentations but in this case, you can give presentations on the fly. This portable projector is handy and can fit in one's pocket easily and can be used for streaming videos. It also acts as charging case for the device and the price is $250.
5. Monster Go-Dj System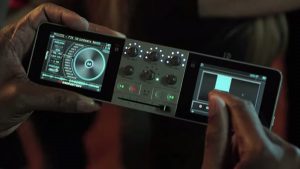 This is a small portable DJ system that allows you to play music on the go and that too with a very loud sound as compared to the size. It has 2GB's of internal memory but can draw music from streaming devices and Sd cards.
It is a rig like structure which is composed of Equalizer effect and recorder too.
6. USB portable Paper Shredder
A powerful device to shred waste petrol pump receipts medical bills etc. It is a USB powered device used for shredding can be powered from your mobile device or computer device easily and is available for buying on the websites for $17.
7. Portable Mini Fridge Cooler and Warmer
This right here is a small and portable fridge for picnic use or for long drives. It has a switch for ho which keeps hot beverages hot. It can be powered by a wall plug and even by the lighter port inside the car available for $40.
8. Panda Compact Portable Washing Machine
A washing machine usually covers a lot of unnecessary space but this one takes very less space is portable can be carried anywhere and is best suited for people living alone. Easy to operate just need to fill water and set the timer and you are good to go available for $80.
9. Handpress Auto electrical Espresso Machine
Manier times we get up late and forget to take the regular dose of caffeine which coffee this is the device that does it all plug it in cars' lighter port add coffee and water and press the button the coffee will be ready within a few minutes.
10. ZUta  Labs Mini Mobile Robotic Printer
When your mobile office seems like it's lacking something, this printer device will surely make it complete. Miniature inkjet printer up to 1,000 pages also it's not limited to any paper size you wish it and it's ccomplete.