During vacation, kids may get bored. So, to keep them engaged with some entertainment, we can buy them some tech gadgets that are helpful to explore, listen, learn and speak. These gadgets stimulate their brains and keep them engaged in things. It helps kids to develop innovative ideas and creative thinking. Children of all ages have gadgets nowadays. They can
learn in a fun and engaging way. So, let's see some best tech gadgets.
1. Tablet
Amazon has introduced a kids-friendly tablet viz. Amazon Fire 7 Kids tablet. This tablet is available in different colors and has a pop-up stand. It is small, so kids can handle them  easily. It is very cheap even if kids break them, Amazon will replace them with its "two years warranty" free of cost. This tablet work like a standard tablet. So kids can explore games, apps, and movies. It also has parent-control options like setting time-limit, age filters, and locks.
2. Superhero Robot Ball
This robot ball is a good gadget for children in the 8+age group. It helps to learn programming and coding. By writing programming codes like java script the education level of children raises. Super Hero is a ball that you can control with smartphones and tablets. Superhero has games and superhero EDU has a learning app that develops creativity.
3. Fitness tracker for kids
Garmin VIVO Fit Jr3 is perfect for children in the age group of four and up. It has various themes and designs with a custom watch face. Fitness trackers and gaming device mash-up, at a certain level, can unlock superhero games. It has a coin-replaceable cell battery so charging will not be needed. While swimming it can help to monitor and it is resistant to
water. It tracks sleep, step, and activity. It is button operated.
4. Smartwatch
V tech kids samrtwatchDX2 is perfect for kids as it can take pictures, tell time, take videos and play games. It has a stylish design and kids-friendly design that fits perfectly on their wrist. It has 2cameras with which pictures and videos are taken and after applying some filters it can be used as a watch face. While playing games give AR experience. Motion sensor help to track steps during activity. It is perfect for 4+age children.
5. Headphones
POWMEE P10 KIDS headphones with microphone and HD sound. Stereo headphones are perfect for children to hear music, listen and learn. Adjustable volume control helps to protect children's hearing and answer the phone while using. Its soft cushion and lightweight design make the adjustable headband perfect for 3+age children. It is made of strong plastic that is fordable and durable.
6. Microscope
Geosafari Jr. my first microscope s per-school microscope kit. It is a children-friendly microscope that encourages children to learn science. It has two large eyepieces that make children see properly. It has kids-sized focusing nob help children focus. A LED light is used to see everything in detail, it can perform 8X magnification. It operates with a 3 AAA battery.
Suitable for children in age 3-7.
7. Self-guiding AI Robot
Children have to construct a robot with each piece which helps to build their brain development. Robbie's robot is a self-guiding AI robot having a six- legged robot that is one of the STEM collections. After building it has two options follow and explore. It follows moving objects without bumping into objects. 4 AAA batteries are needed to make it work.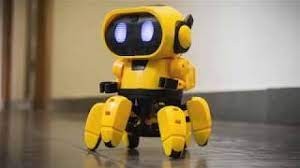 8. For Little Sherlock
To make little one indulge in adventures task Spy Gear Mission Alpha set is used. The night google features are used with LED light and zoom lens to accomplish tasks even at night. It comes with a tactical mirror, spy recording pen and monitoring alarm. Children of age under a year also can use it. It helps to write secret messages and the alarm system indicates if
anyone comes closer.
9. Walkie Talkies
Walkies-Talkies help to be in touch with children without fear. quot Motorola Talk Out quot T42 two-way radio comes with various colours and child-centric options for better use. Simple to set up to find multiple challenges to pair with a clear one. They can cover a 5 km range to talk. 3 AAA batteries are needed to make it work.
10. Camera
Fujifilm Instax mini9 Insta Camera that makes kids love to take photos. Help to take perfect selfies and get an instant credit card-sized image. Built-in flash helps to take perfect pictures. Children who love to take pictures can go for this. The pictures can be used in their school projects etc., 2 AA batteries are needed to take pictures.