The e-globe comprise a fantastic collection of messaging software, some of them work solely for PCs while others comprise a pair of android and desktop versions for the same. Here, we will count on the blends of both the categories to present a reliable listing of the top 10 most prominent instant messaging software for PC.
1. WhatsApp 
Year Of Release- 2009
WhatsApp is a renowned name in the niche that emphasises more on the end-to-end encryption of our texts. It is internationally available with certain unique features such as custom wallpapers, online payments, live locations, and others.
2. Zoom Meetings
Year Of Release- 2013
Though Zoom is more infamous for its video conferencing, it also facilitates instant chatting during the calls. It also comprises drop-downs that enable users to send direct messages via a chat window. It focuses more on streamlined communication for team and external zoom users.
3. Telegram 
Year Of Release-2013
Telegram is the right match when the user needs to send or receive documents of a comparatively larger sizes. It also features unseen lively stickers, voice chats, and quality calls. It is a freemium cloud-based service with incredible features.
4. Microsoft Teams 
Year Of Release- 2017
Microsoft Teams is specifically built for business communication by the software giant, Microsoft as a prominent part of the 365 suite. It also features group conversation, team live events, breakout rooms, and much more.
5. WeChat 
Year Of Release- 2011
WeChat is a multilingual messaging application with great compatibility with WeChat. It also features registered public accounts, Moments as a social feed, digital payment services, mini-programs, and much more.
6. Line 
Year Of Release- 2011
Line is compatible with numerous electronic devices and allows users to exchange texts, audio, videos, etc. It also features a digital wallet known as Line Pay, news stream, line TV, and much more. The service initially originated from Japan and debuted on Jan 23.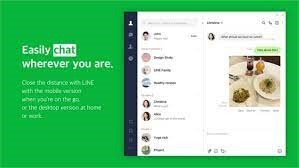 7. Discord 
Year Of Release- 2015
Discord is based on a unique concept where the users are allowed to create different personalized servers to hang out with their friends. It allows users to watch a movie together, share screens, play multiplayer games, voice calls with overlays, and much more. You can also buy subscriptions to access more fantastic features.
8. Facebook 
Year Of Release-2004
Facebook is probably among the initial revolutionaries who marked the beginning of a digital era. It was founded by an infamous Harvard student, Mr Mark Zuckerberg. It is a feature-rich product that comprises chatting, feeds, timelines, reactions, etc.
9. Skype 
Year Of Release- 2003
Skype is primarily a videoconference software that laid more emphasis on evolving as an online remedy for telecommunication problems. It is a division of Microsoft that is renowned for its video telephony and debit-based landline calls. It is compatible with numerous platforms including gaming consoles.
10. Instagram 
Year Of Release- 2010
Instagram is the buzzword for today's generation where people are marked by their Instagram following. Instagram is playing a prominent role in shaping trends via personal feeds, reels, photos, and much more.