A firewall is a network security model that handles network traffic. It also permits or blocks the data packets based on the security regulations. It acts as an interface that avoids and blocks malicious traffic like viruses and hackers to keep users' data safe and protected. This firewall can be installed as either hardware or software. There are several types of firewalls available, like packet-filtering firewall, circuit-level gateways, stateful inspection firewalls, application-level gateways, net-gen firewalls, software firewalls, hardware firewalls, and cloud firewalls. A firewall is a kind of cybersecurity tool used to filter traffic on the network. The following are the top ten firewall software tools for Windows.
1. SolarWinds Network Firewall Security Management:

SolarWinds Network Firewall Security Management is one of the best software tools that offer real-time visibility. It offers world-class network security and enables users to strengthen their businesses. There are several other security tools incorporated in this application. They are firewall log analyzer, firewall security audit, juniper firewall analyzer, ubuntu log analyzer, SonicWall firewall log analyzer, and network security monitoring. There is a Security Event Manager (SEM) that monitors firewalls, network traffics, devices, and applications. It also optimizes configuration and automates network firewall security audits. The price of this software starts from $2,525. Additionally, it offers a free trial period of 30 days.
2. ZoneAlarm:
ZoneAlarm is yet another popular firewall software used widely for ensuring network security. This application is compatible to work with Microsoft Windows 10, 8, and 7 operating systems. The features of the ZoneAlarm firewall application include anti-phishing chrome extension, protecting against inbound and outbound cyberattacks, monitors suspicious behaviors on PS, and shield operating systems even during start-up. The feature of anti-phishing assists users to protect from phishing attacks. It also includes an identity protection feature that helps to prevent identity theft by protecting personal data. It is only compatible with Windows Defender and not with any other antimalware software.
3. Comodo Firewall:

Comodo Firewall is another fully-featured and powerful firewall application. It incorporates several advanced features in it. It updates users on suspicious files, folders, and programs. This application enables users to protect the data from various attacks and phishing. It is a user-friendly software and has an attractive graphical interface. Comodo Firewall is based on DDP-security that keeps users' PCs safe and secure. For amateur users, this application is perfect, and there are no complex configuration issues in it. It enables users to learn quickly about how to deliver personalized protection. This application is compatible to install on Microsoft Windows XP, 7, 8, 8.1, and 10 operating systems.
4. TinyWall:

Another one of the robust, lightweight, and powerful firewall applications for Windows is the TinyWall. It has multiple advanced and revolutionary features incorporated in it. The features of this software include it offers multiple and easy ways to whitelist programs, automatic learning modes, firewall tampering protection, password lockdown of settings, supports temporary firewall tool, host file protection, boot-time filtering, promiscuous app filtering, port-scan prevention, full IPv6 support, domain blocklists, etc. This software is 100% free and clean. There are no fees, no advertisements, and no paid upgrades. There are multiple options to allow communication with LAN and also to restrict an application to the LAN.
5. Netdefender:

Netdefender is another open-source and fully-featured firewall software. This firewall software tool incorporates advanced features in it, which provide advanced network security. But, this software tool is compatible to install on only Microsoft Windows 2000 and Windows XP operating systems. To install this application, users require admin rights, i.e., must be a member of an administrator group. Through this application, users can block all traffic and allow all traffic through just one click. The Netdefender is a packet-filtering firewall. Users can add custom rules and security requirements to this type of firewall. Users are also provided with a provision of removing the existing rules.
6. Glasswire:
Glasswire is another more advanced firewall that assists users to protect the network, device, data, and privacy by visualizing network activity. It can also be used as a personal firewall. The features incorporated in this application are outstanding. It allows users to instantly see who or what the PC is talking to on the network through graphs. Additionally, it also detects spyware, malware, bandwidth hogs, and badly behaving applications. The Glasswire firewall warns users about the network-related changes and monitors other PCs on users' network. It comes with three editions, Pro, Basic, and Elite, which adds more advanced security features.
7. PeerBlock:


PeerBlock is easy to use, robust, and user-friendly firewall application used by many people. The main function of this application is it blocks unknown IP addresses from accessing the contents of a computer. It also protects all personal information if a user on the PC. The PeerBlock application displays real-time information such as protocol and source of each website. It also detects the presence of malware on the system. This software requires a little memory in the CPU. So, the performance of the system does not degrade. Examples of sources that can be blocked through it are peer-to-peer sharing sites, pop-up advertisements, blind outbound links, etc.
8. AVS Firewall:

AVS Firewall is another best and popular firewall for protecting the system from intrusions and hacker attacks. This application is compatible to install on Microsoft Windows XP, Vista, and 7 operating systems. Along with protecting, it can also block annoying advertisements, banners, and secures the Windows Registry. It requires a 1.8GHz processor and above and 1GB of RAM. But, it works only on a 32-bit version of Windows. So, this software does not require any higher system requirements. Users can adopt this application for protecting systems against intrusions, attacks, Registry, blocking ads, etc. The best part is it is freely available.
9. OpenDNS Home:

OneDNS Home firewall is specially developed for home or small-sized businesses. It offers the easiest way to make the internet faster, safer, and reliable. This software can integrate with laptops, smartphones, tablets, DVRs, game consoles, TVs, and any other appliance that connects to the internet. This application is one of the leading software in its domain. It offers more advanced security features, such as web filtering and security administrative privileges, etc. The security features include malware or botnet protection, phishing protection, suspicious response, etc. The feature of malware and botnet protection is compatible with enterprise use only.
10. Privatefirewall: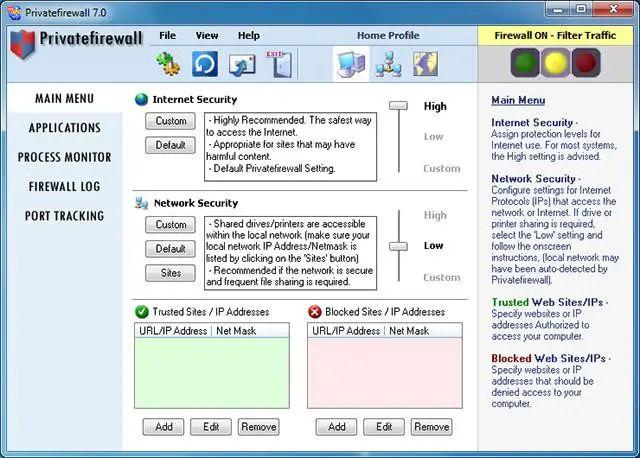 Privatefirewall is another fully-featured and multi-layered security tool. It is ideal for start-ups and SMEs only. It is compatible with any 32-bits or 64-bits Windows system. Privatefirewall application protects Windows systems and servers from malware and unauthorized use. This application is a personal firewall and can be used for packet inspection, URL filtering, anti logger, process monitor, application or system behavior modeling, and anomaly detection. The features of this software include multilingual support, identity protection, internet security, multiple server monitoring, detect viruses, hard disk backups, two-way firewall, advanced firewall, bandwidth usage monitor, network monitoring, etc.