File compression software is the process of packaging a file so that it occupies less disk space. Take many files and compress them to make it to one file. This single file will have a smaller size then all the individual files combined. Compressing files help to transfer them quickly through the internet. Use some software like WinZip to expand the software you have compressed. The file size of the original file and the expanded file should be the same for a good file compression software.
1. WinZip

Zip files using WinZip to compress files. It will reduce the size of email attachments. Protect the compressed files with high-level encryption. Access these compressed files and manage them on your computer. Connect to Dropbox, Google Drive, and OneDrive easily using this software. It makes the sharing of files easy. Convert files into PDF and add watermarks too. File compression is in-built in this software, and you can try this software for free. Buy its paid version also.
2. 7-zip

7-zip is a file compression software that is open source. Use this software on any computer, and you do not need to register or pay for it. This software has a high compression ratio. 7-zip uses Lempel Ziv Markov Chain Algorithm(LZMA) for compression, and it supports various formats for packing and unpacking. Strong encryption is available to protect your compressed data. The file manager in this software is robust. This software is available in 87 languages. This software offers a plugin for the FAR manager, which is a software that manages archives.
3. WinRAR
Compress files using WinRAR, which is a file compression software. Compress files efficiently and keep them secure. It helps to transfer emails quickly. Store data in a well-organized manner as you can compress many files into one using this software. This software is available in 50 languages, and you can use it in various operating systems. This software is best for multimedia files. It automatically selects the best compression method for you. This software is ideal for sending data over the internet. This program is free of charge for 40 days.
4. Peazip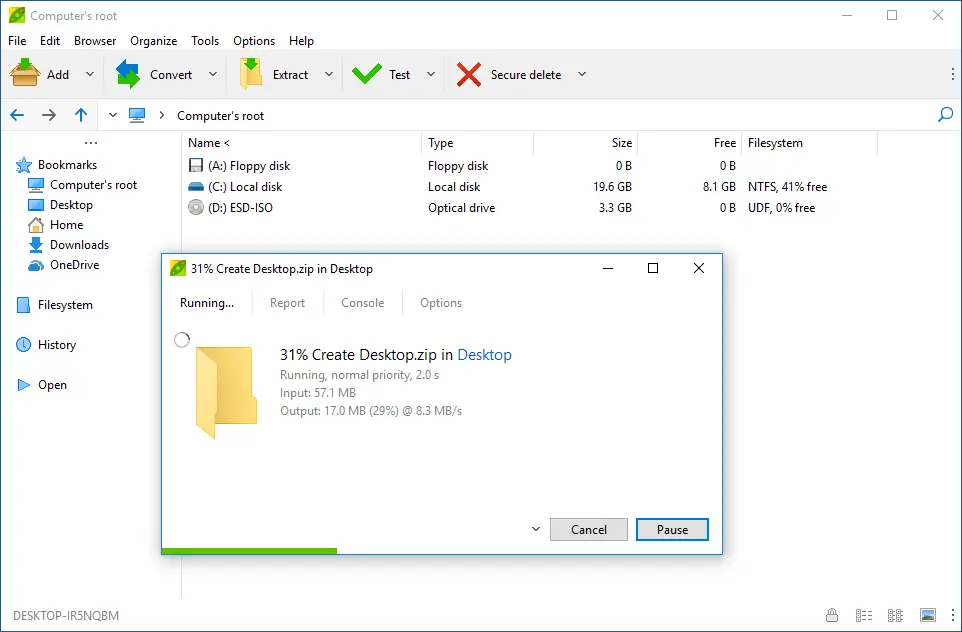 Peazip is a file compression software that is available in 32-bit and 64-bit. This software is portable and user-friendly. It is an open-source encryption software as it has two-factor authentication options. The packages available in this software are secure to download, and you will not download any harmful software. You do not need to install this software as you can extract it and start using it directly. This software has a high and fast compression ratio. Multi-format archiving options are available too. Use the file manager of this software to view, edit, and browse for archive files.
5. Zipware

Create compressed files with the help of zipware file compression software. Convert any archive format to zip using this software. Create archives with password protection to keep them secure. Drag and drop option is available for this software. This software allows the explorer to list all files and their sizes. It also deletes empty folders. The program files of zipware are signed with a digital certificate. The password manager is available in this software to store confidential information. This software even calculates checksums for any file.
6. Hamster Zip Archiver

Get this fast file compression software called Hamster zip archiver. This software performs advanced compression operations and is easy to use. It contains a drag and drop interface, which makes it very simple to use. This software supports all popular file formats. Integrate it with GoogleDrive, Dropbox, and much more software to share compressed files. This software is only available on the Windows platform. This modern archival software allows you to open files from any archive. Users can create copies of important files using cloud technologies as archives can be uploaded to cloud services.
7. Express Zip File Compression

Express zip file compression is a fast and efficient software to compress files. Drag and drop functionality is available in this software. Deal with all major archive formats using this software. You can even encrypt and decrypt data by using password protection options. Install this software to compress and extract files in seconds. If you cannot complete the archive process, then you can still recover the file as the recovery file is available in this software. Split large zip files into smaller ones using multi-part split zip archive functionality. Burn archived files into CD for long term backup.
8. Entropy

Entropy is a free file compression tool used only for MAC operating system. It supports various file formats. Extract an entire archive using this software. You can even view the contents of an archive without extracting the files. Secure your archives using encryption. Search within archives and filter out unnecessary files. This software supports keyboard shortcuts to use it easily. Smart character encoding detection options are available too. Add, delete, or move files within the archive. Customize the behavior of software to maximize your productivity.
9. Stuffit Expander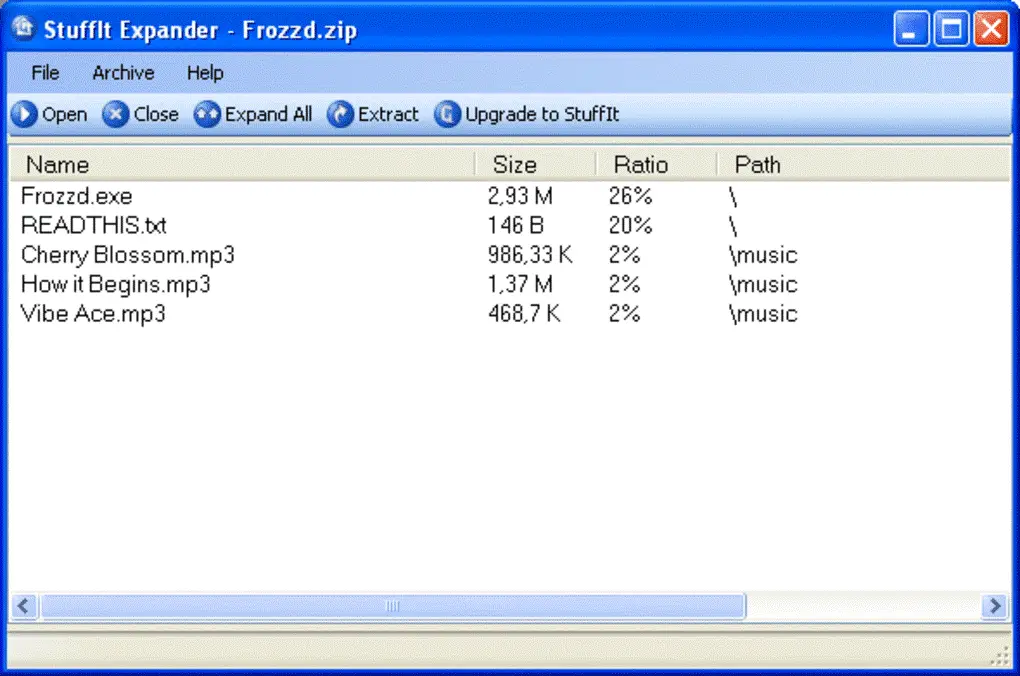 Extract the zipped file or otherwise compressed files by Stuffit Expander. Its free version only handles expansion; compression of files is not possible. It unpacks many different compression formats, the most common ones are like RAR and TAR files. It has a simple interface, which has buttons to expand single files or groups. No compression tools are available in Stuffit Expander, although they are available when upgraded to the deluxe version. It is simple and fast, compatible with many compression formats. Supporting formats: ARC, ARJ, BZIP, LHA, RAR, SIT, ZIP, Base64/MIME.
10. Bandzip

Bandzip is a powerful archiver that provides super fast speed and excellent features. Archiving files is important for one thing; it reduces the size of the file. Archiving and compressing is one of the ways that can be done, and it is used to distribute files easier. Its main features; extract more than 30 formats, compressing an archive with a password and multi-volume, fast compression with multi-core. The paid version provides a password manager. Analyze a corrupted ZIP to collect uncorrupted data. Password recovery, image preview in the archive, and antimalware scan on the archive are some features of the paid version.