In this fast moving and ever progressing daily routine, every one of us was supposed to do many tasks at a time. In some cases, you might forget or skip some of the tasks due to your busy schedules, but this way of skipping or forgetting important tasks may cause severe effects. To avoid all those and to make life easier, business people or delegates appoint personal assistants to arrange or do their duties. But for a common man, it is not the case to appoint a subordinate to look about all those. Inventors worked seriously on this problem and developed reminder apps on the gadgets. The to-do task managers evolved with this basic idea and served the user by saving all the works to do on that day and remind them at the right time.
Trello App:
One such to-do app you can find most effective is the Trello app. It is the most powerful to-do task manager and reminder app developed by Fog Creek Software and was released by its founder, Joel Spolsky, at the TechCrunch event. The app facilitates users to organize their project schedules, event managements, to-do lists, etc. in a very easy way. It is available on different platforms such as iOS, Android, Slack, and desktop PCs. Earlier, it was also offered for Windows 8 users, but now, it is no longer available. Trello has all the advanced features incorporated in it, and the company is updating it with more innovative ideas from time to time.
The Trello app is available for free, but with limited controls and capabilities. However, you can also get the Business Class and Enterprise plans with a monthly fee starting at $9.99. Both plans can be used by a team or large companies. By choosing an appropriate plan, additional features are provided and can even make it more professional. The business people or delegates will find this app advantageous for their work.
Features of the Trello app:
The Trello app has several interesting features, which make it more unique than the other ones.
It contains boards to organize your tasks, wherein you can also find lists and cards to subdivide the tasks. With these, the big projects or works are classified and divided into manageable pieces.
This app is a platform independent, which means the interface of the app appears similar to any other platforms. The look and feel are almost the same for mobile or desktop devices.
It plays a key role in project management and organization. You can invite your fellow members using mail id's and can assign works to them with due dates.
In this app, provision is made to give access permissions to your boards like the public, private, and you can even customize the users who can access your boards.
On the right side of the screen, there is a column available, which notifies you about the members who accessed your content.
You can create unlimited lists and cards. They can accept comments, votes, due dates, attachments and checklists.
How to download Trello App:
On Android and iOS devices, the Trello app can be directly downloaded from the store available in those platforms. By clicking on install button, the app will be installed.
On desktops, you have to register online to use the app. There is no offline application available on desktops. By using web browsers, the work can be done. The steps below explain how to get Trello app on Windows 8.
Open your web browser and navigate to https://trello.com. There you can find "Sign up- it's free" option. Click on it.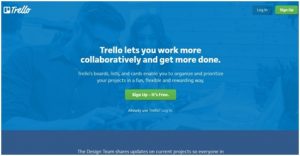 A sign-up form will open, fill the details in it and click on Create a New Account button and don't forget to tick the terms and conditions check box.
Then check your mail inbox for the confirmation email from Trello and confirm the link given. By this, the creation of your account in the Trello app is completed, and you can start using it.
How to use Trello app:
The main reason for Trello app to become very popular is it is simple and easy to use.
After logging into your account in Trello app, the Window below will appear. From there, you can select an existing board or can create a new board of your choice. Creating a new team is also possible.
By choosing the Welcome Board, a window will appear similar to the one posted below. From there, you can choose whatever you want and can organize things.
By clicking on Welcome to Trello or This is a Card, a window will appear where you can create your cards.
You can also add images, portraits, templates, etc. to your card from the option "you can attach pictures and files." The window similar to the one posted below will appear.
So by using the options available there, you can organize everything in your life and plan accordingly with this fascinating and uncomplicated app.