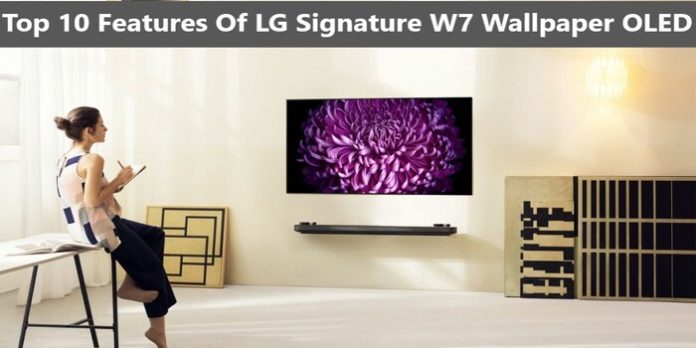 The LG W7 OLED is undoubtedly something special. Not just is it one of the sleekest TVs as it is 2.75mm thin, but also the most glorious one. When fitted with the right kind of content, in this case, 4K HDR10 or Dolby Vision video, it sparkles.
While the W7 excels in approximately every facet of its design, the apex here is its slimness. When wall-mounted, it incorporates into its surroundings. LG calls the W7's design picture-on-wall labeled as one of the slimmest of all.
Moreover, it is just the slimness of the panel itself; when wall-mounted, the prevalent number is barely higher, somewhere around 3.85mm. It is not just one of the slimmest TVs on the market, and one of the sleekest, too. On the weight aspect of the television, the 65-inch edition only weighs about 8 kg(17 pounds), which means you should have no problem wall mounting it.
The top 10 features of LG Signature W7 Wallpaper OLED are:
1. Simplicity and perfection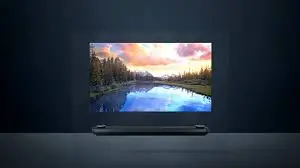 Its tagline is – the viewing experience, distilled and refined. LG SIGNATURE W7 Wallpaper OLED TV has removed all the components that distract from viewing and hearing so that you can concentrate on the very essence of the television.
LG Signature W7 Wallpaper OLED TV hung on the wall is shadow-free oppositely several square frame patterns also turned on the wall have a shadow.
2. One with your wall
LG SIGNATURE W7 Wallpaper OLED TV merged perfectly with the wall and is shadow-free which feels like a  window to another world and allows you to submerge yourself in a picturesque reality.
3. One design embraces all
LG SIGNATURE W7 Wallpaper OLED TV manufactured for those who acknowledge the significance of absolutely premium audio. With up-firing speakers to improve sound distribution for smoother high-pitch and low-pitch audio.
The perfect black screen is emphasized on the screen of LG SIGNATURE W7 Wallpaper OLED TV as, infilled with vivid purple flowers.
4. The supreme image quality
Perfect color is enhanced only in perfect black color. With LG SIGNATURE W7 Wallpaper OLED TV, you can experience the unmatched picture quality created by OLED TV's; self-lighting pixels.
5. The premium cinema experience
LG SIGNATURE W7 Wallpaper OLED TV, with the upgradation of both Dolby Vision and Dolby Atmos, is the first television of its kind. With these features fitted in the TV, you can endure premium cinema in the convenience of your home with improved picture and sound quality.
6. Active HDR, unlike other conventional HDRs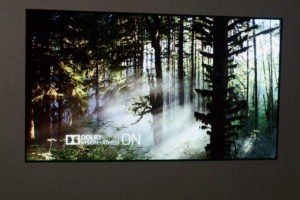 LG SIGNATURE W7 Wallpaper OLED TV supports premium HDR content mastered by Dolby Vision™ and is also compatible with generic HDR10 and HLG. LG's; Active HDR technology optimizes HDR displays scene by scene for a realistic viewing experience and diverse photos on the LG SIGNATURE W7 Wallpaper OLED TV.
Also, LG OLED TV supports the premium HDR. Dolby Vision, opted by well-known producers from all over the world. LG OLED TV not only provides Dolby Vision but also offers adjustability with extra HDR setups such as HDR10 and HLG.
LG OLED TV, enhancing premium HDR Dolby Vision, occupies its dynamic metadata in each frame to illustrate the intended vision of the producer in your very own room. HDR10 and HLG are affected by LG OLED TV's; deluxe processing. By connecting dynamic data developed by LG TV processing on a picture-by-picture basis, all types of content, illustrated as superior HDR quality.
Dolby Vision Content has dynamic data produced during content creation; the dynamic properties of each scene apprehended. Dynamic metadata used to generate the image radiance arch on a frame-by-frame rationale.
7. Bringing the cinema sound to your room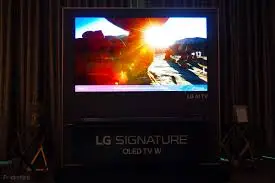 LG SIGNATURE W7 Wallpaper OLED TV, fitted with Dolby Atmos transmits each object's; remarkable sound in three-dimensional space for complete enhancement. So now you can have a family gathering and enjoy a movie evening like sitting in a theatre.
8. Match it with your lifestyle
LG SIGNATURE W7 Wallpaper OLED TV comes with a fantastic design that fits right in your lifestyle, and it is the slimmest ever TV encompassing the bulky techniques from the past. If you are updated, then why not update your TV?
9. Performance
LG SIGNATURE W7 Wallpaper OLED TV supports Web Os 3.5 for having full entertainment, Web OS 3.5 is easy and fun to use
Other intelligent features include Dolby Vision, Dolby Atmos, Active HDR, Perfect Black, Pixel Level Dimming, Billion Rich Colors, and Ultra Luminance.
10. Magic Remote
LG SIGNATURE W7 Wallpaper OLED TV comes with the Magic Remote and uniquely polished web OS 3.5 launcher bar that allows you to dive into an endless world of premium content from all of the most prominent entertainment providers.