GOOGLE-DUO
Duo is a one-to-one video calling app for everyone – designed to be simple, reliable and fun, so you never miss a moment.
History:
Google Duo is a video chat mobile app developed by Google, working on the Android and iOS operating systems. It was announced at Google I/O on May 18, 2016, and began its worldwide release on August 16, 2016.
Google duo became famous in two days after its release. Unfortunately, its popularity dropped down on 127th place sooner. Google replaced hangouts with the duo, in all the Android phones around 5th October, 2016 and from 1st December, 2016 google-duo came into existence on Android phones. Android manufacturers provided duo to be preinstalled like previously hangouts used to be in Google suits. Later it was included in Apple-App store too.
Features:
Simplified interface- The duo is simply best. Google has provided the user-friendly interface. The major focus is thrown on easy access video call feature.
Live Preview – Before picking up the call, you could actually see what the Caller is doing and if it's nothing important you find, just don't receive the call. The choice is left up-to you.
High-Quality Video – The app focuses to provide high-quality videos on both sides. Although, type of connection is a major factor for video calling. Google has minimized the network requirement from its end. To provide users an uninterrupted video call.
Platform Independent – With Duo app, you do not need to worry about the operating system you or the other caller is using. It supports cross-platform which means users using different platforms will easily be able to connect.
HD 720p video
Optimized for low bandwidth mobile networks.
Google assistant support.
Knock-knock feature that makes a user feel like invitation rather than an interruption.
Step by step guide:
First of all, open up the play store and then search "Google Duo."
Click on the "Install" Button
Now wait till the app gets downloaded and installed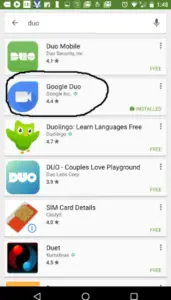 After it is installed, click on the open button
To get started, click on the "I Agree" option
Now the app will ask for few permissions. The permissions include – "Taking Pictures and Recording Videos", "Record Audio", "Access Contacts", "Send and View SMS"
You need to "Allow" all the permissions to proceed
Next step is to verify your number
Your country will be selected automatically, if not you can select it from the next
After that Enter your phone number in the space provided
Now, a verification code will be sent to your number. Once this code is received, it will be entered automatically
.How to Use Google Video Calling App – Duo
After the app is installed successfully, click on the "Duo" Icon on your Mobile
Once the app is launched, you will notice your face being shown
Now to initiate the video call, Click on "video Call."
Now you will see your contacts. The contacts who have already installed the app will be shown at the top. The other contacts will be shown below, and you can even invite them for video calling via Duo app.
If you want to start the video calling, click on the contact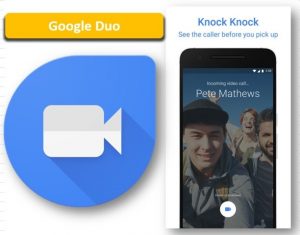 Advantages listed by users:
Fast on slow networks too.
Based on your phone number
Works with Android as well as IOS
All calls are an end to end encrypted.
Simple one-tap calling
Super smooth switch from cellular network and WiFi
You will never miss a moment
It made users from a far distance, together!
Disadvantages:
A communication application is worth only if your friends and family are also signed in the same application
Easy to use, but difficult to shift.
Google launches a similar app like other services and makes users difficult to switch.
Supports only cell phones, tablets have no official support.