Digital marketing software helps to increase your business growth. These types of applications are available for every scale of business. Now, digital marketing finds in various sectors, such as email marketing, Display Retargeting, Video Hosting, Content Creation, Programmatic Advertising, Website, Testing, Website Analytics, and many more. Top 10 Digital Marketing Software:
1. HubSpot
Best CRM software, in the marketing fields and sales. The digital tool has connected with over 200 apps. It allows you to enhance your business profits. It includes analytics, CMS, social media, SEO, blogging, landing pages, email marketing, automation, lead management, generating leads, increasing revenue, tracking client's data, drag-drop functionality, effective landing pages, email templates, generating actionable insights and reports, and more. You will experience real-time SEO suggestions. Over 56,000 users are accessing this application in more than 100 nations. It helps you to create and design websites. It offers three plans Starter, Professional, and Enterprise. There costs are $35, $560, and $2,240 respectively.
2. MailChimp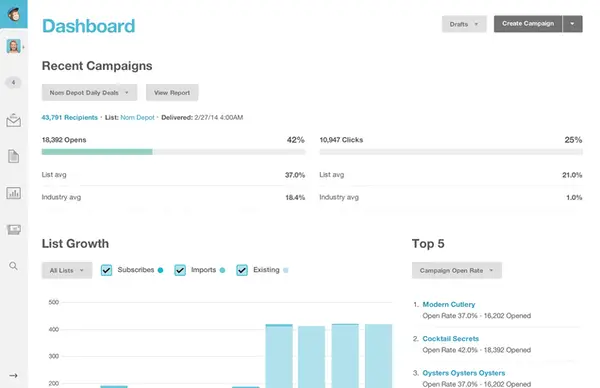 The software has mainly built for a small scale of entrepreneurs. It has first recognized as an email marketing tool, but now it is known as an "All-in-one" marketing tool. It has a user-friendly platform. It provides solutions for Campaigning and Generating insights. It offers four plans. One is free, and the other three paid. Essentials cost $9.99, Standard for $14.99, and Premium for $299 per month. It offers pre-designed templates, one-stop solution, automation, segmentation, analytics, insights, A/B testing, and Multivariate testing. It allows you to examine the audience.
3. SEMursh
The digital marketing software has developed for beginners as well as for professionals. It has a wide range of tasks such as topic research, keyword research, and competitor research, available for content marketing. Apart from content, it gives support to other sectors that include Paid Traffic, Social Media, PR, Market Research, and SEO. It includes features, such as Keyword Magic Tool, analytics reports, Charts, Social Media Poster, On-Page SEO Checker, SEO Writing Assistant, CPC Map, Content Analyzer, PPC Keyword Tool, Ad Builder, eCommerce, and Enterprise research. It performs activities like organic research, advertising research, backlinks, traffic analytics, and market explorer. It also offers three subscriptions. Every plan includes a free trial. They are Pro $99.95, Guru $199.95, and Business $399.95. Their costs are per month.
4. Marketo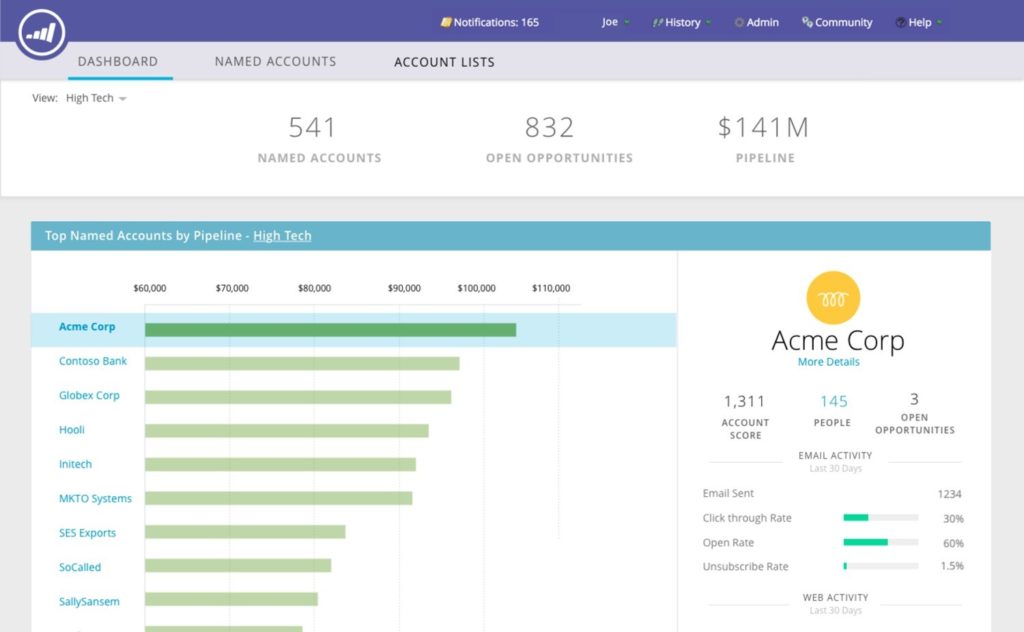 Email marketing software had launched in 2006. It supports Consumer Engagement Marketing, Lead Management, Marketing Automation, B2B Marketing, Event Marketing, and Campaign Management, Email Marketing, Inbound Marketing, and Loyalty Marketing. You will experience Real-time personalization. It also provides built-in tools that include Lead lifecycle management, Marketing analytics, CRM integration, and Social marketing.
5. Mapify360
The cloud-based marketing tool helps to target the audience. It allows you to enhance business growth. It includes creating of PDF optimization report, finding local scale and unclaimed businesses, increase your business profits. The application is available for the Windows system and Mac OS. It offers a trial period of 30 days. It helps the organization, such as coffee shops, hairdressers, restaurants, car mechanics, and many more. The product costs $97.00.
6. Act-On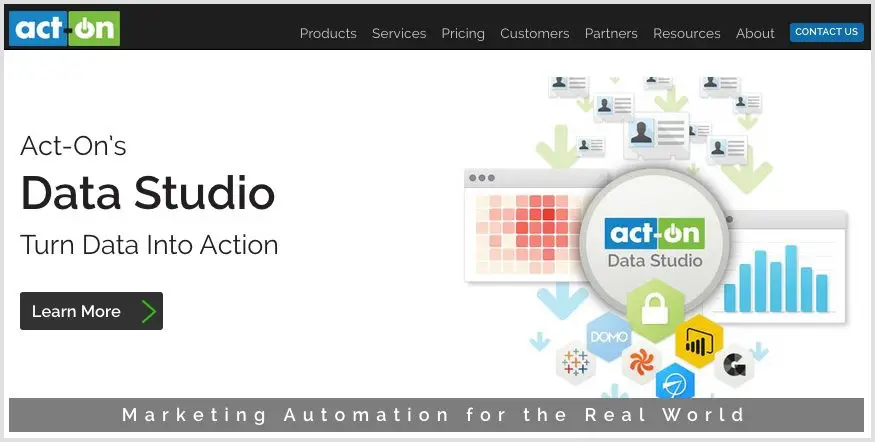 Digital marketing software supports inbound marketing and outbound marketing. The application has built for all scales of entrepreneurs. The cloud-based platform helps to check the marketing ROI, drive sales, and interaction with the clients. It has a user-friendly interface. It allows you to examine and evaluate the reports, insights, and campaigns. It includes various tools, such as automated nurture campaigns, lead scoring, campaigns, Email performance, list management, landing page, website traffic, conversions, native CRM integrations, administration, quality support, and many more. It provides two pricing plans Professional and Enterprise. Their costs begin at $900 and $2000 per month respectively.
7. Emfluence
The cloud-based marketing platform has made by digital marketers. It supports Email marketing, Website tracking, and Marketing automation, digital tools for optimization, creating a marketing platform, digital strategy, web designing, and development. It offers website tracking, smart work, personalized emails, customizable landing pages, Form builders, surveys, marketing calendars, modal, lightboxes, CRM, customer engagement, and social media marketing. The product's cost depends on the number of active contacts that you want to use.
8. Cake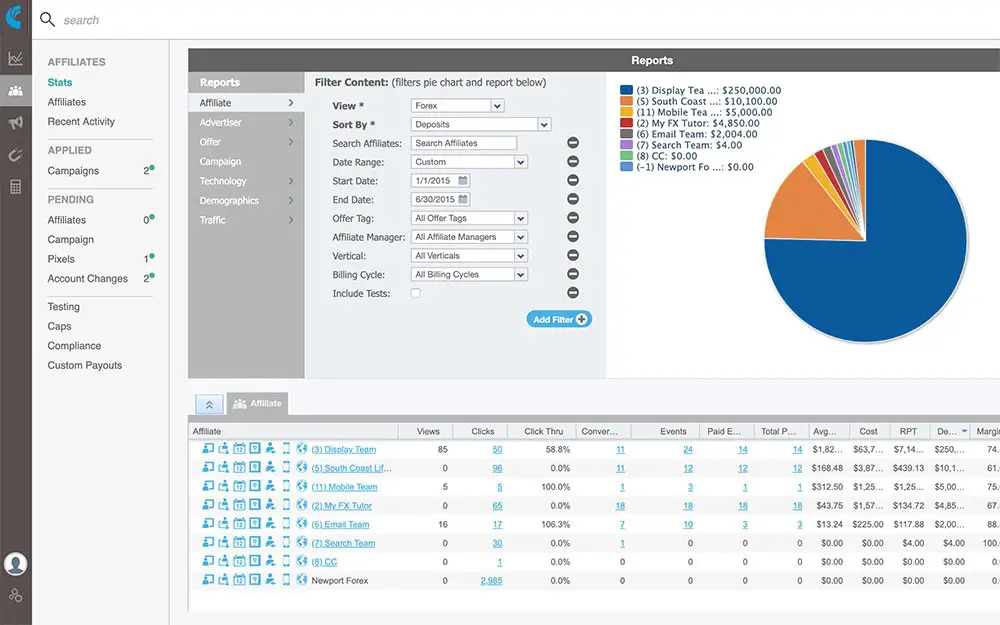 The tracking software helps to increase your business profits. You will have experience with Real-time tracking. It allows you to optimize your marketing performance. It offers robust integration, Affiliate tracking, Customer support, unmatched insights, and in-depth analysis. It provides customer service through phones. You can examine your transparency in marketing. It has connected with several certified agencies, media partners, and technology partners. It gives a CAKE developer kit. It offers infographics, reports, case studies, white papers, and webinars.
9. Textedly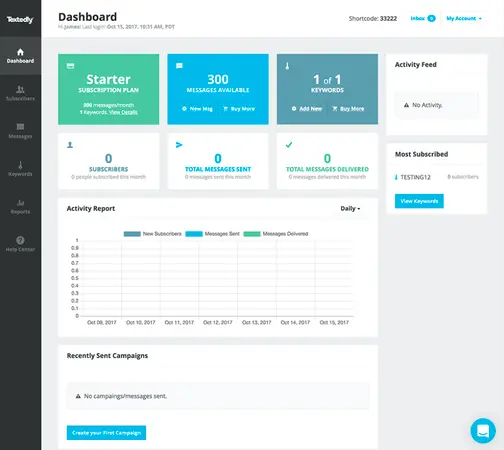 The SMS tracking software allows you to send 10 to 100,000 text messages. It is best for all scales of entrepreneurs. It helps various business sectors like enterprises, real-estates, retailers, schools, restaurants, professionals, enterprises, etc. It gives support to mass group texting, secured data, information, single send options, mobile compatibility features, unlimited subscribers, mobile carrier compliance, comprehensive analytics, inbox, one to one communication, authentic text messages, etc. It offers free incoming messages, Built-in link sharing, Custom subscriber data, inbound, and outgoing multimedia messaging services. It provides one free starter plan, and the other seven are Plus $25, Enterprise $40, Elite $55, Business $110, Silver $160, Premium $275, and Gold $550 per month.
10. Google Analytics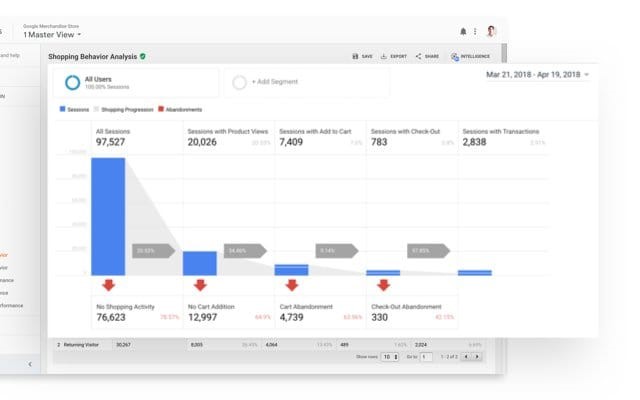 The web-based analytical platform applies to all scales of businesses, teams, and freelancers. It has developed by Google. It has connected with AdWords. It offers data collection, management, data analysis and visualization, analytics, and analytics-intelligence. It helps in increasing your business growth and in tracking website reports, traffic, and conversions. On a small scale, it has connected with Google AdSense, Google Cloud, Search Console, Google ads, display and video ads, search ads, etc. It allows you to configure APIs and to access and filter data. The clients having less than 5 million impressions per month can access this application free.