Screen capture and screen recording software are popular nowadays. Camera capture software allows recording from any video device including USB webcam cameras. It will enable us to stream videos, record videos, or chat on Skype, which results in high-quality images. It gives video chat sessions, online classes, and live meetings involving two or more people. There are free and open-source available to handle the stream and to broadcast multiple streams at once over Wi-Fi or Ethernet. It gives a picture-in-picture presentation. Capture to customize your video recordings with transition effects, filters, and text overlays. Security surveillance permitted in this software.
1. YAWCAM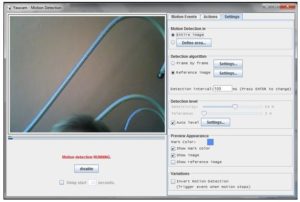 Yamcam is a webcam software for windows. It allows you to use any camera attached to your PC to capture a live video. Video streaming is smooth using Yawcam. Take image snapshots and detect motion quickly, and it contains a built-in web server, and password protection is available for this software. It includes a session recording feature and shows live stream production. It performs time-lapse for movies, and this software is available in multi-languages. Multistreaming is also possible using this software. Collaboration with other software is accessible in Yawcam. Mobile support is present in this software. You can use this software as a security camera too. Conversion from image to movie file is easy in this software.
2. NCH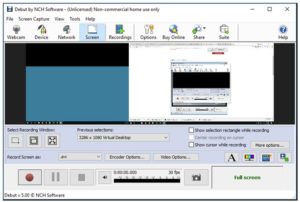 Record your screen using NCH software. Record your entire screen or any selected portion of your screen, capture video from any device. You can adjust the color setting and add effects at the required places. Add captions and timestamps to your video. This software supports all video formats. Record the audio from microphones and speakers, which makes this software ideal for recording video conferences. Adjust the resolution and size of the video. Use the video overlay feature to record your screen and webcam simultaneously. Time-lapse video recording is also possible. Burn your recording to DVD directly. Create snapshots of your video and even edit your recorded footage.
3. BANDICAM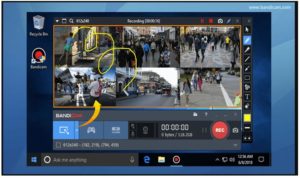 Bandicam is a webcam recorder that allows you to record an external video device. Capture webcam videos with audio. Upload then on YouTube easily. You can stop your recordings automatically by setting up a recording time. Save your recorded video in many different file formats like MP4 and AVI files. Bandicam webcam supports external software, which allows recording of high-speed video and high compression ratio. Video recordings are of high quality. Record video games in high quality using a capture card and HDMI cable as external devices. You can even record Apple TVs and iPhones using this camera. Record 24 hours continuously and get ultra HD video recordings using Bandicam.
4. SPLITCAM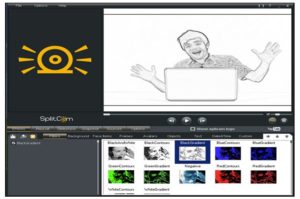 Use cool webcam effects in your video calls using SplitCam, and split your webcam video streaming using SplitCam. Use your webcam in many applications. Replace your head with realistic head masks like the face of an animal, and all popular services like Skype and YouTube support SplitCam. Live video stream to software like a live stream and make your streaming bright. Select the resolution of the video to record and broadcast. Stream a webcam, video file, or part of your desktop using SplitCam, and connect this software to any IP camera easily. You do not require any professional software for uploading a video onto social media platforms. SplitCam window has options to upload a video online. Zoom your video in SplitCam and stream part of it.
5. MANYCAM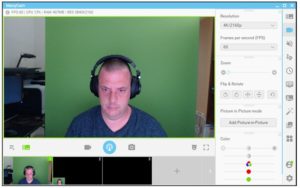 Enhance your live video streams and video calls using ManyCam. Get your video calls broadcasted live from software like Skype. Network Device Interface (NDI) is a protocol that allows video-compatible products to communicate. Add NDI compatible sources within ManyCam; include virtual backgrounds into your video using this software. Stream live videos to Facebook and YouTube simultaneously using ManyCam. Remove your backdrop while showing images or videos using the Green screen feature. Switch between video sources to communicate better. Desktop screencasting is accessible through this software. It supports 4K video to increase the quality of your video stream. Game streaming and playing YouTube video in live streaming is possible too.
6. CYBERLINK YOUCAM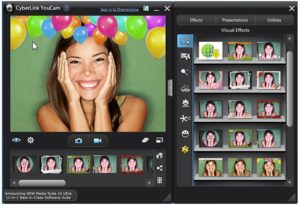 Integrate CyberlinkYouCam into video call services to stream live videos. Make real-time skin enhancements like skin smoothening to make you look better in video streaming. Adjust the lighting of your video too. Add augmented reality effects to make your video enjoyable. You can even add customized titles and images to your video. Engage your followers on the social media platform by live streaming with YouCam. Add video effect filters and animated emojis to your video. Use this software as a plug-in for video conference services, and sharpen the quality of your video to stream better video. Perform noise reduction manually to control the audio quality of your video.
7. LOGITECH CAPTURE
Connect Logitech Capture with any device and record video. Share the high-quality video recording to the world using social media platforms. Record from two devices at a time. Create video in a vertical view for viewing in mobile phone and social media posts. Add this software as a camera source to your streaming platforms like Facebook. Use live text overlays to personalize your video content. Choose various font styles and colors to customize your messages. You can even customize your backgrounds. Make changes in video lightning by selecting light or dark mode. Customize your camera to choose your field of view. Save Logitech Capture setting in a profile to use them in your next session.
8. WINDOWS CAMERA
Record video using Windows camera to pause and resume whenever you want. Use timer settings to start your video at the right time. Make use of the framing grid to fit your picture into the frame. Backup your images automatically into One Drive when you take them using Windows Camera. You do not need to scan documents as Windows Camera allows you to take pictures of materials. Capture larger areas using panorama mode. The digital video stabilization feature will enable you to shoot videos without a handshake. Capture HDR images and 4K videos. Adjust exposure of video using professional controls in this software. This software uses the latest imaging algorithms to produce sharp images.
9. FAKE WEBCAM
Use Fake Webcam to display video files or live desktop view. Use this virtual webcam with any software like Skype. This application is completely compatible with any version of Windows. It is simple to access and easy to install. The graphical toolbar is available to edit your videos. Add effects to your video to make it enjoyable. You can preview the video easily. Load multiple video files and play them one by one to view. Set your frame rate for playing the video. Use this software to show a specific piece of information like desktop wallpaper to someone.
10. IP CAMERA VIEWER
IP camera viewer is a free video monitoring system that allows you to view live video. Keep an eye on any place that requires safety like your home or office. View video from multiple IP cameras on your desktop. This software supports various camera models. View and control up to four cameras at a time. This application uses a centralized camera and layout management that you can modify to suit your needs. Configure video properties individually for each camera: set resolution and frame rate for videos. Adjust the orientation of your camera view. Use the zoom options available to adjust your views.