We almost have a good number of Youtube channels to watch in our leisure times. Some channels have videos that not only allow us to have our fun and entertainment side but also to learn something useful for our knowledge. Let us look at those types of Youtube channels that showcase videos relating to technologies.
1. UNBOX THERAPY
Unbox Therapy a most popular technological Youtube channel. Unbox therapy was by Lewis Hilsenteger from Toronto, Canada. Unbox Therapy has more than 3, 00,000 subscribers around the world. From the T.V, viewers can learn about the unboxing of the new gadgets and reviews including PC's, Tablets, Smartphones, and even gaming keyboards. It is useful for the critics of techs.
2. TYSIPHONE HELP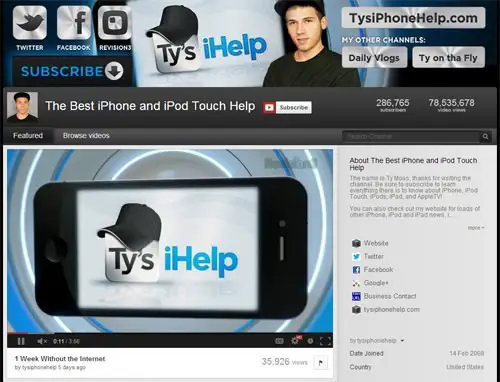 From the Tysiphone help channel, viewers can know about the reviews about Apple brand products like iPhone, iPad, iPod, and Mac book Pro. The Brand show has nearly three lakh subscribers all over the globe and also has more than 79 million video viewers. It is a boon for the Apple lovers!
3. CNET TV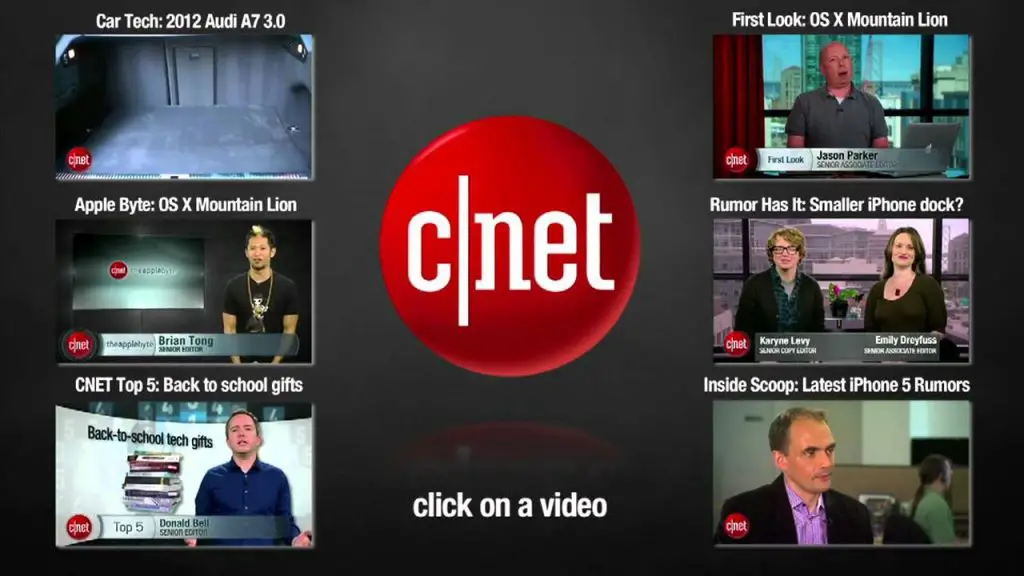 CNET TV is another technology showcasing news channel on Youtube. CNET is the New York-based web television which shows many product reviews, technical videos, and tutorials of the latest techs and gadgets. The channel gives a lot of informative videos of CES events. CNET TV has more than 2 lakh 80 thousand subscribers and about 111 million video viewers which are very famous for its kind!
4. THE VERGE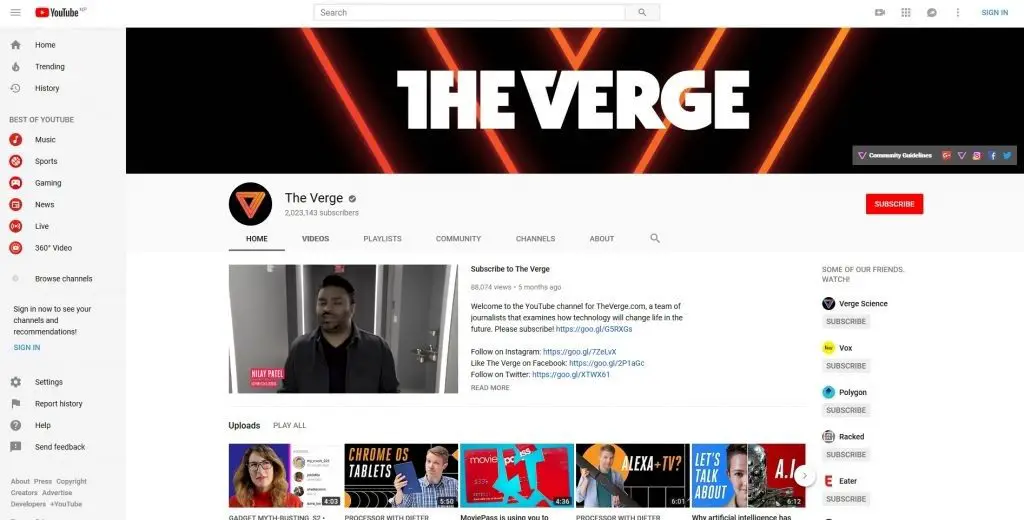 The Verge is one of a kind for its videos on Youtube. The team is said to be the first ones to review and give open comments and suggestions on new technologies coming over. The videos exhibit over 150 plus million views lately. The Verge is known to give text articles as in videos formats and thus remains unique from other channels.
5. NEWEGG TV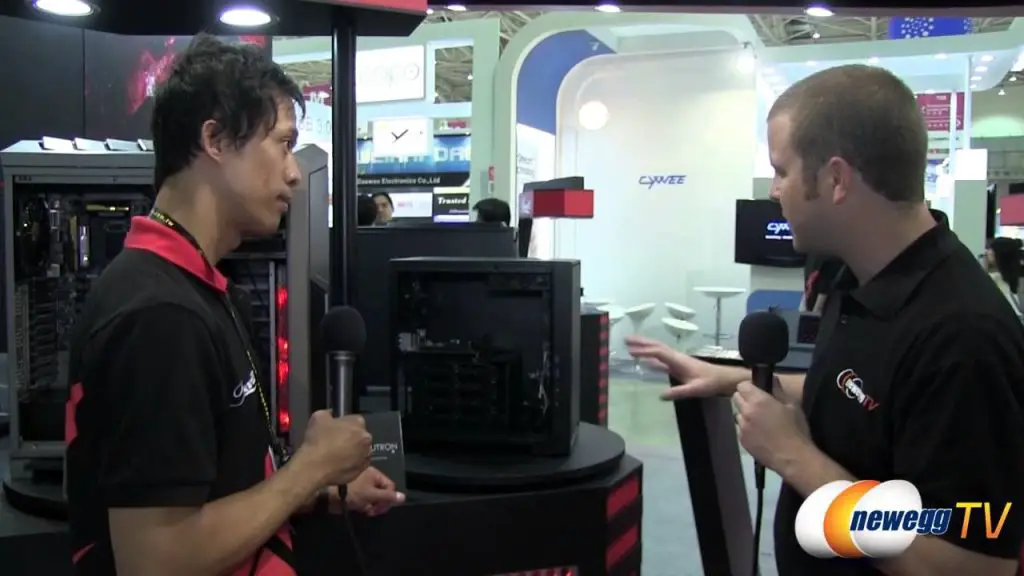 The Newegg TV is also a seller from the US that provides people with technology news relating to computer hardware, and also they sell their products online from their channel site. More than about 160+ subscribers with more than 40 million viewers are fans for the Newegg TV Youtube channel!
6. DUNCAN 33303
Youtube's most famous channel for technology relating articles is Duncan. Austin, the most popular host of the channel, provides their 31 million viewers around the earth with short and crisp information on unboxing of the new smartphones and gadgets.
7. ANDROID AUTHORITY
Android authority is most popular among the Youtube technology channels as the team presents its viewers and subscribers with the latest information on various brands of smartphones. They also allow people to choose among two brands of the same gadget and review each of them separately with having both in comparison. Currently, the channel has 40 million-plus viewers for their trending tech videos.
8. TECH CRUNCH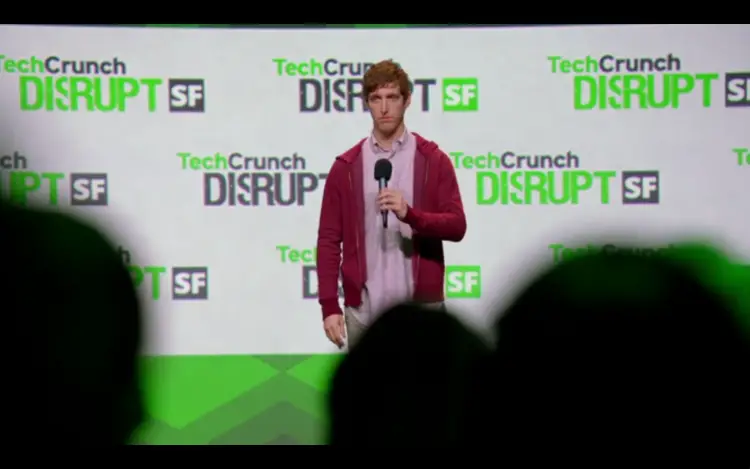 The channel Tech crunch offers people around the earth with exclusive brand new interviews with professionals relating to various fields of technology. The channel also has the unique kind of talk show host that will debate and discuss the latest issues and its effects about technology in the society!
9. CUSTOM PC REVIEW
Custom PC Review is a Youtube Channel is especially for the unboxing and reviewing of PC gadgets and other PC peripherals to their viewers. The channel is very much known to people from the famous show floor of CES 2013. Video views exceed 3 million. 
10. HARDWARE CANUCKS
Hardware Canucks provide people with a unique review on techs. The host has a readymade background voiceover with a tech placing over the still camera. The process thus allows the viewer to investigate the product in detail with also listening to its comments and suggestions at the background. Subscribers are nearly 22 thousand plus.