File your taxes using tax return software, and there is a variety of software. At a complicated tax situation, one may want to reach out to their accountant to get assistance. But with basic tax situations, these programs will be to get your tax return in and on time. It gives you previous year tax information and automatic calculations. It provides straight-forward return and intuitive with step by step guide. If one is not familiar with the tax systems, it may be looking for tax credits and deductions, negating any money you saved by filling the taxes on your own. All these software and apps are Canada Revenue Agency approved.
1. CLOUDTAX
Cloudtax is a Canadian software that provides 100% accuracy in detail. Share your income details and expenses. Save every step of your information. This software can automatically calculate your tax return for you, and this helps to reduce your deductions and maximize your refund. A confirmation mail has sent after submitting your information. Get a refund within a week using this tax return software. Step-by-step guidance is available for you. Use the live chat and phone support from tax experts, and transfer information from Canada Revenue Agency (CRA) into your return easily. Get a maximum refund with the exact calculations that this software makes. Use this software using a mobile or desktop. Digital storage options are available to save your data safely.
2. TAXTRON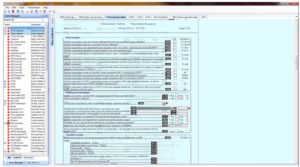 Taxtron is suitable for taxpayers to get their income tax return in Canada. It is available in both French and English languages. Get support from their friendly professionals to answer your queries. This software maintains the integrity and utilizes the latest technology to provide the best services. This software has a premium version, but you can start with your student's free version, or your income is under $31,000. The software performs accurate calculations but will not guarantee reimbursements if you key in data wrongly. This software can be used by professionals and corporate on various platforms like Windows or MAC operating systems.
3. SIMPLETAX
Simpletax is a new income tax filing program that contains the best features. Use it in Windows as well as Mac operating system. In the mobile phone, it is available only in IOS. It includes a full translation in the French language. The free version of it is available. Use this software on the mobile phone too. Customized tax tips are handy in this software for your situation. It contains an RRSP calculator to see how your RRSP contribution impacts your tax refund instantly. Get a reimbursement if you made a mistake. This Canadian based company relies on donations, and hence you do not need to pay but can donate. Its interface is user-friendly that makes work easier for you. It is Netfile approved.
4. TURBOTAX
Turbotax has a user-friendly interface, which is easy to use. It is mobile compatible with Android and IOS. Both free and paid version is available at a minimum of $19.99; connect with CPAs and EAs for tax advice the unlimited number of times throughout the year. This software is perfect for freelancers and small business owners. Track your expenses easily. Provide all your information and get calculations done through this software. Maintain your data securely. Get every detail of your online tax return reviewed before you file them. Receive an email confirmation once your tax return is accepted. Track your tax refund using your mobile and get it in a short time.
5. H&R BLOCK
H&R Block provides free help from tax experts with its in-product support chat. This software audits representation correctly to present in front of the IRS. Step-by-step guidance is available for the filing process from the start till the end, import last year's tax return to view it. Import your tax return from any tax service easily. File five tax return files for free using this software. Download all available updates in one installation and save time. Guaranteed data security is available. Use Tax Identity Shield to protect your tax identity and refund. This program is easy to use and file your tax without stress.
6. STUDIOTAX
Studiotax is a free tax software in Canada. File up to a maximum of twenty, the tax return for free regardless of your income level. Users do not need registration for this software or create an online account for it. No personal information can leave your computer, as all details of your tax return will be stored in your computer's hardware safely. Use StudioTax Enterprise if you need to make an unlimited number of tax returns. Import tax information from the previous year easily. It is available only on Windows or Mac operating system and not on the mobile phone.
7. UFILEFREE
Ufilefree is a secure service that allows you to download information from tax slips directly from CRA automatically. This software is NETFILE certified and gets you to refund within a week. Get the best tax refunds and determine everything from credits to pension income splitting. Protect your data safely, using encrypted channels. This software is simple to use, and it supports over 230 forms. Get guaranteed accuracy, satisfaction, and best tax result in this software. Save time using this system, which is excellent for Quebec residents. Please keep a copy of your tax return and access it anytime using this software. To resubmit your previously filed tax return, you can avail of the service from UFile easily using its ReFILE service.
8. ADVTAX
Handle a variety of tax situations using AdvTax. This software supports English, French, and Chinese, and complete your tax return and upload your PDF files to the CRA NETFILE. Complete your tax return quickly, gets a printable version of your tax file. Prepare income tax for the previous year too. This software provides strong protection for your tax files. Searching for tax entries and forms is easy using this software. Various default tax forms are available and select them to calculate the amount of your tax by filling in your details. Select your territory in Canada and start preparing your tax.
9. GENUTAX
GenuTax uses NETFILE to directly send your tax return to the Canada Revenue Agency (CRA). File your tax for previous years using GenuTax. This application is NEFILE certified, which means that you can file your tax directly to CRA. Use this software free and provide donations if you wish to give. The process of filing your tax is easy, as you will have to fill the form gradually. This software will assist you in every tax deduction and credit that you deserve. Option for printing your tax return is available, and the number of tax returns published will be displayed in the pop-up notification. Handle tax in capital gain and rental properties too.
10. EACHTAX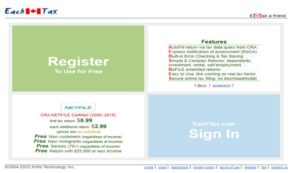 Eachtax allows the auto-fill return of tax data query from the Canada Revenue Agency, and it expresses notification of assessment. This software has built-in error checking and tax-saving feature. Perform simple and complex tax returns here. Fill in the form again if you need to make amendments to your tax return using ReFILE. This software is easy to use and secured. You do not need to download this application as it performs tax filing online. It is free for new customers and new migrants. For seniors, it is open source. If your income is more than $25,000, and you are an old user, you would need to pay for your tax return.