Backup software transfers knowledge from primary to secondary storage platforms. Storage of business data is crucial, and it requires high security. The work of backup software includes making exact copies of data. These copies allow the restoration of data when the primary data is lost.
1. Acronis

It provides full cyber protection as backup software. Get all of your data copied securely. Get your data always recovered with mirror imaging. Recovery drives are present to recover your lost data. Access your data from anywhere and retrieve any file using Cloud backup. Manage these backups remotely. It utilizes Artificial intelligence to prevent ransomware from occurring. Fastest cloud backups are possible through this. Get backup for your data only at selected Wi-Fi. It is very versatile to also and compatible because it supports many operating systems. It is also flexible as you get to determine where you would like to store your data.
2. R-Studio

It provides data with the aptitude to not get deleted. Information may be lost through viruses or hardware failure. Get them retrieved using R-Studio. Even when your recycle bin gets emptied, the data can be retrieved. File searching is done extensively through this. You can recover files even from corrupted logical disks. Recover all your lost data at a time through mass file recovery. 'Non-Windows' file systems are also supported. It provides easy navigation through files. It contains the RAID reconstruction model in advanced level. It makes a recovery over the network, and the SMART monitoring system is present in it.
3. Avamar

It is a data recovery software created by DELL. Backup and quick recovery is done in virtual environments. At a lower cost, you can get high performance done. Get your data encrypted and manage it as centralized management. Reliable servers allow uninterrupted accessibility at any time. Use the availability of ample capacity storage to store extensive data. You can do Backup in multiple formats. Efficient backup is possible through its variable-length duplication technology.
4. Veeam
Veeam is a backup and replication software does backups of applications and images. Its design allows cloud and virtual backups. It has unlimited capacity and saves lost of cost on storing data. Data is processed faster, and recovery options are more flexible using Veeam. Monitor its environment all the time, and get alerts when problems occur. Do capacity planning effectively, and keep IT records secured.
5. Nakivo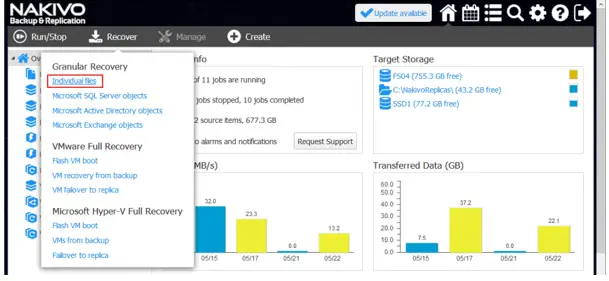 Data protection is made much easier through Nakivo. All businesses from small to large can use this. Many leading enterprises around the world use this leading software-as-as-service management of data. Integrate it with any software. Manage it from anywhere. Perform global deduplication, which prevents multiple data from being backed up. Granular restore is possible, and data can be archived. Nakivo is the complete solution for all Backup related problems with less maintenance. Its outstanding support from the company ensures customer satisfaction. Immediate verification occurs when data backs up.
6. CloudBerry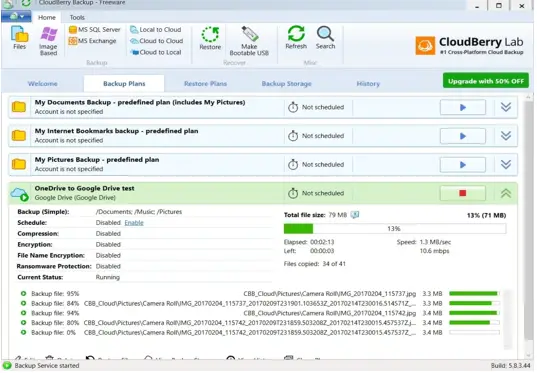 Amazon S3, also known as MSP360, uses this backup service. Remote monitoring services allow the high security of data to be maintained. AES encryption and image-based Backup are available. Protection from ransomware is given to your data. You can use a variety of cloud storage services offered. Move backups directly from devices and servers to cloud storage. Direct data transfers are also done.
7. DELL EMC Networker

Dell EMC allows storage integration of software. Cloud is required for Backup and recovery of data. Data stored in the cloud will surely save you much money. Store it in a simplified manner in native cloud formats. Data and backup applications are stored in the cloud for the long term. Business-critical applications will also have their data secured. The networker will work efficiently for Microsoft applications.
8. SolarWinds Backup

Want to get a simple software without any cost? SolarWinds Backup allows cloud-based backup service. Physical, as well as virtual servers, can be backed up using this. Reliable enough to be used by large applications. Global and private clouds are present in this software. Its dashboard allows you to check everything at a glance, saving much time for you. It has built-in compression and deduplication to restore data quickly. Thus, SolarWinds data is all-in-one protection for all your data.
9. Druva InSync

Your data can never get lost with Insync. Integrate Backups easily. Insync monitors your data correctly. Data visibility is improved to work efficiently with data, and protection is given entirely to them. You can remotely wipe off data from your devices when you do not need them. Ensure regulatory compliance. Geo-tracking of services is possible too. Restore system settings and preferences of the user.
10. Code 42
A secure connection is available through Code 42. It collaborates tools well to validate the data correctly. It also reveals some IT applications that cause gaps to incorporate tools. The activity of files without a network that is risky will be visible through this software. When other people try to get access to your data, then get notified immediately. Investigate the error and make corrections to solve it. The response time of alerts is improved. Get a detailed report of user activity to investigate the problem quickly. Employees working from home will also have their data related to the company protected. Get details of all employees that work from home, and you can prioritize your data accordingly.