A single touch to light up:-
In MIUI 8 if you want to turn your flashlight on all you need to do is just put your finger on the home button and in the very next you will see the flash showing you your path. Actually, this is a very comfortable feature.
For example, the lights go off so obviously you don't have enough time to first unlock your device then go to the toggles and then switch on the touch or flash. This is why I consider this a very user-friendly feature.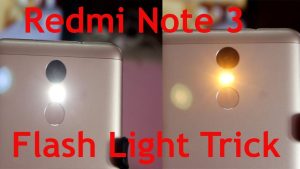 A double touch to brighten:-
Suppose you are sitting in Ur cozy and comfortable room where your phone's brightness level is 25% now you went out for some or other ordeal during which you, however, forgot to increase your brightness. In the scorching sun, it is merely impossible to see anything on your screen resulting you in panic.
Here MIUI gives a marvelous feature to increase your phone's brightness to 100% in a "double touch". All you need to do is just touch the application button and the volume up button simultaneously and the phone will unleash its brightness to 100%.  So now there is no need to go to the toggles and increase the brightness every time.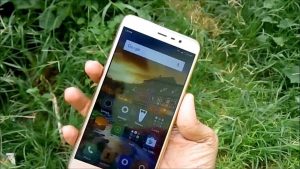 A shake to arrange:-
Many times our screen is messed up. All the apps are scattered. If you are asked to arrange them in a proper manner then you have to do it app by app, select an app one by one and arrange the same. Which obviously looks studious and a wastage of time.
But guys, you being a user of MIUI this work is a piece of cake and will take just a sec. What you have to do is go to the on screen settings (by long pressing the application key) and "shake" your phone. In the very next second, all the apps will be arranged.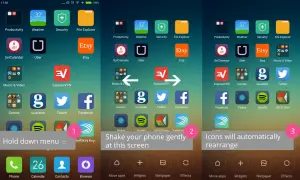 A sweep for many things:-
MIUI is a very user-friendly UI. There is a feature called "quick ball". When this feature is turned on a small ball like structure will appear on the side of the screen. This ball will help you in 5 different ways.
1)  Home:- If you wish to go on the home screen you simply need to sweep the ball up and in no second the home screen will appear.
2) Current apps:- The next thing which this ball can do is to open running apps. For which just sweep the ball in slant upward direction.
3) Lock:- If you will sweep the ball in the horizontally straight direction it locks your device.
4)  Screenshot:- The most adorable feature of this ball. You can take a screenshot and the shot will be displayed in the corner of the screen. If any changes are required then tap on that screen shot and make any changes you want.
5)    Back: – This is the last feature which simple to go back.
These are the features and gestures which will definitely make your life much simpler.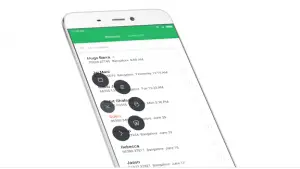 A touch to change the lock screen:-
Remember the old days when changing a lock screen wallpaper was a tedious thing. In all that chores the most difficult thing was to find an appropriate wallpaper which would suit your phone. MIUI has transformed the league of the same. MIUI provides a small icon on the lock screen. Clicking on this icon you will get many options of wallpaper. And you just need to select one and the work is done with a single touch without even unlocking the phone.