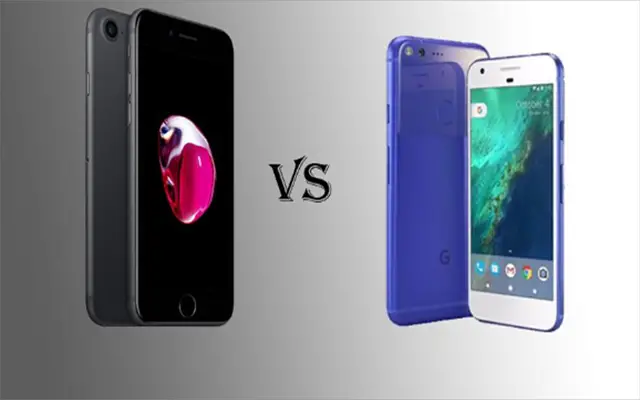 Major Smartphone manufacturer sails on the same boat when it comes to the regular launch schedules which make it easy to anticipate for the updated arrival of the new model. Apple launches its new device in September and on the contrary Google's launch updates wander all around the calendar making it improbable.
Apple launched its iPhone 7 series in September 2016 whereas Google abandoned its Nexus series and pitched its new Pixel brand carrying the legacy of the predecessor in October 2016.
What are the claims of both Apple and Google?
To have the finest cameras in the category.
To be the best smartphones.
To have regular software updates.
Designs that are not much different from the former models.
Both are equally lavish and have a unscaled version of their type.
iPhone 7 Plus' is remarkable and one of the best phone that consumers can get.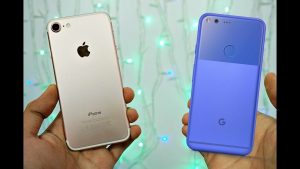 Apple iPhone 7 vs. Google Pixel
Pixel

i. Is made up by an amalgamation of glass and aluminium
ii. Fingerprint sensor is at the back of the device.
iii. It measurement is 143.8 x 69.5 x 8.5mm

iv. It weighs 143g
v. It is heavier than iPhone.
vi. It is IP53 and could not be immersed in water.
vii. Available in colors like black, blue and silver.

iPhone

i. It is made up of only aluminium.

ii. Fingerprint sensor at the front within in the home button.
iii. It dimensions are 138.3 x 67.1 x 7.1 mm
iv. It weighs 138g.
v. It is slimmer, lighter and smaller.
vi. It is IP67 which makes it dust and water durable.
vii. Available in silver, black, gold, rose gold, jet black.
Both the devices have the quad-core processor, and none provides storage expansion.
Apple's iPhone 7-
i. With 2GB RAM iPhone 7 opts for a new A10 Fusion core and embedded M10 motion coprocessor, it performs difficult as well as lighter task giving a fluid user experience.
ii. It does not support any VR facility.
iii. iPhone is available in 32/128/256GB storage models.
iv. It has a non-removable battery of 1,960mAh capacity.
Google's Pixel-
i. This device features Qualcomm Snapdragon 821 chip and has a 4GB RAM which cumulatively gives the processor a 10% boost.
ii. This phone also has VR capabilities allowing Google's new Daydream View VR headset to work efficiently.
iii. It provides 32/128GB storage options.
iv. It also has the non-removable battery of 2,770mAh capacity.
Apple's iPhone 7-
i. It runs on iOS 10 which is the Apple' best iOS.
ii. The personal assistant Siri is still there.
Google's Pixel-
i. It runs on Android Nougat 7.1.
ii. It has built in Google Assistant which pops up on long pressing the middle home button which is much than Apple's Siri.
Pixel

i. Google provides 1,080 x 1,920 pixels
ii. It is protected by Corning Gorilla Glass 4 and uses AMOLED technology.
iii. It manages 424ppi

 iPhone

i. Its screen provides 750 x 1334 resolution.
ii. It is protected by the ion-strengthened glass with oleophobic coating.
iii. It manages 326ppi.
Apple's iPhone 7-
i.The device has 12mp rear camera with an aperture of f/18.
Google's Pixel-
ii. It has a 12.3mp rear camera with an aperture of f/2.0.