Whenever you heard of speaker you think of it that it must be Bluetooth speaker or a Wifi speaker which can play music for in a simple way, you can control it your Smartphone from any corner of the room.
But if we talk about smart speaker what will you expect, let us tell you, what a smart speaker can do for you. It can respond to your command. It can do whatever you ask it to do; it can tell you score for the matches; it can help you in turning your TV ON/OFF and even can change channels for you. It can also help you to start your smart coffee maker machine. In simple words, you can talk to it.
Are you thinking of bringing such device to your home? Let's help you to select the best of the smart speaker from those available in the market. Here is the list of top 10 best smart speakers present in the market-
Sonos One –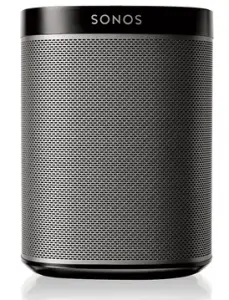 It is based on the play. It has six microphones in it to receive your voice. It is best Alexa powered speaker through which you can experience the best audio quality. It has an in-built Alexa. If you to double the power of sound then also it can help, you can connect two Sonos devices to each other. It can also work with Spotify. It is very expensive but its features and sound quality worth it.
Amazon Echo Dot –
Amazon Echo is the second generation device of Amazon's echo series smart speakers. It is smaller than its predecessor and has a more attractive design. You can change its appearance by changing its outer shell by swapping it. It also has an improved sound quality than the previous echo device. The price is increased but the sound quality worth it.
Google Home Mini –
It looks a bit more attractive than the Amazon dot echo. It has a disadvantage that you cannot connect an external Bluetooth device to it, but you can connect a chrome cast speaker to it. You can also buy a chrome cast dongle to it.
Google Home Max –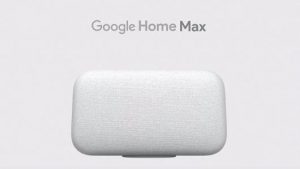 It has no other view that it is the best sound producer device, it has the best sound quality we have ever heard, the only competition to it in the market is Apple's Home Pad, but other than this it leaves behind all other speakers far behind in the matter of performance.
This speaker can fill a large room with its loud sound. If you feel that one speaker is not enough to fulfill the room, then you can also connect two Google Home Max devices to each other to increase the sound.
Apple Home Pod –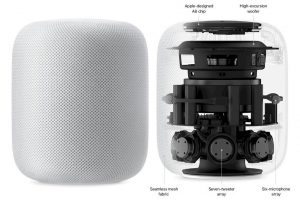 It is the company's first device in the field of the smart speaker, so it may take time to gain the popularity of the iPhone in the market. It is going to face many challenges in the market as its assistant works only with the Apple music. It is not giving any competition to Google Assistant. The company still has to work on it. The voice recognition and music matching algorithm still have many lags in it. But you can buy it if you need an incredible sound quality, it worth its price.