Your LinkedIn profile is the foundation of your branding. We also regularly add features to extend our capabilities as a personal marketing platform, giving you new ways to show your skills and motivation. If you haven't checked your profile page lately, chances are you're discovering new ways to build your brand. LinkedIn can be an effective networking tool, but standing out from the other 500 million users who are also trying to stand out is no easy task. So, we have compiled a list of the ten ways to improve your LinkedIn profile.
1. Choose Proper Profile Photo
Your profile picture is your LinkedIn calling card. Profiles with photos generate more search results and views, and better photos lead to better Soft lighting, a neutral background, and attention to hair, jewelry, and wardrobe are often the best choices. Avoid flashy foreheads and choose clothing and background colors that match your personality and the role you're aiming for.
2. Headline
There is no rule that the description at the top of your profile page must be a job title only. Use the heading box to say a little more about how you think about your role, why you do what you do, and what defines you. If you have salespeople at your company who are interested in social selling, look at the headlines on their profile pages for inspiration. They will almost certainly have more than just a job.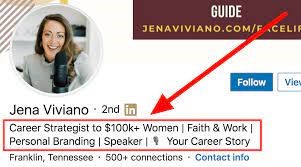 3. Make a Customized URL
When you first create your LinkedIn profile, you'll see an auto-generated URL. This is a very unwieldy URL with lots of random numbers. To change your URL:
Go to your profile Click Edit public profile and URL at the top right of your profile
Click the Edit Pen Image button at the top right of the page
Enter "[first name] + [last name]" as in the example.
4. Update Location
This improves accuracy when someone searches for, say, "Engineers in the Dallas/Fort Worth area". This step is not only beneficial if you want to recruit or search for This is how you take your online network offline. That way, people within your extended network know that you live in which town. So, they will think about inviting you for coffee and cool events.
5. Turn Summary Into a Story
It's amazing how many people leave this field blank when creating their LinkedIn profile. A summary is your chance to tell your Don't just use it to list skills or job titles. Try to be clear about why these skills are important and how they can make a difference for the people you work with. Don't be afraid to spend your time. Try out a few drafts and pass your summary on to people you know. This is the most personal part of content marketing and is worth the effort.
6. Optimize Experience Section
Your experience area is the most important part of your LinkedIn profile. After all, your experience is the biggest factor in determining whether you are suitable for a particular job.
7. Reflect Accomplishment
Include what constitutes "bragging rights" about your career if the information is public or may become public. Don't show off, but don't sell yourself either. In general, try to quantify your results in a meaningful way that shows you are getting results.

8. Be Strategic About Your Endorsed Skills
You need to do two things in the skills section. One is to include keywords to make it easier to search, and the other is to reinforce the story you tell about who you are and what you are good at. Click this section and do 3
Remove useless skills (hint: you shouldn't list Facebook unless you have social media training and manage a professional page).
Add skills that are important to someone in your industry or role
Sort the list so that the most important skills are at the top
9. Show The Services You Offer
Services is a new LinkedIn feature that helps consultants, freelancers, and people working in small businesses showcase their services. Completing the Services section of your profile may improve your visibility in search results.
10. Recommendation
Recommendations add social proof to your profile — they show your colleagues and peers appreciate your The best and most meaningful referrals you can get are from the management. The second best is from a client you've worked with. People who are very happy and grateful for the work you do for them.