A Review of Apple Mac Book Air (11.6-Inch, 2010 Version)
A very good friend of mine, Adam purchased an Apple Mac Book Air and I have to tell you that is one really thin laptop. However, I have many questions in my mind that need to be answered, before I buy one of myself. So, my good friend allowed me to review his new Apple Mac Book Air.
When looking for a laptop, we should already know what we want and we need to check the following:
Speed (CPU and Memory)
Hard Drive Capacity
Display
Connectivity to other computers or devices
Weight and size
Battery Life
Software Included
Warranty
Sound
Other features that can maximize the productivity
Apple users praised this new product due to its ultra-slim design, but some people still question the product's performance, features and price. To answer these questions, we have done a review of this product.
Technical Details
Intel Core 2 Duo processors
Mac Book Air 11.6 inch 1366 x 768 version.
16:9 widescreen aspect panel
2 GB of 1066 MHz DDR3 (or 4 GB as a $100 option),
Integrated batteries for Apple (5hrs on the 11.6-inch)
Slimmed-down NAND flash for storage (64 GB or 128 GB on the smaller).
Apple use Core 2 Duo line, instead of newer Core i5 and i7 chips we've seen on other laptops. Possibly, because it allows better GPU flexibility.
By going to the older technology, they're free to stick with NVIDIA's discrete graphics. In this case, the GeForce 320M, which has the ability to get 256 MB of the Air's main memory which is quite enough to support the default display as well as extended display up to 2560 x 1600 resolution.
Now the body of the Air is an 11.6-inch model has a MagSafe power port, which has a magnetic surface that connects the power to the Mac Book Air. (I like this power cable that lights up when it is connected.)
It also has 2 USB 2.0 ports; 1 at each side, headphone jack and microphone on the left and Mini Display Port on the right.
"Face Time camera", which is thinner than that on iPhone 4 now, can be seen in the middle, at the top of the screen.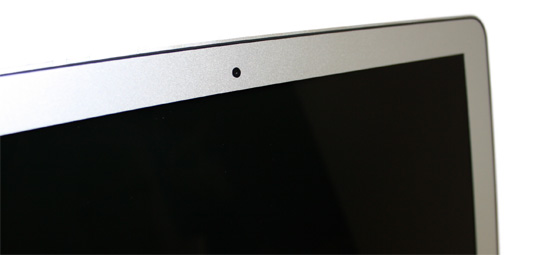 The weight is also a factor. It is obviously a big deal when it comes to portability. Note that this only weights around 0.74 pound. The full chassis– with base and screen sections; each crafted from a single, machined chunk of metal, measures 11.8 x 7.56 x 0.11-0.68 inches.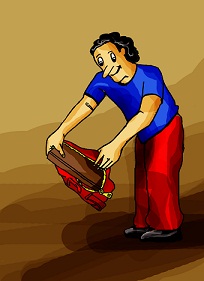 The good thing about Mac Book Air is that even though it's slim, the keyboard is still in full size, with function key row.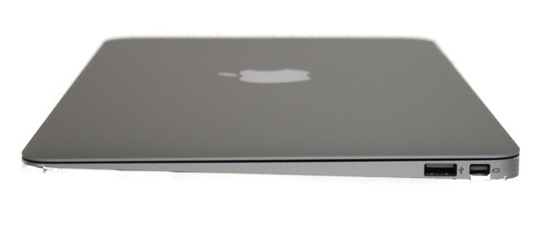 Unfortunately, there is no backlight option that would be great when working in the dark.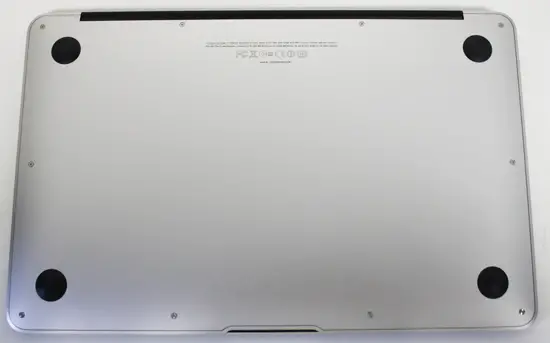 It has a chic let-type keys, which all Mac Books have. They are easy to use when you're touch-typing (it's the typical Mac Book keyboard). At the bottom right, you will find arrow keys that are much smaller compared to other keys and are cramped very close to each other.
The track pad is a multi-touch which can respond up to four finger gestures. This is great for users that used Windows before and are trying to use Apple.
One of the factors that needs to be considered on any mobile device is the battery. We were quite amazed on how the 2010 Mac Book Air handles power. Apple claims that the battery of the 11.6-inch version is good enough to hold for up to 5 hours of wireless usage or up to 30 days of standby time. We tried to use it for writing articles, watching movies, and checking Face book status and we were impressed that the battery indicator was still showing that we have 45 minutes of juice left. During that time, while this device does not have a fan, the temperature was still good. They really did a good job in applying the battery across the notebook. Apple designed a very well-balanced machine making it sit comfortably on the user's lap.

The operating system Mac Book Air uses was Mac OS X Snow leopard that includes iTunes, Time Machine, and Life. It also lets you wirelessly "borrow" the data from an optical drive located on a nearby PC or Mac, so you can install programs from a disk, thus, overcoming the drawback of having an optical drive of its own.
Since Mac Book Air doesn't have any optical drive, they included a small USB that contains a software reinstall driver. Ethernet port is not included; you need to buy an Ethernet of your own.
Since Mac Book Air uses a flash-based hard drive, the boot-up is really fast compared to other laptops.
The base configuration only comes with 64 GB of SSD, which is a problem if you download videos and songs. That much capacity is quite small when you consider that net books these days come with 250 GB or 320 GB storage. Upgrading to 128 GB SSD is very expensive, so the only work-around is to bring an external/portable USB HDD.
As a long time PC user, there are things that I need to know more when shifting to a MAC. Its not much of a problem, although for those who missed the comforts of a Windows interface, we can always have the option to use Boot Camp or run Parallel Desktops for the Mac, just to get the Windows environment that we are used to.
How Much Each Mac Air Costs?
Mac Book Air is available for $1,160.99 at Amazon.com and around $1,149.00 at PC Connection Express.
What is included?
Mac Book Air (11-inch)
45W MagSafe power adapter with AC wall plug as well as power cord
Printed and electronic documentation
Software Reinstall Drive
Warranty and Support
90 days of free telephone support
1 year limited warranty. (You can also purchase an AppleCare Protection Plan to extend the services and support up to three years, beginning from the date you purchased your product from Apple.)
Do you have any complaints?
I found very few complaints from consumers which are having problems in looking for a sleeve to fit.
Where Can I Buy?
You can buy Mac Book Air Book 11.6 from Amazon or any Mac Store.
Where Can I see more reviews of this product?
The real deal regarding reviews is at Amazon; where you get reviews from people who have actually bought that product. Click here to read more.